Memberships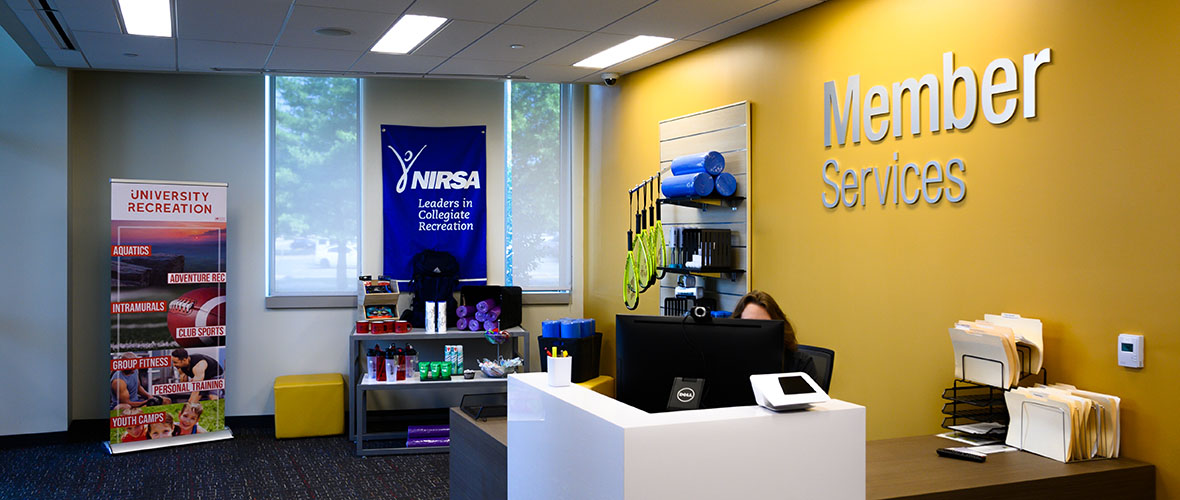 The 101,000 sq. ft. Recreation and Fitness Center offers a variety of facility spaces, equipment, programs and services to the JSU community.  
All memberships include full use of the Recreation and Fitness Center's weights and fitness equipment, indoor track, gymnasium, pool and locker rooms. Membership also includes towel service, daily locker use and participation in group fitness classes via drop-in registration.
Student Memberships
All students have full access to the Recreation and Fitness Center during the semester in which they are enrolled. A valid JSU student ID is required for entrance. Student memberships can be activated at the RFC Member Services Desk by taking a photo and signing a waiver. Students should allow 24 hours after registering for classes to activate their membership as information is uploaded overnight. University Recreation reserves the right to determine access based on enrollment and drops. Students under the age of 18, will require a parental/guardian signature on the facility waiver prior to using the facility.
Access Dates
Access dates are based on the semester (fall, spring and summer). Student access typically starts the day after the previous semester ends.  Student access ends the last day of the current semester.
JSU Students who are not enrolled in the current semester but completed the previous semester are eligible to purchase this membership.  Completion of the previous semester is verified at the time of purchase by providing a copy of previous semester schedule / grades.  Students who are attending JSU for the first time in Fall 2020 are also eligible for this membership.  Registration for Fall 2020 courses will be verified at the time of purchase.
Non-Student Members
Memberships to the Recreation and Fitness Center are available to members of the JSU community. JSU faculty/staff, retirees, alumni and some affiliates are eligible to purchase memberships.

All current & retired JSU employees are eligible to purchase memberships. As an added benefit, employees will have the ability to choose payroll deduction as a method of payment. Proof of employment will be verified at time of purchase by presenting a valid JSU employee or retiree ID.

Faculty/Staff and Retirees are eligible for a complimentary membership trial. Single day visits are also available to Faculty/Staff and Retirees who are not members of the RFC. They can self-sponsor themselves and purchase a $10 day pass.
| | | |
| --- | --- | --- |
| | Monthly | Annual |
| JSU Faculty/Staff & Retirees | $32 | $345 |
Any active dues paying member of the JSU Alumni Association is eligible to purchase a RFC membership.  Proof of Alumni Association membership will be verified at time of purchase by presenting a valid JSU Alumni Association ID card.  Alumnus must show a valid state ID or driver's license to activate their membership.
| | | |
| --- | --- | --- |
| | Monthly | Annual |
| JSU Alumni | $42 | $453 |
Recent graduates of JSU are eligible for this special membership rate. Alumni must join within 12 months of their graduation date to be eligible for the rate. After the initial 12 months past graduation, the rate changes to the alumni membership. Proof of graduation and alumni association (alumni card, diploma or transcripts) is required at time of joining.
| | | |
| --- | --- | --- |
| | Monthly | Annual |
| JSU Recent Alumni | $34 | $360 |
Friends and affiliates who regularly make contributions to the University through their services and financial contribution or are employees of entities that work full time to support the mission of Jacksonville State University are eligible to purchase an affiliated membership. These members include: Sodexo, Barnes and Noble, and all other approved contracted or outsourced employees working on behalf of Jacksonville State. Proof of affiliated relationship with JSU is required at the time of purchase.
JSU Students, Alumni, Employees and Retirees are eligible to add a household adult who resides at the same address as the member (and is 18 years of age or older) at an additional rate. 
Guidelines:
Additional members may not exceed 1.
To establish eligibility, household member must present two recent documents showing current shared address. I.E., government issued ID, utility bill, lease agreement or etc.
The household member is not eligible to have additional household members added onto their account.
All household members are attached to the primary member's account and membership payments are deducted through the primary member's account.
Household accounts may not stand alone; a primary member must be active in order for their eligibility to continue with the facility.
We invite you to bring your children to the RFC. RFC members are able to purchase day passes for their dependents (including minors between 5 and 18 years of age) at a rate of $6/day or 5 pass package for $24.  Dependents under 5 will not be charged. 
Availability:
Access is limited during the Fall and Spring Semesters to Friday, Saturday, and Sunday.  Dependent day passes are also available on select University Holidays and throughout the Summer Semester:
MLK Jr. Day
Winter Break
Spring Break
Fall Break
Thanksgiving Break
Christmas Break
Guidelines:
Your children must remain with you at all times.
Age restrictions may apply in specific areas. Dependents must be 16 or older to use weight equipment.
You must be within arm's reach of your child if he/she is unable to swim and/or not using a flotation device.
Please do not swim laps when you are with your children.
A birth certificate is required for verification.
Single Visit Passes
Single entry passes will be available to those 18 years and above at a cost of $10 per guest. JSU faculty, staff, or retiree non-member can self-sponsor their visit to the RFC for $10/visit.
Guests will have access to the fitness center, pool and open recreation areas but must enroll in any instructional programs, special events, or one-on-one services.
Guidelines:
Guests must provide a picture ID and sign a release of liability form.

Members must accompany guests at all times in the facility.

The single entry pass is good for one entry to the facility.
Member Services Hours
Memberships must be purchased in-person at Member Services.