JSU News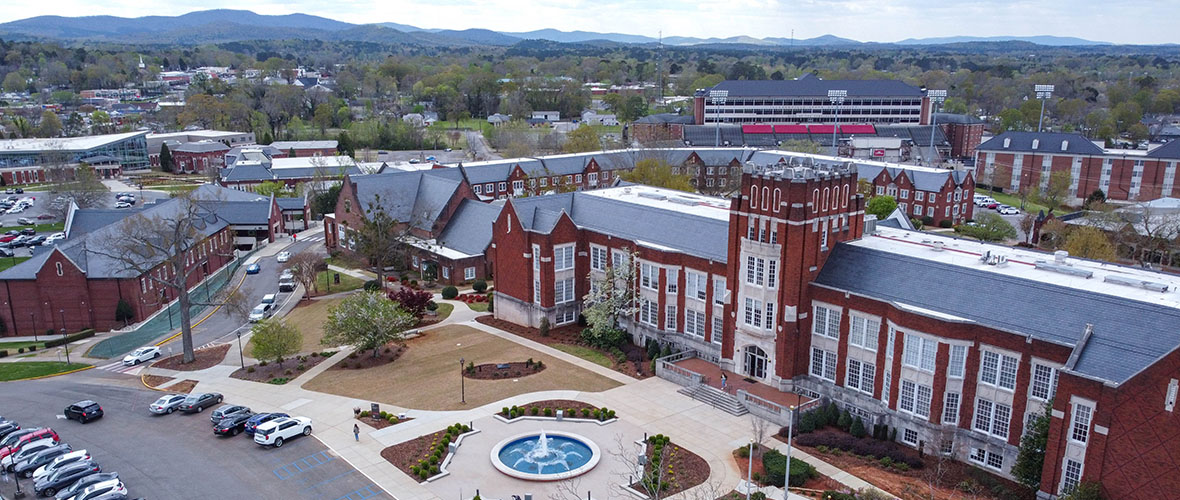 October is Exercise is Medicine Month
09/28/23
We're just a week into autumn – leaves are only beginning to change color – yet the nostalgic pull of candied apples, pumpkin-spiced lattes and bat-shaped chocolate bars is already tempting tastebuds and threatening waistlines.

President Killingsworth Selected for Leadership Alabama
09/28/23
JSU President Don C. Killingsworth, Jr., has been selected for Leadership Alabama – joining a diverse group of leaders representing a variety of industries across the state, chosen for their commitment to helping Alabama reach its full potential.
JSU Recognizes High Schools Committed to Dual Enrollment
09/25/23
The number of students enrolled in JSU's dual enrollment program reached an all-time high this fall, with 1,133 high schoolers getting a jumpstart on college by taking courses that provide both university and high school credit. As dual enrollment continues to grow at JSU - up 34 percent since 2020 - the university is adding a new badge program to recognize partner high schools who support the program. 
JSU Moves Up in Annual US News Rankings
09/21/23
US News & World Report released its annual rankings of Best Colleges this week and Jacksonville State has made a significant leap – moving up 10 spots to No. 64 among Best Regional Universities in the South.
Coworkers Remember Longtime Staff Member
09/20/23
Jacksonville State is mourning the tragic loss of longtime staff member Roger Measles, who died Sept. 15 along with his fiancée, Jessica Slater, following a motorcycle accident north of Jacksonville.
Education Alum Establishes Scholarship to Support Future Teachers
09/15/23
Coach Mark Sanders and his wife, Dawn, wanted to share their blessings with others by establishing the Coach Mark and Dawn Sanders Scholarship at Jacksonville State. It's awarded to a junior or senior studying education or wellness.
University Mourns Professor Emeritus
09/12/23
Dr. Jerald Abercrombie, Professor Emeritus of Mathematics, passed away on Sept. 8. He was 81.
University Hosts Alabama Commission on Higher Education
09/08/23
Jacksonville State was honored to host the Alabama Commission on Higher Education (ACHE) on campus for its quarterly meeting on Sept. 7-8.
National Civic Education Leaders to Speak at Constitution Day
09/08/23
A group of distinguished educators and academics will soon descend upon Jacksonville State's campus to discuss and debate one of the most central ideas of America itself – democracy.
Jax State Breaks Enrollment Record for Third Year
09/08/23
For the third consecutive year, Jacksonville State University has broken its all-time enrollment record. The fall census numbers were released on Friday, showing an overall headcount of 9,672 students.
University Working to Expand jsuRIDE
09/07/23
Jacksonville State is working to expand its transportation system, jsuRIDE, to accommodate an influx of new users this fall.
Memorial Service Planned for Mariah Casiano
09/01/23
The family, friends and coworkers of JSU student Mariah Casiano will hold a memorial service in her honor on Monday, Sept. 4, at 6 p.m. on the front steps of the Theron Montgomery Building. Everyone is invited. 
Sideline Memories: Dee and Becky Salls Make a Planned Gift in Honor of Jax State Coaching Legend
08/31/23
It's a question Dee Salls has heard most of his life – no matter where he goes – anytime his last name comes up in conversation. "Are you related to Don Salls?" The answer, of course, is yes.
Campus to Observe Labor Day on Sept. 4
08/28/23
Jacksonville State will be closed for Labor Day on Monday, Sept. 4, 2023. Offices will not open and classes will not meet. The following hours will be in effect for campus services.
University Announces 2023 Honors Scholarship Recipients
08/27/23
Enjoying their first semester on campus this fall are the recipients of JSU's top award for incoming students, the JSU Honors Scholarship.