JSU News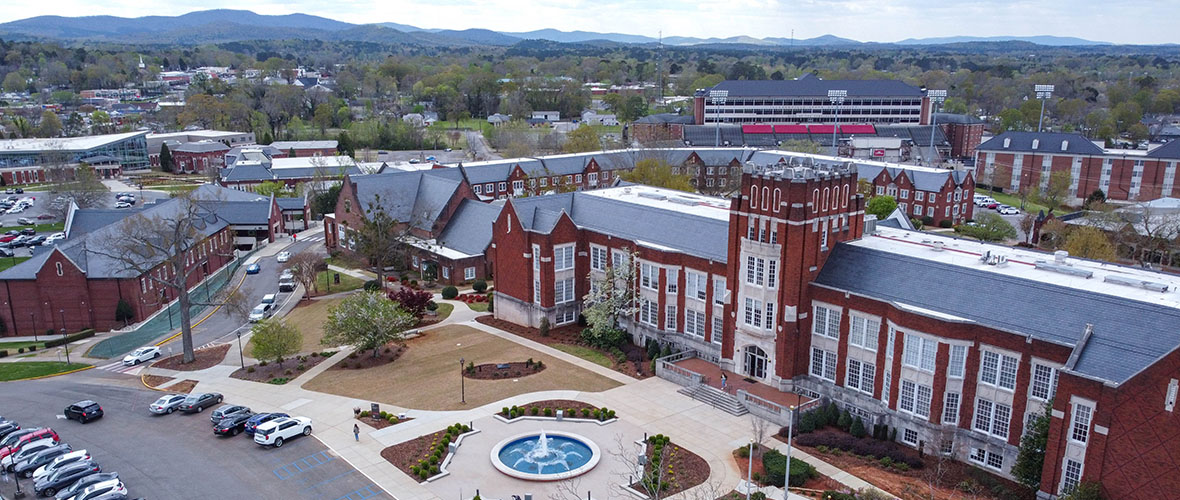 University Launching Financial Wellness Program
12/01/23
JSU has partnered with Family Savings Credit Union in Gadsden to create a Financial Wellness program to empower students to take control of their financial health.

Country Stars to Shine at JSU Benefit Concert on Dec 14
11/20/23
Some of the brightest stars in country music are gathering at Jacksonville State University on Dec. 14 for an intimate concert in the Ernest Stone Center's Ward Theatre at 7 p.m. The event will establish JSU scholarships and benefit the Randy Owen Center for the Performing Arts (ROC).
JSU Partners with ReUp Education to Support Adult Learners
11/16/23
From kindergarten to college, more than 35 percent of students across the US are over age 25. Yet, adult learners experience lower college completion rates than their younger peers, often due to a wide range of barriers. To better support this population of students, Jacksonville State is partnering with ReUp Education.


Alan Medders Named Vice President of Philanthropy
11/16/23
Dr. Alan Medders, who has served as Interim Vice President of Advancement at Jacksonville State University since July, has been appointed Vice President of Philanthropy by its Board of Trustees – bringing with him 30 years of higher education leadership experience.
Thanksgiving Break Hours and Information
11/12/23
Jacksonville State will be closed the week of Nov. 20-24 so that students, faculty and staff may enjoy Thanksgiving break with their loved ones.
Discover a New Passion with Spring Electives
11/10/23
This spring, students are invited to learn a hobby, acquire a skill and discover a new passion with one of the many electives offered at JSU.
Communication Students Make Headlines, Winning National Awards
11/06/23
JSU's aspiring communications professionals are usually just outside the spotlight – on the other side of the camera lens, scribbling notes in a reporter's book, capturing the news and accomplishments of others. But now, they have experienced a series of personal wins of their own.
Professor Aims to Improve Emergency Alerts for Deaf Community
11/03/23
The inability to hear real-time weather and emergency alerts puts those with hearing loss at a disadvantage. The National Oceanographic and Atmospheric Association (NOAA) has awarded JSU's Dr. Chongming Wang a $237,000 grant through its Weather Program Office to study emergency communications and preparedness among the deaf and hard of hearing.
US News Ranks JSU Higher After Data Correction
10/30/23
US News and World Report has informed Jacksonville State that the university is one of 213 institutions impacted by an anomaly in the code used to output the publication's annual ranking of Best Colleges. As a result, JSU's 2024 rankings are higher than previously reported.
University Mourns the Loss of Retiree, Alumnus
10/27/23
On Wednesday, Oct. 25 - as Jacksonville State celebrated its inaugural Sandra Stone Day of Reading in memory of the university retiree and alumna who died in July - her husband of 54 years passed away: William "Bill" Stone.
Sandra Stone Day of Reading to Honor Memory of Retiree, Alumna


10/25/23
The family of Dr. Sandra Stone, with approval from the university's Board of Trustees, has established the Sandra Stone Day of Reading to honor the memory of the JSU alumna, retiree and longtime supporter.
JSU Boo: Halloween Happenings 2023
10/24/23
With a nip in the air and leaves changing color, there's no "bones" about it – Halloween is almost here! From frightful to family friendly, there's a number of events planned over the next week to get you in the "spirit" of the holiday.
JSU Forms Transfer Agreements with Texas Colleges
10/24/23
JSU has partnered with two Texas colleges – Lone Star College in Houston and Dallas College in Dallas – to allow for a seamless transfer of academic credits and ease of enrollment for students who want to complete their degrees at the university.
On-Campus ACT Offered to JSU Students and Prospects
10/23/23
The JSU Office of Admissions is now managing the university's on-campus ACT exam. Formerly known as the Residual ACT, the On-Campus ACT is available to those who have been admitted to or are currently enrolled at JSU.
JSU to Raise Curtain on Theatre Season with Shakespeare Comedy
10/17/23
Back in William Shakespeare's time, women weren't allowed on stage. Therefore, female roles – from Juliet to Desdemona – were played by men. With its upcoming production of the Shakespearean comedy "As You Like It," director Michael Boynton is flipping the script on that tradition by casting an all-woman cast.