Alexandria High School Choir to Join JSU A Cappella Choir in November 13 Concert
10/28/2011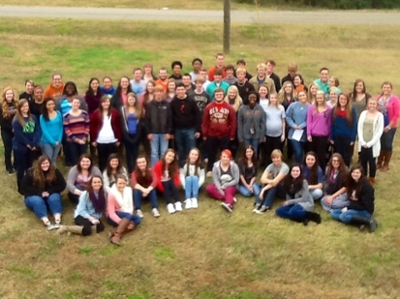 The historic Church of St. Michael and All Angels in Anniston will be the setting for a unique choral experience on Sunday afternoon, November 13, when Jacksonville State University's A Cappella Choir performs a concert with the Senior Robe Choir of Alexandria High School. A Cappella Choir is under the direction of JSU Director of Choral Activities Dr. Patricia Corbin. The Alexandria High School Choir is under the direction of Cathy Spence.
 
"We are very lucky to have several quality choral programs in our county, such as the choir program at Alexandria High School," said Dr. Corbin. "Many schools in Alabama do not have choir or music of any kind and this is a shame. Ms. Spence does a great job and I wanted my college students, many of whom are music education students, to get a closer opportunity to observe her in action. We also want her students to seriously consider coming to JSU and joining our choir as part of their academic career."
 
Within the A Cappella choir are several vocalists who came to JSU via Ms. Spence's choir at Alexandria High. Amanda Beasley, a freshman soprano, remembers her choral class as the highlight of her daily high school experience and looks forward to seeing, and singing with, some of her friends again.
 
Emma Jensen, a junior in the Alexandria High School choir, echoes that sentiment.
 
"Choir is always the best part of my day. I am so excited about the upcoming concert and we have been practicing very hard for it. I am really looking forward to this opportunity to see how a college choir operates and functions," she said.
 
Isiah Burgin, a JSU sophomore baritone who also sang at Alexandria, remembers high school choir as the class that motivated him to go to school each day.
 
"Ms. Spence was a great teacher. She cares a lot about how our choir performed. I think it is a great idea to invite the Alexandria choir to perform with us. It will help motivate some singers to consider singing in college."
 
Hunter Borders, a sophomore at Alexandria, looks as his choral experience as a retreat from the rest of his school day.
 
"To be able to take time out of my day in order to sing is an extreme privilege, and I am proud to be part of the great program we have here at Alexandria," he said.

For the concert, the Alexandria choir will sing works by Mark Burrows, Gustave Holst, Ernani Aguiar, Stephen Foster and Audrey Snyder. A Cappella Choir will perform works by Jan Pieters Sweelinck, Edward Boatner, Herbert Howells, Frank Ticheli, Z. Randall Stroope and Larry Nickel. The choirs will combine and sing several selections together.
 
This concert begins at 3 p.m. and is free and open to the public. The Church of St. Michael and All Angels is located at 1000 West 18th Street in Anniston.