| | |
| --- | --- |
| Office of Public Relations | |
Need Help?
Campus Communicators
Find An Expert
Submit News
Campus Events
Goodies
JSU Blogs
Emergency Center
Featured Story
Shop, Swing, Sing and Sit with Santa-- Celebrate the Season at the Canyon!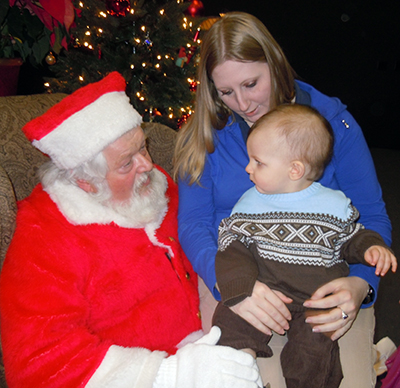 Celebrate the holidays at the edge of nature and the beautiful Little River Canyon National Preserve!
Jacksonville State University's Little River Canyon Center announces the following events to make the season bright for the whole family: 
Saturday, December 7-- "Canyon Christmas" will feature a full day of activities from 10 a.m. - 4 p.m., but the highlight will be a visit from Santa Claus himself! All visitors will get the chance to sit with Santa, get a free large-format photo and some special treats to take home. Also at no cost will be the "Feeding Winter Wildlife Workshop" at 10 a.m., where children will have fun making gifts for critters. At 11 a.m., there will be a Christmas special story time followed by a Christmas Carol "Sing-a-Long" at noon just before storyteller Renee Morrison reads "T'was the Night before Christmas." Santa's sleigh is scheduled to fly in at 2 p.m. before he comes in to sit with the children.   
Wednesday, December 11-- "Canyon Jazz" will feature the amazing US Army Materiel Command Band and their Tennessee River Ramblers. Plan to arrive at 5 p.m. for the one hour, indoor concert starting at 5:30 p.m. The band will play the best of holiday hits and get everyone in the mood for Christmas!
The Canyon Center's shop will be open throughout the month with unique gift ideas ranging from nature-based artwork and beautiful scarves to fun animal puppets and handsome walking sticks. All profits benefit the educational efforts of the Canyon Center.
The Canyon Center will close only on the following days during the holiday: December 24, 25, 31, 2013 and January 1, 2014. Visit canyoncenter.org for more information.
All of these public events are free and in need of financial support. Donations to the Jacksonville State University Canyon Center Foundation Account are tax-deductible and most appreciated. For details, please call the Little River Canyon Center at 256-845-3548 or Director Pete Conroy at 256-282-5784.
Recent Stories
Deadline to Register for Spring 2014 Meal Plans is January 13, 2014
12/05/13
Students who are living on campus in Crow, Curtiss, Daugette, Dixon, Fitzpatrick, Logan, Patterson, Sparkman or Stadium Tower need to choose a spring resident dining meal plan.
CAST Presents 'Best Christmas Pageant Ever' Dec. 5-15
12/05/13
CAST (Community Actors' Studio Theatre) brings back one of the most beloved holiday stories of all time as it presents The Best Christmas Pageant Ever live at the McClellan Theatre, December 5 - 15.
JSU's Conroy's big dreams lead to even bigger deeds
12/05/13
Members of the Albertville Rotary Club, and especially Jacksonville State University Trustee Randy Jones, had a real treat Tuesday when JSU's Pete Conroy was our guest speaker.
Fulbright Offers Opportunity to Study in Canada
12/04/13
Deadline for undergraduates to apply is January 31, 2014.
Christmas Lunch in the Caf, Campus Dining Holiday Closing Dates and Times
12/03/13
JSU's Sodexo Campus Dining announces that Christmas Lunch in the Caf will be served on Thursday, December 5 from 11 a.m. - 1:30 p.m. Also, holiday closing dates and times are announced.
Read more news
In the News
East Alabama high school leadership conference takes the pledge
ABC 33/40.com, Dec. 4, 2013
The Tridentine Masterpiece
Crisis Magazine, December 2, 2013
CD hosts Eastern Alabama emergency management coalition
cdp.dhs.gov, Nov. 13, 2013
Tag-team teaching: JSU students aid Anniston educators
The Anniston Star, Nov. 9, 2013
Anniston students learn of different cultures on World Day
The Anniston Star, Nov. 8, 2013
Ben Shurett: JSU's big dreams lead to even bigger deeds
The Sand Mountain Reporter, Nov. 8, 2013
JSU students learning more than composition in some English classes
The Anniston Star, October 18, 2013
Area schools embrace robotics programs
The Jacksonville News, October 11, 2013
Students look to add green to list of JSU school colors
The Anniston Star, Sept. 29, 2013