Accreditation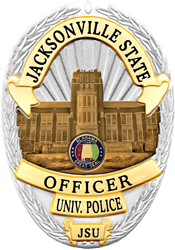 In it's continuing pursuit in providing quality services to the students, faculty, staff, and visitors of Jacksonville State University, the University Police Department
has applied for accreditation with the International Association of Campus Law Enforcement Administrators. We are committed in obtaining
full accreditation with IACLEA by 2020.
UPD was previously accredited with the Commission on Accreditation for Law Enforcement Agencies (CALEA).