The Pointe @ JSU FAQs
Frequently Asked Questions
If you are currently living on campus, the Current Resident Reapplication opens February 1 within THD Self Service. Room selection will take place during February 2023. If you are not currently living on campus, you will need to log in to THD Self Service and submit the Transfer/New Upper Class Resident Application which is available starting October 10. More information can be found online at the Renew page. 
Cost is $2800 per person per semester for a four-bedroom unit and $2900 per person per semester for a two-bedroom unit (utilities included with $30/per resident monthly allowance for electricity). The lease is for 12 months which includes fall, spring, and summer semesters. We realize that for fall and spring semesters, many students will use financial aid and scholarships to pay for this but may be unable to use those funds in the summer months. 
Upperclassmen students are eligible to live at The Pointe @ JSU. First-year students are not eligible for The Pointe @ JSU.
No, your amenities include a kitchen with new stainless-steel appliances (refrigerator, oven, microwave, dishwasher), which allow residents to prepare their own meals.
Yes, we have a limited number of two-bedroom units in building #6. 
Please submit the online Pointe Animal Application. If approved, you will be contacted via your JSU email address with instructions on how to proceed. 
Fully furnished common area with a sofa, chair, end table, entertainment stand, bar stools

Fully furnished bedrooms with full-sized mattress/frame, dresser, desk chair

New stainless-steel appliances: refrigerator, oven, microwave, dishwasher

Washer and dryer in every unit

Ceiling fans in common area and each bedroom

Patio/balcony

Pool and club house access

Exercise gym

Basketball/tennis court

Volleyball court

Dog park

Gated entry with access card
Silver Student JSU decals will be issued to residents of The Pointe @ JSU. Residents will also receive their own Pointe decal that should be affixed above the JSU decal. 
Rent is inclusive of water, sewer, trash, cable TV, internet, and electricity ($30 monthly allowance per resident for electricity).
No, payments must be made per semester by the payment due date. Students may register for a payment plan online through the Office of Student Accounts, more information can be found online at http://www.jsu.edu/bursar/PaymentPlan.html.  
Additional security measures include gated entry with access cards and security cameras throughout the property. Security personnel are on site 24/7 at the gated entry. 
Yes, JSU Housing Operations and Residence Life staff members will conduct monthly health and safety inspections.
Residents are not able to sublease per the JSU Housing Lease Agreement. Lease terms are for 12 months. Students seeking to break their leases will need to refer to the Housing Operations and Residence Life policy regarding "Housing Buyout Request."
No, all furniture must remain in the unit.
Beginning Fall 2019, students will be required to pay a $200 refundable security deposit to the student's account within seven business days of assignment.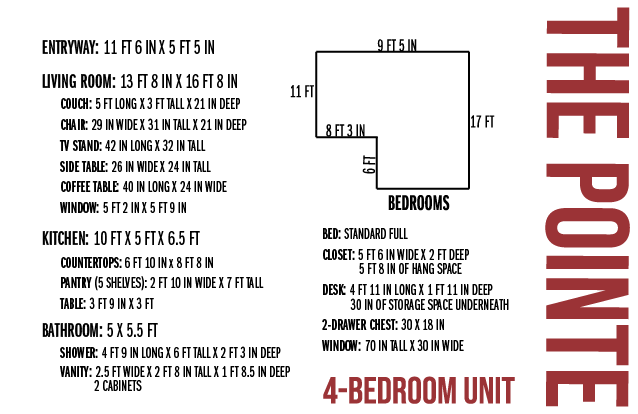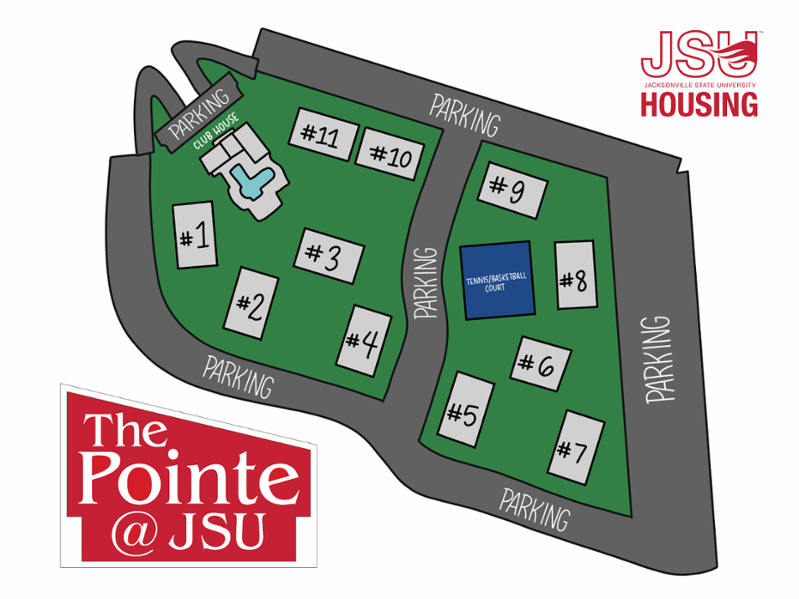 Work orders for The Pointe @ JSU
should be submitted online. 
In the event of an after-hours emergency, please call The Pointe @ JSU on-call phone (256) 689-0811. Emergency work orders are defined as:
• Overflowing water from water heater, sink, shower/tub, or toilet.
• Complete power outage.
• Smoking or sparking appliances.
• Sewer problems indicated by a toilet not flushing or a sink or shower not draining.
• Unsecured or broken entry door or completely broken window depending upon extent and location of damage.
• No hot water.
• Loss of heat/air.
• Gas leaks.
Not able to find what you are looking for? Head over to our
Contact Us
page and fill out the form to get in touch with us!