Student Organizations
Public Relations Student Society of America (PRSSA)
Our award-winning JSU Public Relations Student Society of America (PRSSA) chapter's mission is to enhance education, broaden networks, and launch careers.
Our chapter has received the following awards for our dedicated work:  
2022 PRSSA Chapter Development Award from Alabama PRSA
2022 Student Development Award from the JSU Cocky Awards
Founded in 2015, our organization is open to all majors and serves as a professional student branch of its affiliated, prestigious national organization, the Public Relations Society of America (PRSA). We are a professional student organization in which students learn about the public relations and communication fields, through networking with industry professionals, practicing valuable skillsets, and participating in other workshop and volunteer opportunities. We also have access to exclusive membership benefits, such as scholarship and internship opportunities, and get involved at the university, state, regional, and national levels. 
For more information, students can contact our chapter's faculty advisor, Dr. Breann Murphy, at bmurphy5@jsu.edu or email any inquiries to prssa@jsu.edu. 
Students can also find JSU PRSSA on Facebook, Twitter, and Instagram and can join our organization by visiting the national PRSSA website. 
Zeta Phi Eta
We are the Beta Lambda Chapter of Zeta Phi Eta fraternity. We are made of students who study Communication Arts and Sciences. Majors include broadcasting, digital journalism, English, graphic design, languages, marketing, photography, political science, public relations, theater, film, and sports management! Our motto is: Achieve! with wisdom, integrity and love! Our goal is to support the creative and professional endeavors of our members.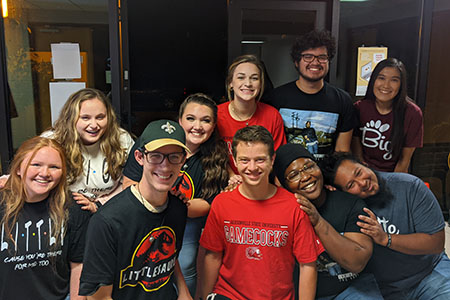 Current Leadership
President: Rachel Mayo
Senior VP: Sarah Sumners
VP of Administration: Kassidy Nance
VP of Academics: Grace Stermer
VP of Finance: Jacedric Askew
VP of Membership: Hannah Griffeth 
VP of New Member Education: Ashley Bravo
VP of Philanthropy: Rachel Collins
Membership Procedure
To qualify for membership in the Beta Lambda Chapter of Zeta Phi Eta, an applicant must complete the following:         
An applicant must fill out the Zeta Phi Eta membership application.
An applicant must be enrolled at Jacksonville State University, eligible for a degree, and must be in a Department related to the Communication Arts and Sciences. As stated by the Zeta Phi Eta National Constitution, acceptable majors include the following: 

Broadcast Journalism
Digital Journalism
Drama - Performance
Drama - Technical
English
French
Graphic Design
Marketing
Photography
Political Science
Public Relations
Spanish
Sports Management, if Communication is the applicant's minor

An applicant must have completed at least three (3) courses in the Communication Arts and Sciences.
An applicant must have a 3.0 GPA in their major department of study, and at least a 2.5 GPA overall.
Once all requirements are met, the applicant will go through an interview process and then must receive a three-fourths vote from all members present at the time of voting. 
All active members are required to attend interviews unless excused by the Vice President of Administration.
For more information, contact the chapter's advisor, Dr. Sayyed Fawad Ali Shah, or find the JSU Zeta Phi Eta chapter on Facebook and  Instagram.