Register Your Bicycle and Scooter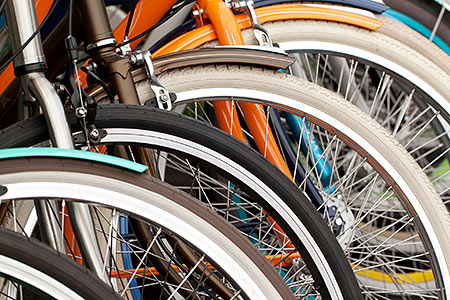 The Department of Public Safety offers a free decal to Students, Faculty, and Staff who use a bicycle or scooter on campus. You can register for this decal through your MyJaxState account under the Featured Links section labeled, "Register Your Bicycle".
Once you have completed the online form, you will need to bring your JSU ID to the Parking Services office located in the Theron Montgomery Building in room 403.  
Tips: 
Place your decal in an inconspicuous location on your bicycle or scooter. If it is stolen this may help in the identification of your bicycle or scooter. 
Know your equipment! What brand/model is it, what color is it, identifying features, safety features, wear and tear, etc. 
Familiarize yourself with the bike racks on campus and secure them when stored.  
Utilize GPS (Apple AirTag, Tile Mate, Samsung Galaxy SmartTag, etc.) devices to help find your bicycle or scooter if it is stolen or lost. 
Always wear a bike helmet while traveling and obey bicycle traffic laws. 
Bicycle Rack Locations
Angle Hall - 1 rack
Ayers Hall - 2 racks
Campus Inn - 1 rack
Carlisle Hall - 2 racks
College Apts - 1 rack
Counseling Center - 1 rack
Crow Hall - 5 racks
Daugette Hall - 2 racks
Dixon Hall - 2 racks
Fitzpatrick Hall - 4 racks
International House - 1 rack
Jaxs Apts - 1 rack
Logan Hall - 4 racks
Martin Hall - 1 rack
McGee Hall - 1 rack
Mehan Hall - 5 racks
Merrill Hall - 4 racks
Pannell Apts - 1 rack
Patterson Hall - 3 racks
Ramona Wood - 1 rack
Rec Center - 8 racks
Round House - 1 rack
Rowe Hall - 1 rack
Salls Hall - 1 rack
Sparkman Hall - 2 racks
Stone Center - 2 racks
TMB - 1 rack
Wallace Hall - 1 rack