JSU Field School Director Renee Morrison Wins Wild South's Roosevelt-Ashe Conservation Award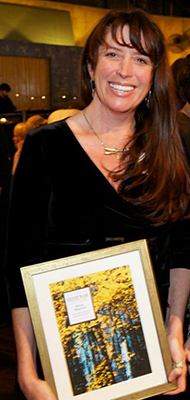 Renee Morrison, director of the JSU Field Schools, was one of seven individuals or businesses honored recently in Asheville, North Carolina as a recipient of Wild South's Roosevelt-Ashe Conservation Awards. The awards honor outstanding conservation work in the South and were presented at the Sixth Annual Green Gala on March 21.
"These awards recognize champions of conservation for their work to protect wild places and wild things across our region" said Benjamin Colvin, Wild South's development director.  "Every one of these deserving nominees are inspirational heroes and their work exemplifies passion, dedication, and leadership."
"Wild South is incredibly proud to present these annual awards, and again the nominees and winners this year inspire me and countless others," said Jeff Hicks, Wild South's board president.  "With these awards, we honor collaborative work in conservation, encouraging everyone to work together to make a difference and protect our planet for future generations."
Ms. Morrison was chosen the Outstanding Educator in Conservation. Other winners were:
Outstanding Business in Conservation, Rock Creek Outfitters (Chattanooga, Tenn.);

Outstanding Journalist in Conservation, Carl Galie (Winston Salem, N.C.);

Outstanding Youth in Conservation, Morgan Pennington (Bob Jones High School, Ala.);

Outstanding Conservationist, Carol Ruckdeschel (Cumberland Island National Seashore, Ga.); and
Board and Staff Awards of Distinction, Bobby Jackson (Eagles Nest Outfitters, N.C.) and Bill Hodge (SAWS, Tenn.).
Ms. Morrison has been the assistant director for the Jacksonville State University (JSU) Environmental Policy and Information Center and Field Schools for the past decade. She was the director of education for 10 years at the Anniston Museum of Natural History, during which time she played a role in the museum receiving its Smithsonian affiliation and implementing three new exhibit halls and four traveling exhibits.
 
Over the past 20 years, she has been a catalyst for increasing awareness, stimulating appreciation, and connecting the community to public lands. She has presented 6,000 environmental education (EE) programs for more than half a million participants (including 80 nature camps for 1,600 children and 60 teacher workshops for 1,200 teachers). She specializes in "sensory science" programs utilizing components such as hands-on experiences, live animals, storytelling, creative drama, fairy house techniques, and environmental arts to enhance the participant's experiences.
"Teachers and students who have experienced nature at Renee's side often remark on her ability to inspire a deeper look the natural world, her extraordinary creativity, and her never-ending delight in sharing her passion for EE. Students have described 'Ms. Renee's' programs as 'an educational adventure,'" says Donoho School teacher Donna Plunkett, who joined U.S. Forest Service Ranger Karen McKenzie in nominating Ms. Morrison for this award.
Alabama writer Karyn Zweifel adds, "You might think there's a little fairy blood running in her veins. She's quick to smile, a little mischievous, and completely at home in the forest. Renee Morrison is a born storyteller, combining her education as a naturalist with her love of imaginative play, folklore and whimsy."
Ms. Morrison partners with Alabama State Parks, the National Park Service, the United States Forest Service, the United States Fish and Wildlife Service and others to implement thousands of educational programs "from the deepest canyon to the highest mountain in Alabama." Her educational corridor includes 11 Alabama counties. She has received national recognition through the USFS for her EE work with inner city and underserved children.
 
Ms. Morrison has served on the Environmental Education Association of Alabama (EEAA) for nine years. During her term as president of EEAA in 2013, the State Environmental Literacy Plan draft was approved by State Superintendent of Education Dr. Tommy Bice. Also during her tenure the Southeastern Environmental Education Association (SEEA) was formed and hosted the first annual SEEA Conference in Kentucky, where Ms. Morrison represented EEAA and presented her internationally recognized Building Nature Observations through Fairy Houses program.
She is certified in Measuring EE Outcomes (MEEO) through Cornell University's Civic Ecology Department and utilizes this certification to develop and implement EE assessment programs. Her work has been published in the Cornell University Civic Ecology Lab 2014 MEEO E-book and is being utilized by EE providers across the world to quantify the benefits of EE in a society that must have measurements to appreciate value.
In 2007, Renee and her teenage son Joshua were invited to speak at the Academy of Science in Washington, D.C. for the National Initiative for More Kids in the Woods forum, where they received a standing ovation and recognition from Dr. Richard Louv for their impact on teenagers to defeat nature deficit disorder.
 
She has been distinguished as one of Alabama's National Storytellers through the National Storytelling Network and has presented EE and cultural heritage stories in 12 states and four countries. She has published two books entitled Calico Ghosts and Calico Fairies, which encourage families to interact with one another, preserve family heritage, and spend quality time outside.
 
She also received the USDA Forest Service Interpretive Project of the Year for JSU Field School programming, the USDA Forest Service Excellence in Technology Transfer Award, and the Dean's Service Award through JSU's College of Arts and Sciences. She also received a Certificate of Recognition for Women of Excellence for her Nature Observation through Fairy Houses program from Oxford University Round Table.
She serves on the following boards: EEAA, Friends of the Talladega National Forest, Friends of Cheaha State Park, Choccolocco Creek Watershed Alliance, Longleaf Arts Council, Jacksonville City Arts Council, and Choccolocco Heritage Society.
 
She has also served as Artist in Residence for the Auburn Center of the Book Black Freedman's Farm Project, Lost Arts Teacher for JSU Continuing Education, coordinator of the Anniston ARCH (Anniston Reconnecting A Catalyst for Healing) Civil Rights project, and was part of the team that created the Little River Canyon Center and the Talladega Mountains Natural Resource Center. She served as co-project manager with Anne Miller to develop the Appalachian Highlands Birding Trail. She has been part of the EE team (EPIC) responsible for receiving and implementing programs with approximately $3 million funding through national EE grants and federal appropriations for projects such as NASA Little River Science Pavilion, USDE Little River Path to Learning Trail, Mountain Path to Learning Trail, and FIPSE/USDE Teacher Workshops at DeSoto State Park and Cheaha State Park.

The Roosevelt-Ashe Award winners were selected by an independent committee comprised of highly respected conservationists and other community leaders from across the South.
For more information, visit the Wild South website.
Photo: Renee Morrison with her Roosevelt-Ashe Award at the Sixth Annual Green Gala. (courtesy)
04/09/2014