Emerita Faculty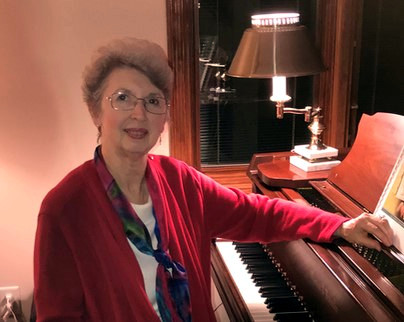 Dr. Susie Francis Dempsey
Piano and Piano Pedagogy
ouidasusie@cableone.net

      Ouida Susie (Francis) Dempsey served on the Department of Music faculty from 1969 until 1996. She was awarded the status of Professor Emerita soon after. She holds the Doctor of Musical Arts in Piano Pedagogy from the University of South Carolina, the Bachelor of Science (Music Education) from Jacksonville State College and Master of Arts (piano and music education) from the University of Alabama. She did post-graduate study in piano at the Eastman School of Music in Rochester, NY with Maria-Luisa Faini. She began her own piano and violin study in her hometown of Anniston, AL with Alma Eckert. Her other piano teachers include Dr. Harold Thompson (JSC), Roy McAllister (University of Alabama) and Dr. Max Camp at the University of South Carolina.
      At JSU she taught piano, piano pedagogy, class strings, music theory and ear training. She continued to serve for a time as an adjunct professor of music theory after retirement. She was a frequent member of all the departmental committees as well as the Faculty Senate. In 1982, the Mimosa, the college annual, was dedicated to her. She organized and directed JSU elementary and HS summer music camps (1980, 1981 and 1995-1996) as well as conducted numerous piano workshops for piano teachers. She along with support by other piano professors was responsible for bringing many artists and pedagogues to the campus. She served as Faculty Advisor of the Delta Omega Chapter of Delta Omicron having been initiated into that chapter when a student at JSC.
      Dr. Dempsey began her teaching career of pre-college piano students at the Trusswood Music School in Birmingham (Roebuck) in 1967 and continued to teach pre-college age students throughout her tenure at JSU and continuing through the 20 years after retirement from JSU. A priority in her teaching of pre-college age students was preparing them for the Alabama Music Teaching Association solo and concerto auditions and the state level MTNA auditions. Prior to coming to JSU, she was an elementary Music Specialist for Jefferson County (AL).
      As an active member of the Music Teachers National Association, Dr. Dempsey served as President of the state AMTA and Southern Division. She organized and served as President of the local Northeast Alabama Music Teachers Association. In 2000, Dr. Dempsey was the recipient of the coveted Teacher of the Year awarded by her colleagues in AMTA. She played violin in the JSU Community Orchestra and she and her husband, Wayne, continue to sing in the JSU Civic Chorale. She also volunteered as Children's Choir Director at the Jacksonville First United Methodist Church and was a volunteer at the Anniston Museum of Natural History, where she served as the Cultural Enrichment Chairman for10 years organizing the Music at the Museum Series. As a conscientious supporter of the Music Department, she organized and served as the first chairman of the Board of Directors for the Jacksonville Opera Theatre (JOT). Presently (2017), she enjoys playing the pipe organ at the First Presbyterian Church in Jacksonville and has begun the study of art in full retirement from music teaching.
      Professional publications include an article, "Sound Methods for Teachers" (The Piano Quarterly, May, 1992) and "Swing Right, Swing Left" (The American Music Teacher, 1967). She also designed and produced a music theory teaching aid with Teaching Guidelines called The FIFTH WHEEL. A series of three articles entitled "I Wish I Could Go Home with My Students" helping teachers guide parents to monitor students' practice at home were published in the AMTA SOUNDBOARD in 2005-2006. She is the author of the official History of AMTA which appeared in the 50th Anniversary Conference brochure and is now available on their website at amta.org.