Dr. Renée L. Baptiste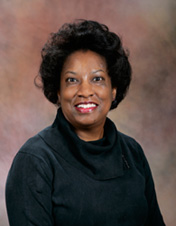 Director of Music Education, Graduate Academic Advisor, CNAFME

Studio: Mason Hall 202
Phone: (256) 782-5560
Email: baptiste@jsu.edu 
Dr. Renée L. Baptiste, Professor of Music Education, teaches elementary and secondary music education methods in general and choral music. She also teaches graduate music education courses in research methods and music assessment. Other duties include supervising student teachers.  She directs Encore!, the JSU show choir, and serves as faculty advisor for CNAfME  and Delta Omicron Music Fraternity.
Dr. Baptiste graduated from William Carey College (BM); Eastman School of Music (MM), and the University of Florida (Ph.D.). Her research interests include the male adolescent changing voice and music preferences of adolescents in middle school general music.
Her publications include choral analyses in  Teaching Music through Performance in Choir (Volume 4), "Folk Song Preference of Middle and Junior High School General Music Students," (Kodály Envoy),  "A Study of the Relationships Among Voice Timbre Models, Voice Classification Stage, and Pitch-Matching Ability in Male Adolescent Choral Students" (Illinois Music Educator), and   "Teaching the Male Adolescent Changing Voice Through Cooperative Learning Groups" (AIMS) and "Standards in the Middle School Classroom" (AIMS). Presentations include Kodály Analyses of American Folk Songs for Use with the Male Adolescent Changing Voice at the Illinois Music Educators Conference; Critical Analysis: The Use of Streaming Video in Class Applied Voice at the 9th International Conference on Technological Directions in Music Learning in San Antonio, TX; and two sessions entitled Online Reflection and In-Service Teachers Reflections and The Untold Story: The Cherokee Indians Trail of Tears-A Case for Interdisciplinary Teaching and Learning at the Mountain Lake Colloquium for Teachers of General Music Methods in Mountain Lake, VA. She has also presented at the national conferences for the Association for the Study of African American Life and History, Organization of American Kodály Educators, and the southern regional division of the College Music Society as well as several state conferences.
Prior to joining the JSU music faculty, Dr. Baptiste taught at Southern University Illinois Edwardsville. She also taught K-12 general music and choral classes in the Alachua County School District in Gainesville, FL.