Dr. Nathan Wight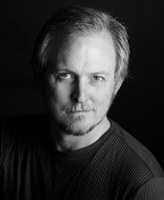 Director of Operatic Activities
Studio
: Mason Hall 260 
Phone:
 (256) 782-5876 
Email
: 
nwight@jsu.edu
Links:
Opera Theatre Website
Nathan Wight, Professor of Music, is a baritone and rancher from Kermit, Texas. Dr. Wight received his Doctorate of Musical Arts in Performance from Arizona State University, his Master of Music from Rice University, and his Bachelor degrees in Voice and Biology from Abilene Christian University.  He joined the music faculty at JSU in 2003.  Formerly, Dr. Wight was a member of the faculty at Grand Canyon University where he served as the Director of Vocal Activities. 
Dr. Wight is the founder and director of Jacksonville Opera Theatre, which has grown to a company that presents two to three major productions a year in the Oxford Performing Arts Center.  Since 2004, JOT has produced 31 shows including:  Romeo et Juliette, Cosi Fan Tutte, Pirates of Penzance, The Mikado, Hansel and Gretel, Phantom of the Opera, and Die Fledermaus. Most notable are the National Opera Association Award Winning productions of St. George and the Dragon, Carousel, and In A Garden. 
Dr. Wight has performed with the Houston Grand Opera, including a production of Four Saints in Three Acts for the 50th International Festival in Edinburgh, Scotland. Dr. Wight participated in the Santa Fe Opera Apprentice Artist Program for Singers. He has also performed with Opera-To-Go, an education outreach program of the Houston Grand Opera, with Ars Nova in Huntsville, and the Houston Gilbert and Sullivan Society. He has also performed in productions at the International Gilbert and Sullivan Festival in Buxton, England, and with the Lyric Opera Theatre in Tempe. He has also performed solos for many major choral works, including works by Bach, Brahms, Mendelssohn, Handel, Orff, Vaughn Williams, and Mozart.