Dr. Kenneth Bodiford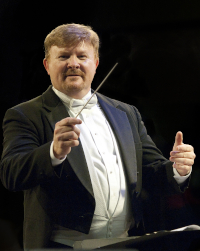 Director of Bands

Studio: Mason Hall 312
Phone: (256) 782-5175
Email: kenbodiford@jsu.edu
Links: Marching Southerners
Dr. Kenneth G. Bodiford has served as the Director of Bands and Assistant Professor of Music at Jacksonville State University in Jacksonville, Alabama since 1994. He earned his Bachelor of Science degree in Music Education at Jacksonville State University, his Master of Music in Music Education and Wind Ensemble Conducting degree at East Carolina University and his Doctorate of Musical Arts in Instrumental Conducting degree from The University of Alabama. 
Dr. Bodiford is the conductor of the Jacksonville State University Chamber Winds, which is the top performing wind ensemble at the university. This ensemble has performed for regional and national venues such as the Alabama Music Educators Conference and the Bands of America Concert Festival Regionals. The ensemble also performs on campus and throughout the northeast Alabama and Georgia regions.  In addition to his responsibilities as the Director of Bands, Dr. Bodiford teaches the instrumental conducting courses at the university and maintains a busy national schedule as a clinician, adjudicator and guest conductor.
Dr. Bodiford is also the director of the internationally known "Marching Southerners."  Since Dr. Bodiford's appointment to the Jacksonville State University director's position, the band program has consistently grown in both quantity and quality each year.  Under his leadership, The Marching Southerners have grown from approximately 144 members to a membership in excess of 450.  They have been included in the Congressional Record of The 111th Congress U.S. House of Representatives for their production, "Of Thee I Sing," performed in Gubernatorial, and Presidential inaugural parades as well as the Macy's Thanksgiving Day Parade.  The band was selected to lead the 2012 London New Year's Day Parade and were selected in 2016 to perform for the 75th Anniversary of the bombing of Pearl Harbor in Oahu, Hawaii.  Most recently, the band has been invited to lead the 2018 World Peace Parade in Rome. Italy.
Dr. Bodiford served as the Executive Director of the Spirit of Atlanta Drum and Bugle Corps (JSU Spirit) from 2001 until 2007. Under his leadership, the corps consistently ranked among the elite top twelve corps in the nation at the DCI World Championships.  In 2013, Dr. Bodiford was nominated for the Music Educator Award presented by The Recording Academy and the GRAMMY Foundation. He was selected as the 2016-17 director of the United States Army All American Marching Band. This group consists of 125 of the top marching band students in the United States. They perform halftime for the All American Bowl each year that is held in San Antonio, Texas.
Throughout his career, Dr. Bodiford has studied with some of the nations finest conductors.  As an undergraduate student, his mentor and band director was Dr. David L. Walters, Director Emeritus, Jacksonville State University. He has also studied with conductors such as Dr. William Wiedrich, University of South Florida, Dr. Robert Ponto, Oberlin Conservatory, Dr. Ken Ozzello, The University of Alabama, and Dr. Frank Battisti, New England Conservatory.