Dr. James E. Roberts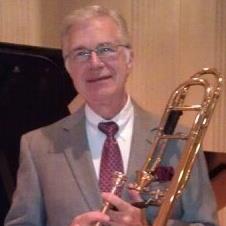 Emeritus Professor of Trombone 
Dr. James Roberts has been a member of the Jacksonville State University faculty since 1974 and has been Professor of Music in Trombone at JSU since 1984. His earliest musical instruction, in piano, was from his violinist father (NEC, 1949) who was a lifelong music educator in western Massachusetts. His undergraduate degrees (BM, Summa cum laude; BMEd, Magna cum laude) are from Hartt College of Music of the University of Hartford. After four years of Air Force service in the Strategic Air Command Band, he earned the MA and DMA degrees at The University of Iowa, where he served as graduate teaching assistant in trombone and euphonium to Dr John Hill. His other trombone teachers have included Robert Briggs, Robert Meyers, Israel Kopmar, John Coffey, Vernon Forbes, and Frank Crisafulli.
Dr. Roberts has performed with the Hartford Symphony and the Connecticut Opera Association Orchestras, the Omaha Symphony, the Tri-Cities Symphony, and the Joffrey Ballet Orchestra; he was a founding member of the Jacksonville Brass Quintet. He has appeared in concert at the International Trombone Workshop/Festival and the MTNA National Convention, and performed Darius Milhaud's Concertino d'hiver with the U.S. Army Orchestra at the Eastern Trombone Workshop in Washington, D.C. He has taught at Blue Lake Fine Arts Camp in Michigan and Sewanee Summer Music Festival in Tennessee; his former students now hold trombone/low brass teaching positions at The University of Georgia, SUNY/Purchase College and Mannes College of Music in New York, Montclair State University in New Jersey, Gustavus Adolphus College in Minnesota, and Cornell College in Iowa. Several are now active in orchestral performance, including positions with Metropolitan Opera Orchestra, Iceland Symphony, Minnesota Orchestra, and the U.S. Army Band.
Former students have emerged as prize winners in state, regional, and national competitions, including: Alabama, Southern Division, and National MTNA Junior High and High School Brass Solo Competitions; International Women's Brass Conference Solo Competition (Senior Bass Trombone); Eastern Trombone Workshop National Solo Competitions (Senior Tenor and Bass Trombone); Young Artist Competition of the Montgomery Symphony Orchestra; Birmingham Music Club Solo Competition; Atlanta Symphony Orchestra Youth Symphony Orchestra Young Artist Solo Competition; and Young Artist Competitions of both the St. Louis and Houston Symphony Orchestras.
A member of the International Trombone Association since 1975, Dr, Roberts has served as Assistant Editor for Research of the ITA Journal, and as Research Committee chair. His reviews of books, music, and recordings have appeared in the ITA Journal and The American Music Teacher, the journal of the Music Teachers National Association (MTNA). His articles on trombone-related topics have appeared in the ITA Journal, and he has presented papers at both the International Trombone Festival and its predecessor, the International Trombone Workshop, the Eastern Trombone Workshop, and the MTNA National Convention. His book, "An Annotated Guide to Orchestral Excerpts for Trombone," (Studio P/R, 1980) has been a staple in the trombone studio. At the 2011 ETW he served as adjudicator for the National Trombone Solo Competition, and he was invited to perform in July 2012, with the Trombone Choir of America, an ensemble of American university professors and leading studio trombonists, at the International Trombone Festival in Paris, preceded by a brief concert tour of Germany, Belgium, and France.
His current research interests include: the relationship between fitness and brass playing; effective strategies to optimize practice efficiency and results; and increasing musical inflection in brass performance.