Dr. David L. Walters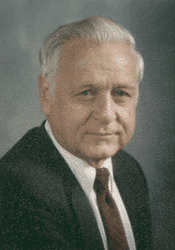 Emeritus Faculty

Dr. David L. Walters is a native of Youngstown, Ohio. After graduating from Struthers High School, Dr. Walters served six years in the Navy, where he graduated from the United States Navy School of Music. He continued his music education by working on and receiving the B.S. Degree in Music from Miami University in Oxford, Ohio. He continued his education with graduate work in Musicology at Washington University in St. Louis. Further study took him to Florida State University where he received the Master of Music Degree in Music Theory in 1960.
Dr. Walters' teaching career began as Band Director at Fairfield High School in Hamilton, Ohio. From there, he moved to New Bern, North Carolina, where he served as Supervisor of Music for the New Bern school system and as Band Director for New Bern High School. Dr. Walters' bands at New Bern consistently earned superior ratings during his nine year tenure there. In 1961, Dr. Walters came to Jacksonville State University, and served as Director of Bands from 1961 to 1991. He continued to develop The Marching Southerners by personally arranging the music which gave the Southerners their unique sound and trademark. He also arranged many fine danceline tunes specifically for the JSU Marching Ballerinas. By featuring this group, the Ballerinas became one of the finest danceline groups in the country. With his ability to arrange and produce such a unique sound for the field along with his clever drill writing, strong traditions emerged from within the group. Section leaders were chosen from each section of the band and this proved to be an excellent educational tool. The band ultimately became one of the finest college bands in the United States.
During his tenure as Director of Bands, The Southerners performed at hundreds of band competitions as the exhibition band. They performed as the halftime entertainment for the Atlanta Falcons for many years. Dr. Walters wrote the "theme" music for the All-American Bowl which was played in Tampa, Florida, where the Southerners performed many times. The Southerners represented Alabama in the Inaugural Parade for President Lyndon Johnson in the early 60s. In 1976, the Southerners were selected to represent Alabama in the Bi-Centennial parade in Philadelphia. Dr. Walters' Symphonic Bands also toured the Southeast and performed for many high schools and recruited some of the finest performers. His band program produced many fine directors and educators. Dr. Walters speaks very fondly of his nearly 5,000 band alumni whom he says were the finest people he ever had the privilege to teach.
At the present time, Dr. Walters is active as an adjudicator and clinician. Dr. Walters is the Emeritus Director of Bands at Jacksonville State Univeristy.