Safe Zone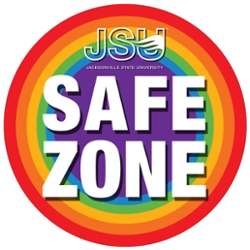 JSU Safe Zone is a campus-wide program that works to ensure a welcoming environment for all gender identities and sexual orientations. By establishing an identifiable network of trained individuals committed to fostering an atmosphere of respect and inclusion, the program provides a safe space for members of the LGBTQ community and their Allies on campus.  Students can locate Safe Zone areas by locating a Safe Zone sticker on the door of an advocate.  JSU will offer basic and advanced Safe Zone training opportunities every semester to our JSU campus community.
Spring 2020 Training
Spring 2020 Safe Zone Ally Lunches
The Safe Zone Ally Lunches are open to the JSU community.  The lunches provide opportunities for community members to engage, support, and learn more about LGBTQ+ activities and advocacy opportunities in the local community.  Please check the information provided for each Ally Lunch to see the specific topic.
Wednesday, February 5th, 12 pm to 1 pm, Library 10B - (Food Provided) LGBTQ+ Students and JSU Housing

Tuesday, March 10th, 12 pm to 1 pm, LIbrary 10B - (Food Provided) Current research being conducted on LGBTQ+ youth in the South

Resources for the LGBTQ Community
JSU Resources
Office of Diversity and Inclusion - http://www.jsu.edu/diversity/
Counseling Services - http://www.jsu.edu/ccservices/
Student Health Center - http://www.jsu.edu/studenthealth
JSU Library LGBTQ+ Resource Collection - http://libguides.jsu.edu/lgbtq
Title IX - http://www.jsu.edu/titleix/
LGBTQ Student Clubs/Organizations (Full Spectrum, Secular Student Alliance, JSU Students for Equality, and Umbrella Orientation) - http://www.jsu.edu/studentlife/sga/Organizations.html
LGBTQ Support Group - Group meets Mondays at 4:30 pm in the Memorial Room of the International House, if you are interested in attending please contact (256) 782-8166 for more information.
LGBTQ Vocabulary List - https://thesafezoneproject.com/resources/vocabulary/
Support
LGBTQ News
GLAAD - https://www.glaad.org/
GLAAD Campus Ambassador Program - https://www.glaad.org/campus#intro
Reporting Concerns to JSU
Our Title IX policy protects you!  Our Title IX policy states:
"Members of the Jacksonville State University (JSU) Community, guests and visitors have a right to be free from all forms of gender and sex-based discrimination, examples of which include, but are not limited to, acts of sexual violence, sexual harassment, domestic violence, dating violence, stalking, or discrimination based upon their sex, gender orientation or gender identity, or retaliation for reporting the same."
"Conduct in violation of this policy is not limited to sexual activity.  Any abusive, harassing, or discriminatory conduct based upon a person's gender, sexual orientation, or sexual identity, real or perceived; any conduct intentionally done based upon a person's or persons' gender, sexual orientation, or sexual identity, real or perceived, or that results in depriving an individual or class of individuals of equal enjoyment of educational or employment opportunities or access violates this policy; and any action, conduct or even inaction undertaken in retaliation for making a complaint of sex or gender-based discrimination, or having the same result regardless of intent is also a violation of this policy."
Please report any concerns or contact our Title IX Coordinator Jennifer Argo at jlargo@jsu.edu or 256-782-5769.
Do you have a concern, but it isn't specifically covered by the policy?  You can still report the concern anonymously and we can make sure that it gets to a staff member who can promptly address your concern.