Report a Concern
Reporting of sex discrimination, including sexual harassment, is encouraged at all levels in the Jacksonville State University community.  Anyone with knowledge of an offense prohibited under our "Sex-Based Harassment and Misconduct Policy" can, and is encouraged to, report it.
Any person may report sex discrimination or any conduct that is prohibited by the JSU "Sex-Based Harassment and Misconduct Policy" (whether or not the person reporting is the person alleged to be the victim of said conduct), in person, by mail, by telephone, or by electronic mail, using the contact information listed below for the Title IX Coordinator or by any other means that results in the Title IX Coordinator receiving the person's verbal or written report. Such a report may be made at any time (including during non-business hours) by completing the "Report a Concern" form below, using the telephone number or electronic mail address or by sending mail to the office address listed below for the Title IX Coordinator.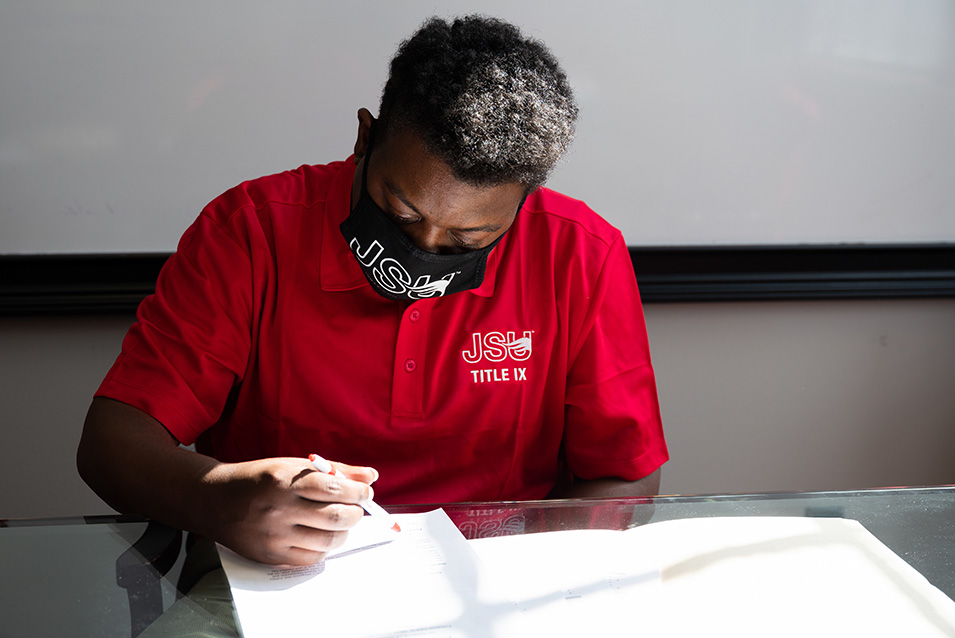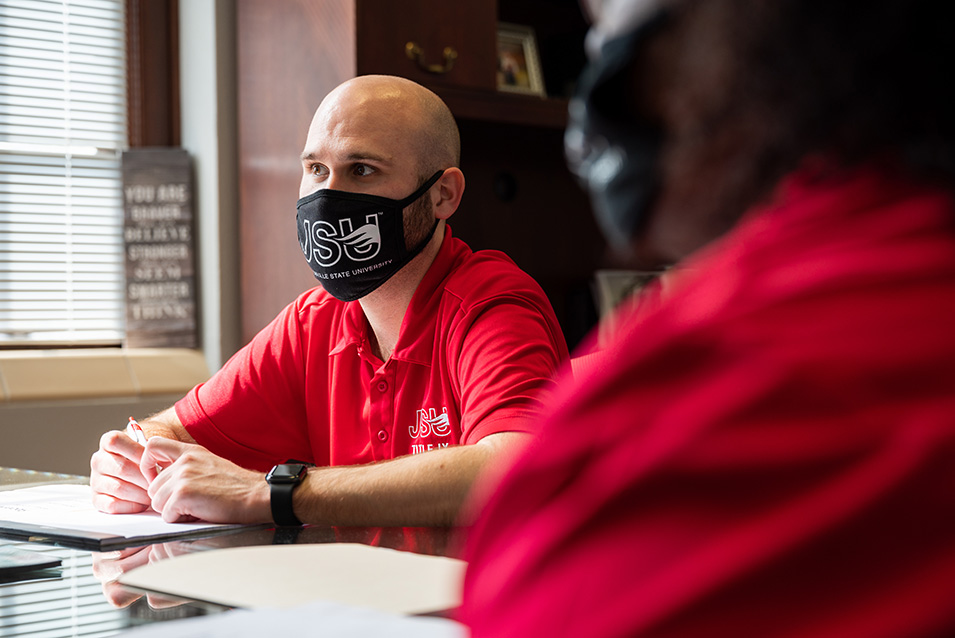 Any complainant, or anyone with knowledge of an incident, is encouraged to report any sex-based misconduct to the Title IX Coordinator. JSU only has jurisdiction to take disciplinary action against a respondent who is a current student or employee. However, JSU can provide supportive measures in some cases, even if the incident did not occur on our campus or was not alleged to have been perpetrated by a JSU student of employee. The Title IX Coordinator is specifically charged with coordinating the initial assessment; initiating the investigation; responding to allegations of sex-based misconduct, harassment, or discrimination; addressing its effects; and preventing its recurrence.
At the time a concern is brought to the attention of the Title IX Coordinator (or any Deputy Title IX Coordinator), a complainant does not have to decide whether or not to file a formal complaint. Choosing to make a report and deciding how to proceed after making the report can be a process that occurs over time.
In every report under this policy, the university will undertake good faith efforts to make an immediate assessment of any risk of harm to the complainant, reporting individual, or to the broader campus community and will take reasonable steps necessary to address those risks. In this process, the university will balance the complainant's interests with the university's obligation to provide a safe and non-discriminatory environment for all members of the university community.
While all employees have the ability to report sexual harassment and should do so, most employees do not have the authority to formally institute corrective measures on behalf of JSU. In fact, the Title IX Coordinator and/or the Deputy Title IX Coordinators are the only JSU employees who have the authority to formally institute corrective measures on behalf of JSU; therefore reports should be made directly to one of these individuals.
While reports can be received from anyone with knowledge of an incident, formal complaints can only be submitted by a complainant (who is participating in or attempting to participate in a JSU educational program or activity), a complainant's parent or legal guardian (if the complainant has a parent or legal guardian who has the legal right to act on behalf of the complainant), or signed by the Title IX Coordinator. In situations where the Title IX Coordinator signs a formal complaint, it should be noted that the Title IX Coordinator is not assumed to be the complainant or otherwise a party under this policy.
  
Title IX Coordinator
Angle Hall, Suite 301-A
256-782-5769
Individuals with complaints of this nature also have the right to file a formal complaint with the United States Department of Education:
Office for Civil Rights (OCR) 400 Maryland Avenue, SW Washington, DC  20202-1100 Customer Service Hotline 800.421.3481 Fax 202.453.6012 TDD: 877.521.2172 Email: OCR@ed.gov
Web: http://www.ed.gov/ocr

or

Office for Civil Rights, Region IV 61 Forsyth Street S.W., Suite 19T10 Atlanta, GA 30303-8927 Telephone: (404) 974-9406 Facsimile: (404) 974-9471
Email: OCR.Atlanta@ed.gov

 
Jacksonville State University will not retaliate against any students for reporting a Title IX concern or complaint or for participating in the Title IX grievance resolution process.