Randy Owen... The Gamecock Who Gives Back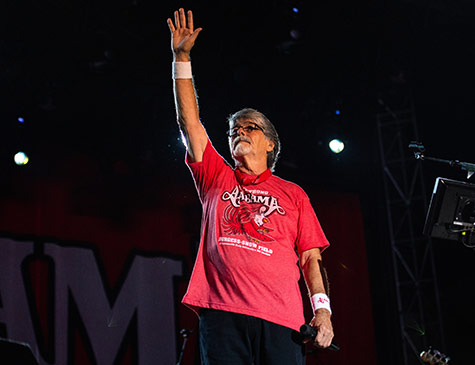 Randy Owen has influenced and inspired generations of musicians as the lead singer of one of country music's most iconic bands.
Born in Fort Payne, Ala., in 1949, Owen enrolled at Jacksonville State University after graduating from Fort Payne High School. The English major studied the works of literary greats while spending his time outside the classroom penning song lyrics.
After receiving a bachelor's degree in 1973, Owen began pursuing a music career full-time. He and cousins Jeff Cook and Teddy Gentry formed a band named after their home state, Alabama, and signed to RCA Records in 1980. The rest is music history. From the start, Alabama attracted a younger, more diverse audience than traditional country music acts. While rooted in country music, the band had a Southern rock edge - resulting in major crossover appeal.
"In contrast to vocal groups such as the Oak Ridge Boys or the Statler Brothers, Alabama was a self-contained unit, playing instruments as well as singing," wrote Geoffrey Himes for the Country Music Hall of Fame. "This was unprecedented for a country music band as successful as they were."
Within a decade of forming, Alabama had become the world's first country music supergroup. They dominated the genre throughout the 1980s and 1990s, releasing 21 gold, platinum and multiplatinum albums. Their songs are among the most memorable in country history, including "My Home's In Alabama," "Tennessee River," "Old Flame," "Love in the First Degree," "Lady Down On Love," "The Closer You Get," "Dixieland Delight," "Feels So Right," and  "Mountain Music."
"As long as God lets me live, I want to do things that make a difference in the world besides play music."
-- Randy Owen
Along the way, the band picked up two Grammy Awards and a star on the Hollywood Walk of Fame. They were named Artist of the Decade by the Academy of Country Music in 1989 and Country Music Group of the Century by the Recording Industry Association of America in 1999. In 2005, three years after retiring, the band was inducted into the Country Music Hall of Fame. Owen was inducted into the Musicians Hall of Fame in 2019.
While Owen is one of the most successful musicians in American history, he wants to be remembered for more than his songs. "As long as God lets me live, I want to do things that make a difference in the world besides play music," he said.
In 1989, he established Country Cares for St. Jude, an annual radio fundraising campaign that challenges the country music community to support St. Jude Children's Research Hospital. Over the past 30 years, the program has raised more than $900 million to help treat and defeat childhood cancer.
When his alma mater was struck by an EF-3 tornado in 2018, Owen sprung into action - reuniting the band and calling on friends like Charlie Daniels to organize a benefit concert that raised more than $1.2 million for the university's recovery efforts.
The new Randy Owen Center for the Performing Arts, or ROC, will honor Owen's contributions to society while supporting the education and training of students.
"This is such an exciting and humbling experience to see such an impactful facility being named in honor of Randy: a husband, dad, granddad and true artist and humanitarian who has given so much to the world," said Kelly Owen, his wife of more than 40 years. "Our family's hope is that the ROC serves as a foundation of inspiration to others, regardless of where they come from, giving them courage to follow their dreams and leading them where they want to go in life."