William A. Meehan- 1999-2015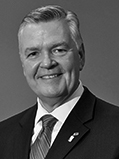 Born in Wethersfield, Connecticut, Dr. William A. Meehan graduated from Shades Valley High School in Birmingham, Ala. He first stepped foot on Jacksonville State University's campus as a freshman in 1968 and "fell in love with the institution." Since then, he transitioned from the classroom to the "oval office," where he diligently served the faculty, staff, and students as president for nearly 16 years.
After completing his Bachelor of Science in biology at JSU in 1972, Meehan returned for his master's and worked as a graduate assistant in the admissions office. Upon graduating with his Master of Science in biology in 1976, he was approached by Dr. Theron Montgomery and asked to stay on as a full-time biology instructor.
In 1992, Meehan married JSU alumna Beth Stevens. Later, they would bring to campus the youngest and most children ever to live in the President's House: twin sons, Drew and Will, and daughter Carol Grace.
Meehan served in several roles for JSU before becoming president, including coordinator of medical technology, director of academic advisement, assistant to the vice president for academic affairs, acting vice president for academic affairs, associate vice president for academic and student affairs, and acting vice president for institutional advancement. On July 1, 1999, he became the 11th president of JSU.
During his tenure as president, five buildings were constructed from the ground up: the McGee Science Center, the Gladys M. Carlisle Fine Arts Facility, the Little River Canyon Center, Kennamer Hall, and Stadium Tower. (On April 20, 2015, the board of trustees voted to rename Stadium Tower William Meehan Hall in honor of the outgoing president.) The Houston Cole Library, Martin Hall, and Jack Hopper Dining Hall underwent makeovers during the Meehan administration, as well.
Between 2001 and 2002, JSU also came together with Gadsden State Community College through two separate building projects and aimed to provide a seamless transition for transfer students. In fall 2011, JSU welcomed the most academically prepared freshman class in the history of the university, with an average ACT score of 22.3. During the same year, the university's first doctoral program was launched. 
Meehan held the third longest term in JSU's history, exceeded only by Presidents Clarence W. Daugette (1899-1942) and Houston Cole (1942-1971).
After dedicating 47 years of his life to JSU – 40 as an employee – Meehan retired from the university on July 1, 2015.