Houston Cole, 1942-1971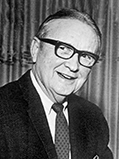 Born on Lookout Mountain in DeKalb County, Ala., Houston Cole graduated from DeKalb County High School in 1922, where he was valedictorian of his class. Following his graduation, he attended the State Normal School in Jacksonville, where he earned his two-year certificate before transferring to the University of Alabama. After receiving a Bachelor of Science degree in 1926, Cole became the superintendent of schools in Guntersville. He went on to earn his master's degree from the University of Alabama and also studied at Columbia University. The University of Alabama bestowed upon Dr. Cole an honorary LL.D., and Jacksonville State University also gave him an honorary Litt.D.
Cole spent much of his early career in Tuscaloosa County, where he served a ten-year stint as principal of Tuscaloosa County High School followed by three years as Tuscaloosa City School superintendent. He was also assistant to President Richard Clarke Foster at the University of Alabama in 1939.
As a civic leader and educator, Cole received many awards and recognitions, including Alabama Magazine's Man of the Year in 1942 and the same honor by the Anniston Star in 1966.
In 1942, Cole assumed the presidency at Jacksonville State Teachers College, where he stayed until 1971. He is the second longest serving president in Jacksonville State University's history. It was under his administration that JSU was renamed Jacksonville State College in 1957 and eventually became Jacksonville State University in 1967.
University historian Sawyer (1983) writes that "many 'firsts' have been credited to President Houston Cole. Two big steps upward were expanding from the Jacksonville State Teachers College to the Jacksonville State College in 1957, and then to Jacksonville State University in 1966. Other firsts were the development of the Student Government Association, the ROTC program, the student center, the football stadium, the Teacher Hall of Fame, the nursing school, and the police academy. Rapidly increasing enrollment necessitated additional faculty members and changes in curriculum... The campus grew and new buildings seemed to appear overnight." (p. 85).
Under Cole's administration, 24 buildings and two annexes were built or initiated, and the value of the physical plant increased by $35 million in terms of 1970 values. His first wife, Leone, helped plan the president's home but did not have the opportunity to live there, as she passed away in August 1949. Leone Cole Auditorium was named in her honor.  In 1952, Cole remarried, and Martha Cole became the First Lady of JSU. Dr. Cole passed away in 1996 and Mrs. Cole in 1999. The 13-storied library on campus was named in honor of President Cole.