Harold J. McGee- 1986-1999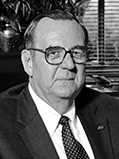 Dr. Harold J. McGee was born and received his early education in Portsmouth, Va. He received a bachelor's degree with majors in history and education from Old Dominion University. He then went on to receive his master's and doctoral degrees in counseling from the University of Virginia. 
Prior to assuming the presidency at JSU, McGee served as the vice president for administrative affairs at James Madison University. He was the secretary and administrative aide to the university's board of trustees and supervised the Valley of Virginia Consortium for Higher Education. Other appointments included vice president for student affairs, assistant to the president, director of graduate studies, sponsored programs, and continuing education, dean of the graduate school, and department head. Prior experience included service as the founding president of a 2,000-student comprehensive regional community college, three years as a high school history teacher and coach, and five years in public administration with the U.S. Office of Education.
In 1986, McGee became president of JSU. During his administration, enrollment increased by 30 percent, technology was added to enhance student learning in the burgeoning digital age, $50 million in capital improvements were added, every professional program that could be accredited was accredited, the university developed its first master plan and capital campaign, and the JSU Foundation increased to more than $19 million. 
McGee authored two books, published articles in national journals in psychology, made invited presentations at state, regional, and national meetings, and served on state, regional, and national advisory boards. 
Even after his retirement, McGee continued to serve JSU, the community and the state. He was a member of the JSU International House Foundation Board and on the Board of Directors of the Alabama Pre-Paid Affordable College Tuition program and the Alabama Higher Education 529 Fund.
Dr. McGee was an Episcopalian who was active in his church, United Way, Chamber of Commerce, Rotary, and numerous professional education activities.
McGee passed away in 2012 and is survived by his wife, Gayle Stevens McGee of Jacksonville; two sons, Andrew M. McGee of Jacksonville and Matthew H. McGee and his wife Lisa of Jackson, Wy.; one daughter, Margaret M. Gobin and her husband Kip of Charlottesville, Va.; two grandchildren, Garth H. McGee and Dylan C. McGee; a sister, Kathryn M. Hudson of Greenville, N.C.; and numerous nieces and nephews. 
In 2001, JSU's new science building was named in Dr. McGee's honor.