JSU Signs Agreement with Cherokee County Chamber
05/17/2022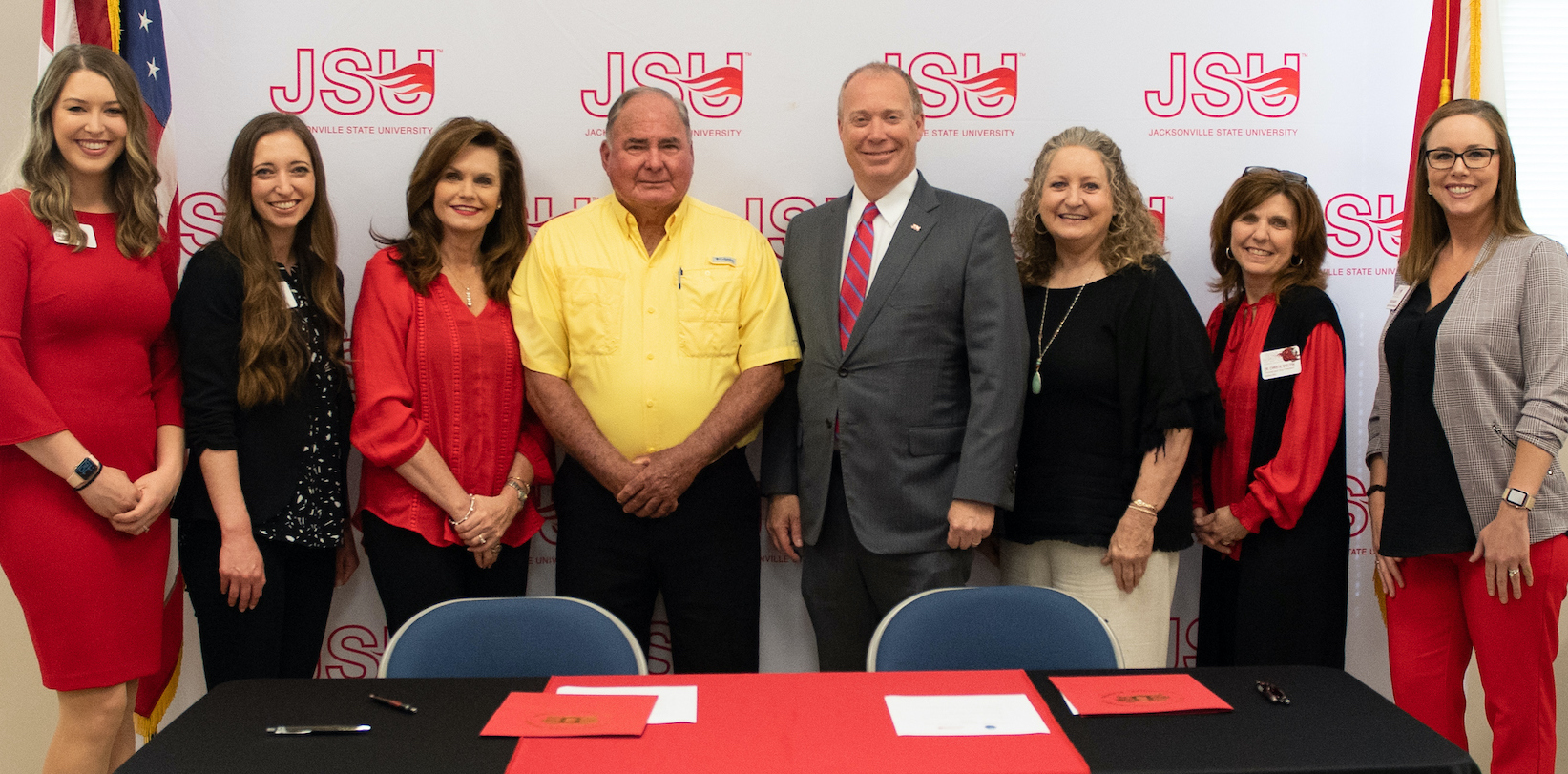 A delegation from the university traveled to Centre, Ala., on May 16 to participate in a signing ceremony with the Cherokee County Chamber of Commerce. Photographed by Katie Alexander, from left, are: Lauren Findley, director of undergraduate admissions and recruitment; Kelly Martin, director of enrollment initiatives; Joy Perry, membership manager for the chamber; Conrad Reed, board chair for the chamber; Dr. Don Killingsworth, president; Thereasa Hulgan, executive director of the chamber; Dr. Christie Shelton, provost; Jessica Wiggins, associate vice president for enrollment management.
by Buffy Lockette
JSU continues to expand its corporate and community partnerships, signing an agreement with Alabama's Cherokee County Chamber of Commerce on May 16 to provide educational opportunities to chamber members.  
Beginning in Fall 2022, the university will offer a 20 percent corporate tuition scholarship per semester to full-time and part-time workers employed by member organizations of the Cherokee County Chamber. Application fees will also be waived, providing an additional $35 in savings. 
"As the regional institution for this area, we are proud to partner with the Cherokee County Chamber of Commerce," said JSU President Don Killingsworth. "We have a lot of great programs that may be of interest to chamber members and their employees – specifically applied engineering and business – and we look forward to sharing the opportunities that exist at our institution."
Located in Northeast Alabama, Cherokee County is located approximately 25 miles north of Jacksonville State's campus and is circled by the Georgia state line and Dekalb, Etowah, Calhoun and Cleburne Counties. Its county seat is Centre and its other towns and cities include Cedar Bluff, Gaylesville, Leesburg, Sand Rock and parts of Collinsville and Piedmont. A popular tourist area, the county is home to Weiss Lake and part of Little River Canyon National Preserve and the Talladega National Forest. 
"We are excited to partner with Jacksonville State University," said Conrad Reed, chair of the board for the Cherokee County Chamber of Commerce. "This is a great opportunity for the chamber to provide another benefit to be a chamber member. Our chamber works hard to provide great service and opportunities for our members. We appreciate Dr. Killingsworth and the JSU staff for making this program possible."
This is the third chamber partnership for JSU, which has signed similar agreements with Calhoun and Etowah Counties.
"We are incredibly excited for the official launch of our partnership with the Cherokee County Chamber of Commerce," said Jessica Wiggins, JSU's associate vice president for enrollment management. "JSU looks forward to the opportunity to help chamber member employees pursue and obtain their educational goals, whether it is beginning an undergraduate degree, re-enrolling to finish a degree or beginning a graduate degree. As the Friendliest Campus in the South, JSU is eager to assist and serve chamber members and their employees."
The chamber scholarship cannot be combined with other university-funded scholarships and discounts, but employees are encouraged to meet with their employer to discuss corporate tuition assistance programs. For more information about the tuition program, please visit the university's chamber partnership website, call 256-782-5039 or email enroll@jsu.edu. Learn more about joining the Cherokee County Chamber on the chamber's website.