JSU Offering Corporate Scholarships to Chamber Members
03/15/2021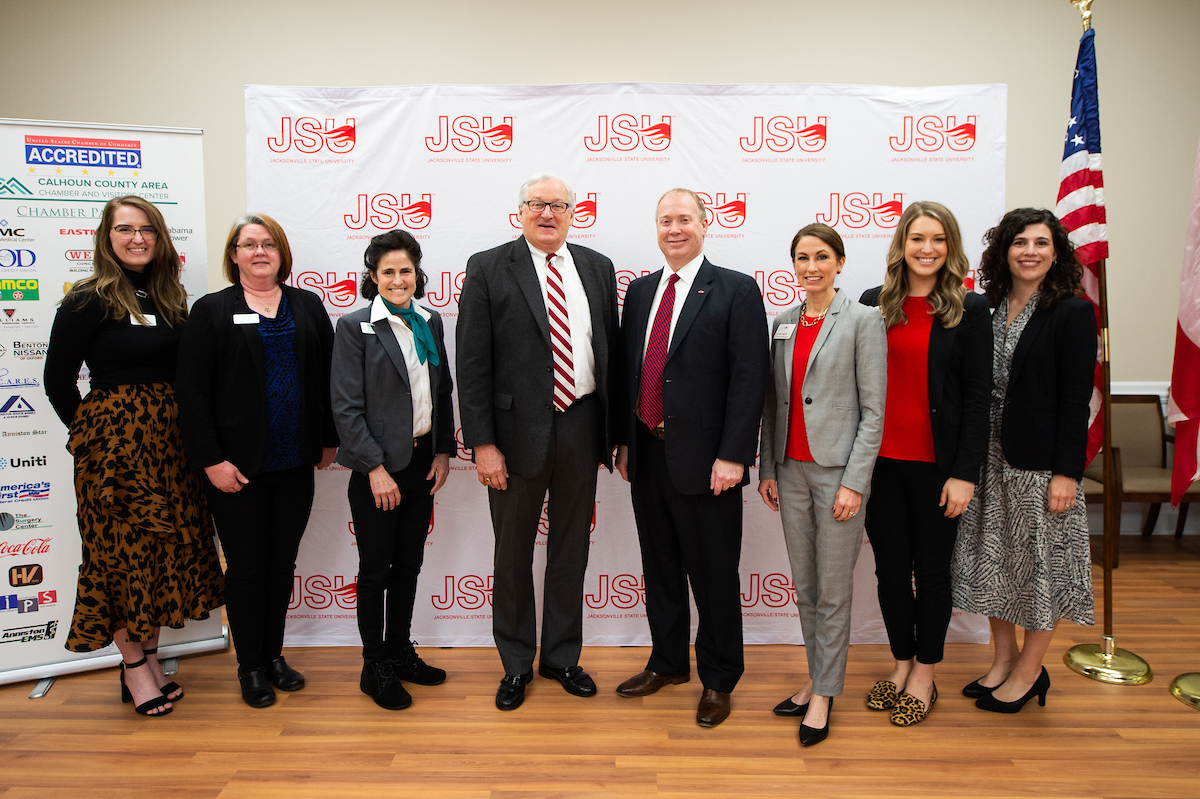 From left: Ashlee Jones, Chamber Communications Director; Kim Boyd, Chamber Director of Membership and Investor Relations; Linda Hearn, Chamber Executive Director; Larry Deason, Chair of the Chamber Board; Dr. Don Killingsworth, JSU President; Dr. Emily Messer, JSU Vice President for Enrollment Management; Lauren Findley, JSU Director of Admissions; and Stefanie Nelson, former JSU Director of Transfer Pathways. Photo by Matt Reynolds.
Jacksonville State University and the Calhoun County Area Chamber and Visitors Center are partnering to provide educational opportunities to Chamber members. 
Beginning in Fall 2021, the university will offer a 20 percent corporate tuition scholarship per semester to full-time and part-time employees of Chamber member organizations as well as employees of the Chamber itself. Application fees are also waived, providing an additional $35 in savings. 
"I can't tell you what this means to this area," said Larry Deason, Board Chair of the Chamber, during a signing ceremony on March 10. "There are so many families struggling right now and this is such a big help." 
JSU President Don C. Killingsworth, Chair-Elect of the Chamber, said it is important for the university to be good community partners. 
"We are here to help the region," Dr. Killingsworth said. "We are proud to be members of this wonderful Chamber and proud to be able to offer this benefit to our members and partners." 
The scholarship cannot be combined with other university-funded scholarships and discounts, but employees are encouraged to meet with their employer to discuss corporate matching programs. 
For more information about the tuition program, visit JSU's partnership website or email enroll@jsu.edu. Learn more about joining the Chamber on its new member website.