University Provides Support to Incoming Students with COVID-19 Education Gaps
08/05/2020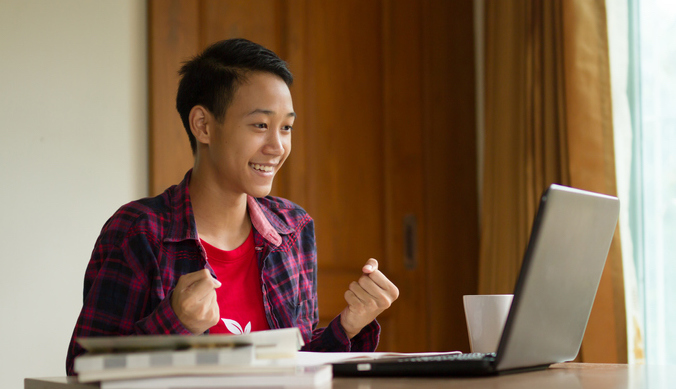 EdReady saves students time and money, providing free personalized remediation available online 24/7.
Across the US each year, 40-60 percent of first-year college students need remediation in English and/or math before they are ready to take college level courses in these subjects. With the COVID-19 pandemic interrupting the senior year of high school for freshmen entering college this fall, the student preparedness gap is expected to grow. 
"These students have experienced an interrupted school year, which impacted their learning," said Mary Reagan, coordinator of the university's summer bridge program and college placement program. "They have not been in a classroom environment since March and we need to help bridge the gap." 
To ensure JSU's entering Class of 2024 is set up for college success, the university is using a trusted resource that has made a big difference in the preparedness of students over the past five years: JSU EdReady. This free placement and preparation tool provides students individualized assessments and remediation to get them ready for college.  
Since its implementation in 2015, more than 6,000 JSU students have used EdReady for math and English. During that time, enrollment in developmental math classes has decreased 75 percent. Since the university began using EdReady for English in Fall 2019, 128 students have been able to bypass the EH 100 remediation course and been placed directly into EH 101. Now, in the age of COVID-19, EdReady is expected make an even bigger impact on campus. 
"The great thing about EdReady is that it was already in a format that can optimally assist students who may have had an interrupted semester due to COVID," said Courtney Peppers, director of JSU Learning Services, which houses EdReady. "The assessment is taken at home, before students enroll in the fall semester, and it is designed to fill in any skill gaps a student may have. This non-proctored, online approach is exactly what is needed in this time of limited in-person contact."
Once the assessment is completed, students are given an individualized study path highlighting the skills they need to improve before beginning college classes. The path includes instructional videos, worked examples, a textbook and quizzes. As students work their way through the program, their scores increase, which improves their college readiness.
"The study path that is generated is focused on each individual student and their individual needs," Reagan said. "This gives them the opportunity to improve and refresh their skills at their own pace, allowing them to bypass developmental classes, saving them time and money."
JSU EdReady was created through a partnership with the nonprofit Network, Resources, Open, College and Career (NROC) Project, JSU Learning Services, and the JSU Department of Math, Computing and Information Sciences (MCIS). JSU has been an NROC member for nearly a decade and had become a paradigm of success, according to NROC Project president Ahrash Bissell.
"JSU has demonstrated what is possible when faculty across departments collaborate to imagine, test and refine powerful uses of open and flexible learning solutions like EdReady," said Bissell. "As we work hard to help other institutions meet students where they are and effectively personalize instruction – especially with the universal and substantial learning deficits brought about by the COVID-19 pandemic – we reference JSU's work as an example of what success looks like and how it can be achieved."
While educators have always valued collaboration, it has become a reliable predictor of how well universities and their students can adapt to sudden changes, says Dr. Jan Case, MCIS department head. 
"Saying that JSU faculty have risen to the occasion is an understatement," Case said. "The flow of creative and innovative teaching ideas being shared across campus is explosive, and students have been patient as new methods have been tested on the fly." 
One of the most frequent comments Case hears from students on their course evaluations is how much effort faculty put into communicating with students, which is the key to success for all involved, Case said.
"It's a cliché, but it's still true – we're in this together," said Case. "At JSU, we know our students, and we're willing to work together to get to the best possible outcome no matter what lies ahead."