Reunion Postponed
Thank you for your support of the JSU International House Program. With great sadness and disappointment, the 75th International House Reunion as been postponed until Fall 2022 or a time that it is safe to convene. 
The Executive Committee of the International Endowment Foundation Board and the 75th IH Reunion Events and Budget Committee have approved this decision.
It has been heartbreaking, but with the rise of Covid variants worldwide , mask mandates, and travel restrictions, we are considering the health of all Alumni. 
For those that have previously registered, we will be happy to issue refunds or we can move the registration payment to the International House Program. Just let us know what you would prefer and we will be happy to take care of it.
Don't forget, if you had made a hotel reservation, contact the hotel directly and cancel your reservation if you are not planning on using it anymore. If you do not cancel prior to 48 hours from your reservation, you will be charged for the stay.
We are looking forward to the day we can all be together to celebrate such a special anniversary for the IHP. Stay safe and let us know if you need anything.
We leave you with Dr. Jones' words: "Know one another and you will love one another."
Kaci Ogle
Director of Alumni Relations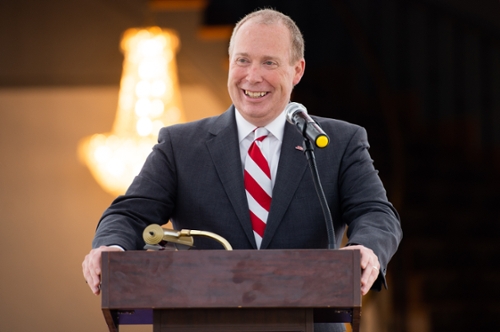 President Killingsworth at the International House  
Inspired by their travels throughout Europe at the end of World War II and heartbroken by the devastation that they saw, Dr. James and Myra Jones returned home to establish JSU's international program, with the goal to foster global peace and understanding. What began as a cultural exchange program between JSU and Paris, France, has grown into one of the most unique initiatives found on any college campus.
Each year, the International House hosts 20 international students and 20 American students living together in harmony, much like a model United Nations. The international students participating in this program not only globalize our campus, but also provide the surrounding community an opportunity to learn more about diverse people, languages, and cultures. In fact, area residents often recall meeting someone from outside the US for the first time because of JSU.
In honor of its 75th or "diamond" anniversary, the university is excited to celebrate this campus gem. I hope you will be able to return to JSU for this celebration, and I look forward to meeting you, hearing your stories, and working together to continue and advance Dr. Jones' motto: "Know One Another and You Will Love One Another."
Sincerely,
Dr. Don C. Killingsworth, Jr.
President
Highlights from Past Reunions