Save the Dates!
You have two opportunities to reunite with fellow classmates and celebrate 75+ Years of the Jones International House Program….
Registration to Open Soon! Register for one or both of the upcoming reunions:
---
October 20-21, 2023

Jacksonville State University



Priority Registration thru October 6, 2023

- Alumni registration fee $100 (in the house prior to 2013) $100
- Young alumni registration fee (in the house from 2013-2023) $50
- Prices will increase by $10 on October 7th.


Registration deadline is October 13th!

June 12-13, 2024

Paris, France


Registration Opens Soon!
---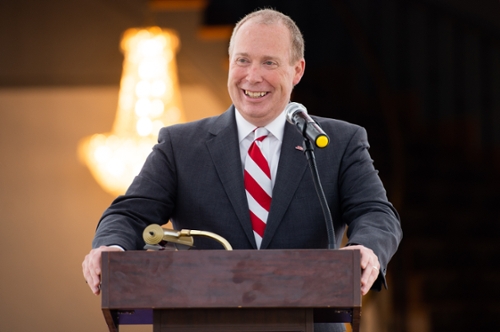 President Killingsworth at the International House  
Inspired by their travels throughout Europe at the end of World War II and heartbroken by the devastation that they saw, Dr. James and Myra Jones returned home to establish JSU's international program, with the goal to foster global peace and understanding. What began as a cultural exchange program between JSU and Paris, France, has grown into one of the most unique initiatives found on any college campus.
Each year, the International House hosts 20 international students and 20 American students living together in harmony, much like a model United Nations. The international students participating in this program not only globalize our campus, but also provide the surrounding community an opportunity to learn more about diverse people, languages, and cultures. In fact, area residents often recall meeting someone from outside the US for the first time because of JSU.
In honor of its 75th or "diamond" anniversary, the university is excited to celebrate this campus gem. I hope you will be able to return to JSU for this celebration, and I look forward to meeting you, hearing your stories, and working together to continue and advance Dr. Jones' motto: "Know One Another and You Will Love One Another."
Sincerely,
Dr. Don C. Killingsworth, Jr.
President
Highlights from Past Reunions