Department of English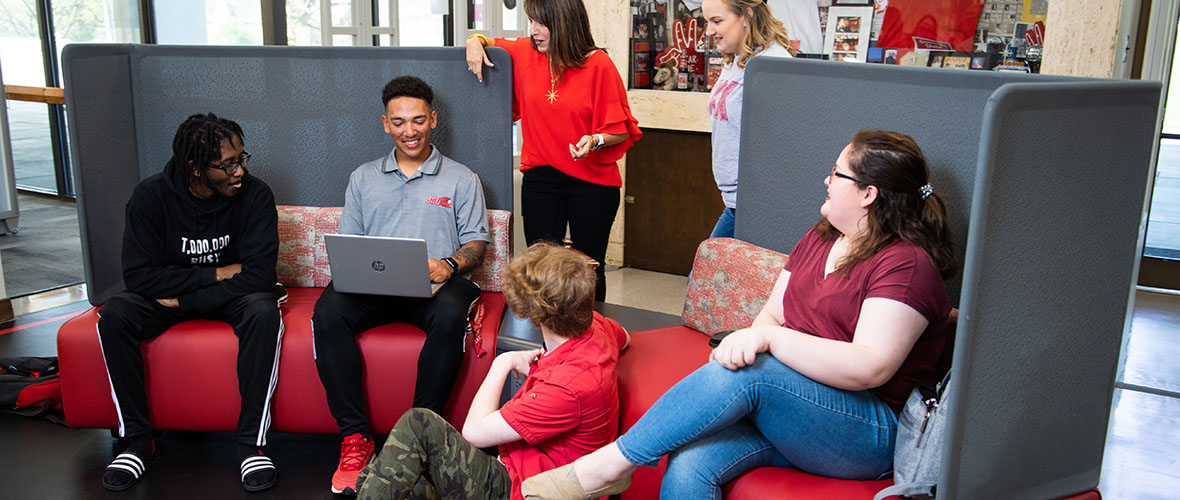 Department of English Mission Statement
Using innovative teaching approaches, the Department of English empowers students to write and communicate across numerous current and emerging fields, to think critically, and to solve problems creatively. At all levels of instruction--from first-year composition through graduate classes--the Department of English establishes a firm foundation for students to begin their exploration of the world and, for English majors, builds on that foundation with opportunities to enrich their cultural and intellectual lives through classes that emphasize deep analysis, careful research, and rigorous writing across several fields including the study of literature, creative writing, and professional writing. The Department of English both serves the needs of the University and strives to become a destination department for those students whose personal goals and intellectual curiosity align with the Department's mission.
Cool Classes for Fall 2021
Description
Introduction to Creative Writing is the starting point for all creative writing courses at JSU.  Through reading, writing, and experiencing the creative process firsthand, students will create their own works and receive feedback to help improve their skills.
Prerequisite
EH 102, EH 104, or EH 106
Authors and/or Texts Covered
The authors who will be covered are mostly living and current authors who hold major prevalence in the creative writing world, and a few classics will be sprinkled in now and then.
Skills Taught
Technical writing, the creative process, and navigating the publishing of each genre.
Why You Should Take This Class
There are stories within us all, and being able to put those onto the page and share them within a safe environment is a great starting point for any aspiring author or creative. Join us and come learn techniques to help refine your craft and be introduced to resources and communities for creative writers.
Description
This class surveys major African American authors and texts from the Colonial period to the Harlem Renaissance.
Prerequisite
EH 102, EH 104, or EH 106
Authors and/or Texts Covered
We'll study musical and oral traditions such as spirituals and the blues, and writers such as Phyllis Wheatly, Harriet Jacobs, Frederick Douglass, Booker T. Washington, W.E.B. Du Bois, Zora Neale Hurston, Nella Larsen, Jean Toomer, and Langston Hughes.
Skills Taught
Critical reading and writing about texts, argumentation, research.
Why You Should Take This Class
Today, more than ever, it is important for us to listen, learn, and actively educate ourselves about the African American experience.  To understand where we are in America today, we must first journey back to the beginning and read Phyllis Wheatley' s "On Being Brought from Africa to America"; understand W.E.B. Du Bois's notion of "two-ness," and his experience of being both Black and American; and learn from Zora Neale Hurston "How It Feels to Be Colored Me."
Description
In this course, students will read a variety of translations of traditional Native American stories, including origin stories, trickster tales, and hero stories. Students will also read poetry and fiction by contemporary Native American writers, examining how these writers draw from their Native cultures as well as how they depict varied lifestyles of Native Americans today.
Prerequisites
EH 102, EH 104, or EH 106
Authors and/or Texts Covered
In additional to a range of traditional oral stories, the class will read works by such contemporary writers as N. Scott Momaday, Leslie Marmon Silko, James Welch, Louise Erdrich and Sherman Alexie. The class will also look at works written within the last three or four years, including Tommy Orange's 2018 novel There There.
Skills Taught
Literary interpretation, writing, and interpretive strategies.
Why You Should Take This Class
Students often come to EH 305 with rather limited perceptions regarding Native Americans, ones influenced by pervasive stereotypes that have long permeated American popular culture. EH 305 offers an opportunity for students to be exposed to aspects of Native American culture they had not previously been aware of--stories that are touching, funny, infuriating. As in any good literature class, EH 305 will broaden students' understanding of what it means to be human.
Description
This class helps students develop an understanding of the principles of linguistics and the application of those principles in our daily lives.
Prerequisite
EH 102, EH 104, or EH 106
Authors and/ or Texts Covered
Introduction to Language by Victoria Fromkin, Robert Rodman, and Nina Hyams, and MindTap
Skills Taught
Transcribing English words phonetically using the International Phonetic Alphabet (IPA), understanding structure of the language, collecting and analyzing data from different languages, problem-solving, and identifying differences in communication.
Why You Should Take This Class
What is language? Can animals and computers learn human language? What is language made up of? How do humans acquire language? How do our brains process and represent language? In EH 308 Introduction to Linguistics class, we will be discussing these questions and much more. Also, if you plan to teach language or if you are majoring in Foreign Languages, Education, Psychology, Sociology, Political Science, TESOL, or Speech and Language Pathology, you will find this course relevant to you.
Description
This class surveys works of science fiction and fantasy writing, covering texts from the 17th through the 21st centuries.
Prerequisite
EH 102, EH 104, or EH 106
Authors and/or Texts Covered
We will start with selections from The Blazing World (1666) by Margaret Cavendish, then move into some late-19th and early-20th century texts including Bram Stoker's Dracula (1897) and Yevgeny Zamyatin's We (1921).  We will read texts by J. R. R. Tolkien, Ursula K. Le Guin, and Octavia Butler, among others, before ending on Tamsyn Muir's Gideon the Ninth (2019).  We will also take the time to watch Blade Runner (1982) and Princess Mononoke (1997).
Skills Taught
Close reading, research, and multimodal document design, alongside the more traditional essay writing skills.
Why You Should Take This Class
We will be reading the books you already want to read, traveling to fantastic worlds, and if the stars align, we'll be joined via Zoom by Tamsyn Muir to discuss her novel and the writing process. 
Description
This class will serve as the basis for writing and distributing content online for each of the most popular social media platforms.
Prerequisites
EH 102, EH 104, or EH 106
Authors and/or Texts Covered
We will study different case studies and industry publications, as well as Ginny Redish's Letting Go of the Words: Writing Web Content that Works and Abby Covert's How to Make Sense of Any Mess.
Skills Taught
Social media campaign creation and analysis, research, virtual design.
Why Should You Take This Class
There are so many differences in writing for a research paper and writing for a Twitter post. Social media writing puts great emphasis on speaking directly to an audience. It includes visual elements that help spread the message faster and accomplish the goals that have been set out.
Description
Welcome to one of the coolest courses that will give you so much fun! In this course we will be learning how to write a podcast in different styles, as well as research and conduct interview.
Prerequisites
EH 102, EH 104, or EH 106
Authors and/or Texts Covered
Students will be reading and listening to all different styles of podcasts and they will also be reading Everybody Has a Podcast.
Skills Taught
Interviewing, researching, creating narratives and storytelling, conducting discussions, outlining, and video techniques.
Why Should You Take This Class
Students should take this course because they will have fun and will learn a lot. Creating podcasts is one of the best jobs in the world - we see everyone from comedians to journalists podcasting. We encourage our students to take the course and be as good as those who are podcast professionals right now.
Description
This course will concentrate on writing fiction, providing the opportunity to gain greater command of the elements of fiction by reading and analyzing published fiction, reading and commenting on the writing of classroom peers, and writing original fiction for discussion in a workshop format.
Prerequisite
EH 251 or approval of instructor.
Authors and/or Texts Covered
We use one main text, New American Stories edited by Ben Marcus, focusing on the contemporary American short story, supplemented by craft essays and other Writing-about-writing.
Skills Taught
Critiquing short fiction, narrative arcs, three-dimensional characters, dialogue, description, stable voice.
Why You Should Take This Class
A good story provides the opportunity for radical empathy and a deep view into someone else's life. It can move someone else to tears, laughter, or action. To tell one is to make experience come alive.
Description
This class views and analyzes the motion picture by way of its artistic, technical, and historical contexts.
Prerequisite
EH 102, EH 104, or EH 106
Authors and/or Texts Covered
Approximately fourteen films will be covered, by multiple directors such as Charles Chaplin, Ingmar Bergman, François Truffaut, Satyajit Ray, Akira Kurosawa, Éric Rohmer, Wim Wenders, and Andrei Tarkovsky
Skills Taught
Media Engagement, critical film analysis.
Why You Should Take This Class
Films are often casually considered to be mere entertainment rather than art; but especially in the post-WWII era and onward, the concept of "art house cinema" developed. These films are entertaining, of course, but they also introduce students to a wide range of intelligent, cinematic meanings that are only possible to access through careful viewing and discussion. Future film-watching will be enhanced for students who take the course.