Rodney Bailey
Distinguished Instructor
(he/him/his)
227 Stone Center
256-782-8339
rbailey@jsu.edu      
Mr. Bailey started his teaching career in the JSU English Department in the Fall of 2005. Since then, he has received several awards at Jacksonville State University for his use of technology in the classroom and has been recognized nationally by NBC LEARN and the National Writing Project, where he served as one of five technology liaisons responsible for providing local leadership and as a link between the local writing project site and national programs and initiatives related to digital literacies, their technology and its role in teaching and learning.
Mr. Bailey has given presentations at several local, regional, and national conventions, which include Blackboard World, The National Conference for Teachers of English (NCTE), The National Writing Project Annual Meeting (NWP), The American Association of State Colleges and Universities (AASCU), and a number of local high schools and community colleges in the area.
He currently serves as the co-chair for the JSU English Department Diversity and Inclusion committee, The Winter Guard International Diversity and Inclusion committee, the co-creator of "LEAN IN"- a Virtual Gathering of Pageantry Arts People of Color, the President Elect for Phi Kappa Phi and is the coordinator of marketing and social media for the College of Arts and Humanities at JSU.
In his spare time, Mr. Bailey serves as the coordinator for the Jacksonville State University Marching Southerners. Under his leadership, the Marching Southerners Colorguard has become one of the best collegiate colorguards in the Southeast. The Marching Southerners' indoor colorguard, (JSU Center Stage Performance Ensemble) is a 6-time Winterguard International Sport of the Arts finalist, has received top honors on the local and regional level, received the bronze medal at the Winterguard International "Sport of the Arts" World Championships (2006), and became a Winterguard International "Sport of the Arts" World class finalist in 2007. Mr. Bailey also works with several high school and independent colorguards across the country.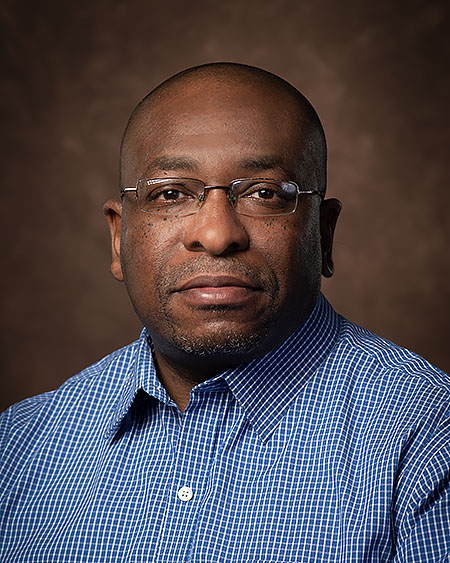 Courses Taught:
EH 101 English Composition I
EH 102 English Composition II
EH 141 Speech
EH 201 American Literature I: Beginnings to 1865
EH 202 American Literature II: 1865 to Present
Education
M.S.Ed. in Educational Technology from Jacksonville State University in 1997
B.A. in English from Jacksonville State University in 1994
Other Responsibilities
Coordinator of Marketing and Social Media for the College of Arts and Humanities
Colorguard Coordinator for the Jacksonville State University Marching Southerners
Speech Committee
Promotion and Tenure Committee
Diversity, Equity, and Inclusion Committee Chair