Graduate Certificate in Nursing Education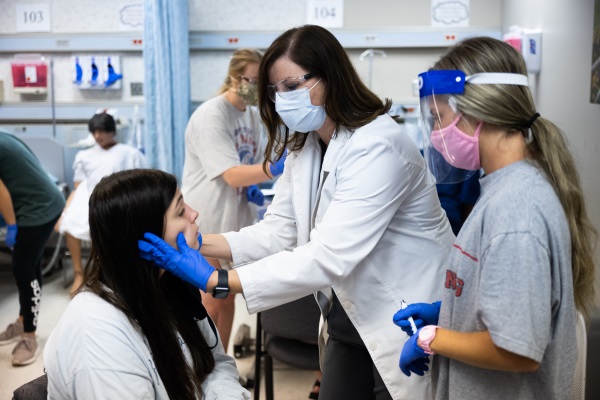 The graduate certificate program in nursing education is designed to prepare nurses to teach in nursing and health professional programs, health care institutions and agencies, and in the community. The certificate provides nurses with essential knowledge and skills about teaching, program development, evaluation, clinical instruction, and other aspects of the educational process in nursing. Upon satisfactorily completing the requirements of the graduate certificate (comprehensive exam is not required for the graduate certificate), an entry will be made on the student's transcript.
Courses in the graduate certificate program are offered online. A practicum is required. The practicum is based on student needs, and is planned with students in a location convenient for them. A student who completes the graduate certificate may apply these hours of credit toward the Master's of Science in Nursing with a concentration in Nursing Education degree.
Please review the Graduate Certificate Program Disclosures for information on costs, financing options, student indebtedness and completion for each Graduate Certificate Program.
Applicants for the Graduate Certificate in Nursing Education must submit the following:
Completed JSU graduate application.
Non-refundable $35.00 application processing fee.
Bachelor's degree with a major in nursing from a regionally accredited university with a professionally accredited nursing program.
Official transcripts from the postsecondary institution awarding the bachelor's degree. (Students who have previously attended JSU do not need to request a transcript from the University.)
A current unencumbered RN license in the United States.
*Please contact Tammy Johnson (tjohnson@jsu.edu) if you do not reside in the state of Alabama before applying to the university.
Required courses for the Graduate Certificate in Nursing Education: (15 hours)*
*You may view the course descriptions in the Graduate Catalog



NU 550 Developing Instruction Programs in Collegiate Nursing Education
NU 551 Teaching, Learning, and Evaluation in Collegiate Nursing Programs
NU 552 Practicum in Collegiate Nursing Education
NU 553 Issues and Trends in Collegiate Nursing Education
NU 554 Intro to Instructional Design and Online Teaching
Applications/Information

Graduate Studies
Jacksonville State University
700 Pelham Road North Jacksonville, AL 36265-1602
(800) 231-5291
(256) 782-5348
Online Graduate Admissions e-mail: graduate@jsu.edu