A $1.5 Million Grant Becomes Latest in a Series of Awards for JSU
09/02/2022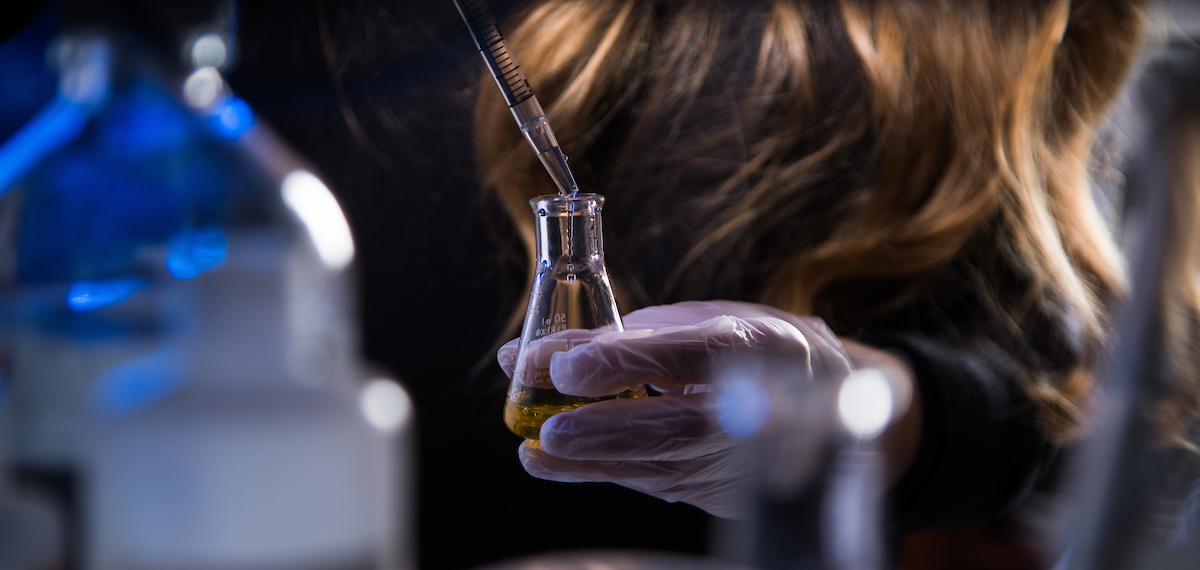 A new grant from the National Science Foundation will support students majoring in STEM fields with a minor or concentration in data science. Photo by Matt Reynolds, 2017.
by Brett Buckner
JSU has been awarded a $1.5 million grant from the National Science Foundation to increase the number of students earning degrees in Science, Technology, Engineering and Math (STEM) fields with minors or concentrations in data science.  
The JSU Jump Start Data Science project will recruit, support and graduate at least 60 selected low-income, STEM students who have academic ability, talent and potential. Those selected may be awarded a maximum of $5,000 each semester, for a total of $10,000 per year.
"This prestigious program will fund scholarships for students who have an unmet financial need and are majoring in a STEM field with a concentration or minor in data science," said Lynn Garner, assistant director of the Office of Sponsored Programs. "This is a wonderful opportunity for JSU to make a positive impact on the STEM workforce in the United States and provide a much-needed boost to the students in the area."
The six-year grant will support the education of 60 students through 2028. Students selected for the scholarship program will be immersed in the world of STEM, with cultural events, speakers and mentors to guide their academic development. More information will be provided soon from the grant team, which is led by Dr. Jan Case, head of the Department of Mathematical, Computing and Information Sciences. 
The NSF award is just the latest in a series of successful grant proposals for the university. In August alone, the following awards were funded:  
Alabama Humanities Alliance, Dr. Benjamin Gross, $10,000 to support the Tocqueville Lecture Series 
Jack Miller Center, Dr. Benjamin Gross, $15,000 to support the Tocqueville Lecture Series
Alabama Scenic River Trails, Dr. Ross Martin, $7,690 to support at least nine hours of tuition for a graduate student and a $4,000 stipend for research
National Endowment for the Humanities, Jodi Poe, $10,000 Preservation Assistance Grant
The JSU Office of Sponsored Programs assists university faculty and staff in pursuing and managing external funding from federal, state and private organizations. Drawing on decades of experience, the three-person team assists university personnel in developing their ideas into practical grant proposals that have the highest likelihood of funding success. 
The OSP oversees pre-award and post-award activities to ensure university policy and rigid government guidelines are followed. This includes: 
Meeting with faculty and staff to identify funding opportunities to support their ideas 
Guiding the principal investigator or project director as they develop their grant proposal
Developing project budget to ensure the proposal meets grant guidelines and project goals 
Facilitating legal review of documents and contracts, if applicable 
Ensuring grant proposal documents follow university approval process and gain required signatures
Submitting final proposal through the appropriate grant portals 
Providing guidance on award activities to ensure the funded project is meeting grant requirements and complying with university policy 
Assisting the principal investigator or project manager with ongoing grant evaluation and reporting, as well as with grant closeout at the end of the project 
"Often the faculty member reaches out and tells us what their interests are," Garner said. "The process is a lot of back and forth between the faculty and staff in the OSP, solidifying the narrative and ideas for budgeting and what is needed to conduct a project."
Due to the highly competitive nature of grants, it's not possible for every idea to get funding. For comparison, the NSF funds about 26 percent of proposals while the National Institutes on Health (NIH) funds approximately 21 percent. Yet, at JSU, the success rate on grant applications is currently about 58 percent. According to Garner, this is accomplished by being strategic. The OSP team works to find opportunities where the missions of the university and the grant agency align. The NSF grant is a perfect example of this. 
"Anytime that JSU can assist students with scholarships and then highlight programs we already have at the university, it's a win for all involved," said Garner. 
If you have a grant idea, get started by contacting the Office of Sponsored Programs at osp@jsu.edu or stopping by the office in Angle Hall, Room 249.