Beloved Biology Professor Mourned by Campus Community
02/11/2022
by Buffy Lockette
News of the passing of Dr. George Cline, JSU professor of biology, on the evening of Feb. 10 was a devastating blow on a campus still reeling from the untimely loss of both a university staff member and legendary coach within the past week.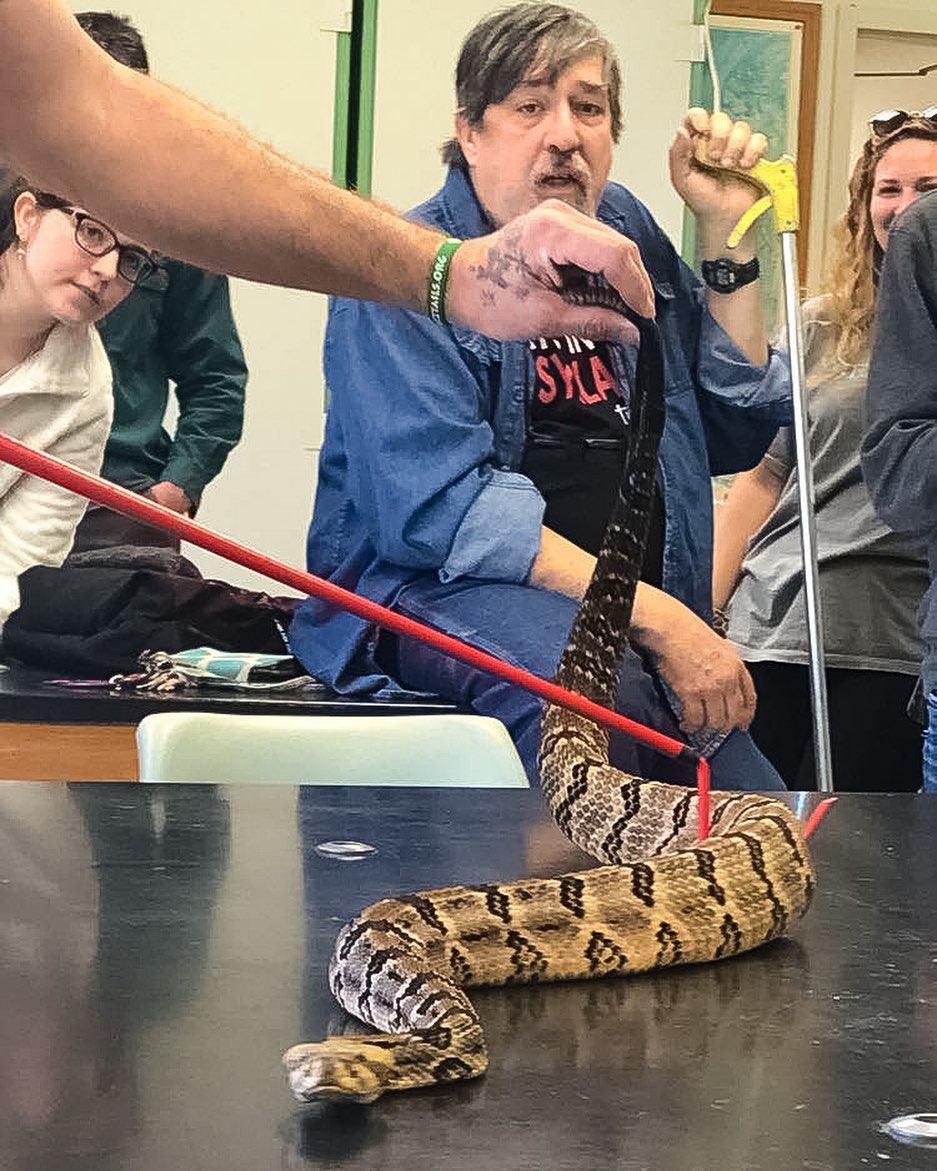 For nearly 30 years, Dr. Cline - or Dr. Frog, as he was affectionately referred to by generations of students - taught biology, ecology, conservation, animal behavior, herpetology and vertebrate anatomy courses within the JSU Department of Biology. An outpouring of love for Dr. Cline and support for his family began pouring in on social media immediately following his passing. 
"He is the reason that I am a herpetologist" - Brett Macek 
"He was a great professor. He made science and class so much fun." - Mallory Halpin 
"He was an amazing man and an incredible professor. He was so animated in his lectures. His knowledge and love for the field was apparent in everything he did." - Kimmi Leigh
"One of the best professors I ever had the privilege of knowing. He made snakes, frogs, turtles and lizards so much fun to study and less scary!" - Brandi Ralene Stouder 
"He was the first biology professor I had at JSU and was one that you could never forget. His enthusiasm and passion for his students' learning was unparalleled. I have been honored to know George as an undergraduate student, graduate student mentor, and in the past 15 years a dear friend and colleague that I spoke to several times a week. I will miss my friend!" - Brent Nichols
But the popular university professor didn't limit his teaching to campus. Children throughout the region often came face to face with a scary reptile or slippery salamander for the first time at one of Dr. Cline's animal presentations in the community. He volunteered at the Anniston Museum of Natural History, where he was instrumental in the annual HerpFest showcasing reptiles and amphibians, and he led educational romps through the university's Frog Pond, wading through the muck - often after dark - and humanely capturing creepy crawlies to be examined, studied and released. 
Dr. Cline was greatly appreciated for his willingness to identify and even relocate the errant snake that occasionally startled colleagues and neighbors - both on campus and off. Even his vacations were centered on sharing his love of science, spending his summers at the Dauphin Island Sea Lab to lead student research along the Gulf Coast. For his dedication to the community, he was honored with JSU's Cleo and Carla Thomas Outstanding Community Education and Service Award in 2017. He was also presented a Faculty Research Award in 2004. 
"Dr. Cline was one of the most dedicated professors I have known," said Dr. Tim Lindblom, dean of the College of Science and Mathematics. "He was a constant mentor to his students, his colleagues, and to me. His passion for science, his students, biological diversity and the arts infused all aspects of his life. Few have known Dr. Cline and not come away from the experience changed for the better. Over his nearly 30-year career, he had a huge impact on the entire JSU family and he will be missed."
But it wasn't all science for Dr. Frog. He served as a troop leader for the Jacksonville Boy Scouts over the years and lent his talents as a bass singer to round out the vocal range of the choir at the United Methodist Church of Jacksonville. The most important aspect of his life was his family, who are engrained in the university community - his wife, Brenda, who serves as a teacher at the JSU Child Development Center; his daughter, Katie, a 2018 English and communications alumna and former editor for "The Chanticleer"; and his son Eric, a 2020 biology alumnus and current biology graduate student who is following in his father's footsteps. 
"George Cline was always supportive of me no matter what I did," Eric shared on Facebook on Friday afternoon. "As I was going into college and made my decision to go into the field of biology-ecology, he sat me down and said I didn't have to, that he wouldn't be upset if I chose something else. I told him I love it and he didn't pressure into it at all…Next time you are out on a rainy spring night take a moment and listen to the frogs. Dr. Frog and his tadpoles would appreciate it."