Alabama Public Television Airing JSU Documentary About Anniston Museum
11/17/2021
by Brett Buckner
As you bake pies and start prepping the turkey the evening before Thanksgiving, Nov. 24, turn the TV to Alabama Public Television at 9 p.m. and let the latest documentary produced by JSU's Longleaf Studios keep you company.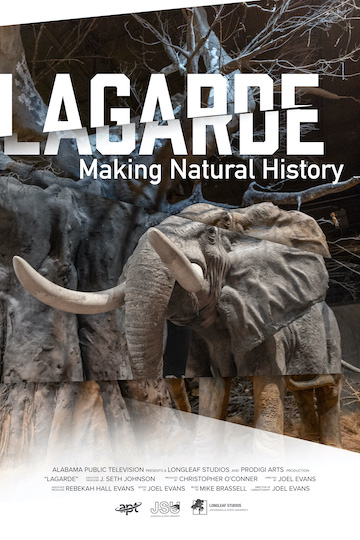 "Lagarde: Making National History" presents the intertwining stories of John B. Lagarde – a businessman, sportsman and philanthropist – and the Anniston Museum of Natural History, to which he was a valued contributor. It incorporates original footage from Lagarde's expeditions across the globe in the 1960s with a dramatization of key events in his life. Interviews with former and current museum staff and members of Lagarde's family are also included. 
The genesis of the film came more than 30 years ago when Pete Conroy, then-curator of the Anniston Museum, discovered a cache of original 16mm films from the 1950s and 1960s documenting Lagarde's adventures. He produced a series of television shows with Lagarde, during which both men discussed the old films. 
"The idea was pitched to us by APT to make a documentary about the life of John B. Lagarde and showcase these films to tell the story of how the Anniston Museum of Natural History came to be," said Seth Johnson, director of Longleaf Studios and head of the JSU Department of Art and Design. "The lasting impression we want to give the viewer is the Anniston Museum of Natural History is an incredible resource full of wonder and discovery right here in our own back yard."
Produced in partnership with Prodigi Arts, Johnson served as executive director of the film, assisted by JSU students.    
"It was a great opportunity for our film students to interact with working professionals in the film industry and get to see the entire process from beginning to end," Johnson said.  "They were able to participate in the production, giving them invaluable experience they will get to put on their resume for the rest of their careers."
"Lagarde" is the third JSU-produced film to premiere on APT, joining "The Fire in Anniston: A Freedom Rider's Story" and "Forever Wild: The James D. Martin Story." 
Housed in the JSU School of Arts and Humanities, Longleaf Studios is a university-based production studio that provides students the opportunity to gain real-world experience working on the set of actual productions. It serves as an experiential learning space for the university's Bachelor of Arts in Film program, an interdisciplinary major that includes courses from the Drama, Art and Design, and English departments.