Gamecocks Times Three: Identical Triplets Graduate From JSU
05/06/2021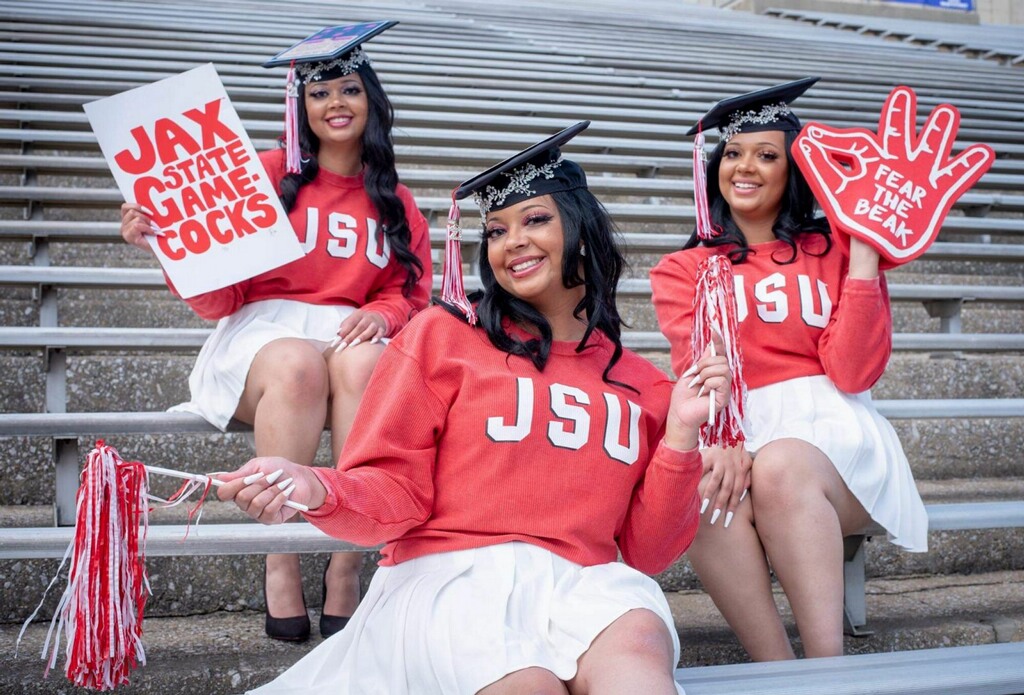 Rare identical triplets Kayla, Karla and Kristi Riley will graduate together from the university as part of Spring 2021 commencement.
Graduating from college is bittersweet. For Karla, Kayla and Kristi Riley, those emotions are tripled. 
After graduating from JSU on Friday, the identical triplets will face the reality of going their separate ways for the first time in 24 years.
"They're not used to being apart, so they're worried about splitting up," said their mother, Natalie.
Raised in Center Point, the Rileys enrolled at JSU in 2016 after graduating from Gardendale High School. They first learned about the university from their high school band director, Tracey Starnes, a proud Marching Southerners alumnus - even though they decided not to join the band once they arrived on campus.
"I would have loved to have been in Southerners - they looked like they were having so much fun - but we wanted to focus more on our school work," said Kayla. 
The triplets were among the first class of students to participate in the university's Fast Start Academy, a special six-week summer bridge program designed to help incoming freshmen transition from high school to college.
"In addition to their dedication to academics, the Riley triplets were involved in campus activities, utilized JSU services and held student worker positions," said Mary Reagan, who coordinates the academy. "Their immersion in the campus culture embodies behaviors that we would like to see in all students." 
The sisters are rare identical triplets - literally one in a million, according to US birth rates. Even more unique are those, like the Rileys, who weren't conceived as the result of fertility treatment. But while the Rileys look the same, they hunger for individuality. This is reflected in their academic and career pursuits. 
Kayla, the firstborn, has pursued an art degree and plans to become a graphic designer. Kristi, possibly the middle triplet (things got confusing in the delivery room), is receiving a bachelor's in forensic investigation with a minor in psychology. She wants to work as a forensic psychologist, interviewing and interrogating those involved in criminal investigations. Karla, who has earned a biology degree, intends to become a hematologist.
The triplet's parents, Wayne and Natalie Riley, have had a subtle influence on Karla and Kristi's career paths. Mr. Riley works in security for Children's Hospital, while Mrs. Riley serves as a pharmacy tech for St. Vincent's. Kayla, the creative, stands out as the family's artist. In fact, the fierce individualist doesn't go out of her way to let people on campus know she's a triplet. 
"I let them figure it out on their own," Kayla said. "If they ask, I will tell them, but I don't tell people I am a triplet. We want to have our own identities." 
While their duplicity confused faculty, staff and students in the beginning - "I see that girl everywhere!" - it didn't take long for the Rileys to find their place on campus. 
"We have different types of families in different departments," said Kayla. "I have my little family in Hammond Hall and my sisters will come by and have no idea what we are talking about. I'll go to Karla's stuff and she's talking about science and I ask her what she's talking about and she'll say 'I'm sorry, you won't understand'."  
Kristi, completing Kayla's sentence, said, "Each department understands us, and that's what matters." Kayla, chiming in again, said, "This gave us our individuality. Each department was our home. That's what I am going to miss most." 
While the sisters blazed their own trails academically, they found a common interest in Active Minds, a student organization that promotes mental wellness on campus. In fact, Kayla and Karla have served as president and Kristi as vice president of the organization. 
Following graduation, the Rileys plan to scatter for various graduate programs they are applying to - possibly living apart in different states, causing a "custody battle" over their mini-Maltese, Gracie. But the family will be back on campus in August to celebrate the graduation of the triplet's older brother, Christian, who is finishing a master's degree in health and physical education.
"Chris is all about the fitness," said Karla. "He is opening his own athletic training business - Driven Talent Sports Performance - in Jacksonville, so the honorary fourth triplet will still be around, giving us a reason to visit campus often."