Remembering JSU Trailblazer Claudia McDade
10/20/2020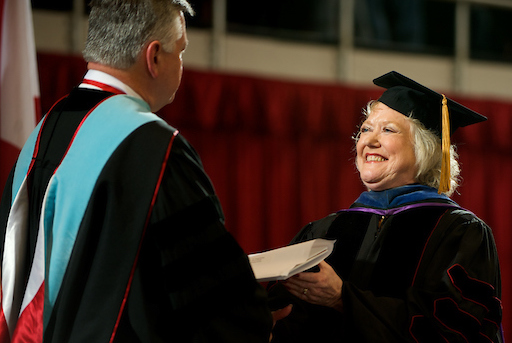 Dr. Claudia McDade (right) was honored by President Bill Meehan at Fall Commencement in 2008.
Dr. Claudia McDade, Director Emerita of JSU Learning Services, died last week due to complications from COVID-19. News of her unexpected passing came as a shock to her friends and colleagues on campus. 
"This is a great loss for me personally and for so many colleagues and former students," said Courtney Peppers, who worked under McDade in JSU Learning Services for nearly a decade and assumed her role as director of the department following her retirement in 2008. "I can't even separate who I am apart from her. She became my mentor when I was 22 years old and she continued to be for 20 years. She knew the value of teaching women leadership skills, and she instilled in me the importance of mentoring other young professionals. My hope is to continue her legacy and pass it on to future generations of women leaders." 
When McDade arrived on campus in 1974 to serve as a psychology professor, she was just 24 years old and had already received a PhD from Louisiana State University. But it wasn't an easy journey, as she struggled with undiagnosed dyslexia until graduate school. 
In a 1998 interview with student reporter Buffy Smith – now JSU PR Director Buffy Lockette – McDade recalled that when she was in elementary school, she sat in the back of the classroom struggling to understand things that seemed easy for her peers. Throughout high school, she had to study for hours each night just to keep up. Though she was highly intelligent, scoring an outstanding 34 on her ACT exam, it was difficult for her to grasp concepts.
"I knew that I learned differently so I had to work harder than the rest of the kids," McDade said. "My mother used to make me turn the lights out in my bedroom at midnight, so I would go lay beside the bottom of the refrigerator and study all night, because that was the only light I could find."
Early in her career at JSU, she became an advocate for students with learning disabilities. She worked to develop and coordinate academic support services, such as a "Freshman Success Skills" course to assist first year students – the early model for STU 101. She established the Academic Center for Excellence/Learning Services in 1980 and, in 1993, she started the Experiencing Success in Education and Life (ExSEL) program – now known as the Fast Start Academy – to help students who needed extra support the summer before they started college. 
"I realized when I first started teaching college that it was easy to teach students, but it was more of a challenge to help the motivated ones who were struggling," McDade said. "So, I tell them that there are no excuses, we just have to find a way to make it work and if I can do it, anybody can."
McDade was awarded the state's highest honor for developmental educators in 1998, the Outstanding Developmental Educator of the Year award from the Alabama Association for Developmental Education. Over the years she also received JSU's Outstanding Faculty Award, the USA Group/Noel-Levitz Retention Excellence Award and an Outstanding Educator Award from the Women Committed to Excellence program. She served as a Fulbright Scholar to Bulgaria in 2004. 
"She was committed to education access for everyone, before that was a term," said Peppers. "She believed every student could learn and she took away the stigma."
Dr. Rebecca Turner, retired JSU provost, who worked with Dr. McDade for decades, said, "Dr. Claudia McDade would be so pleased to know that President Don Killingsworth is emphasizing student success, for it was she who first established a program to provide learning support for JSU students to increase their chances for academic success. She was committed to this support of student learning throughout her career at JSU. Her work gained national recognition for her, as well as for JSU. The work that she began decades ago persists and thrives to this day. Thanks to Dr. McDade for creating a JSU commitment to student learning support and student success. It is a legacy that lives on."  
In addition to all the trails she blazed for learning equity on campus, any bio on Claudia McDade would be incomplete if it did not mention her strong commitment to social change. She was expelled from Tulane University for Civil Rights protesting in the 1960s, transferring to LSU to finish a PhD in psychology at a time when women were not encouraged to rise. When she arrived on campus in the early 1970s, colleagues advised her to marry soon if she wanted to be accepted. She balked at the idea. Later, she married Jim Matheny – the love of her life – and enjoyed 27 years of marriage. In the 1990s, she led the university's first LGBTQ support group, the Gay-Straight Alliance.  
When McDade retired from JSU after 35 years of service in 2008, President Bill Meehan honored her at the Fall 2008 commencement ceremony with Director Emeritus status. 
"Claudia was an outstanding researcher, a fantastic teacher, and always loved serving students," Dr. Meehan said. "In turn, the students loved her right back. She took her students into every aspect of her life whether at the university or at home. Her heart was always open to her students."
McDade and her husband retired to Fort Morgan, Ala., where she continued to stay active. As a licensed psychologist, she contracted with the Veteran's Administration to counsel veterans with PTSD. She was a member of Impact 100 Baldwin County – a women's organization that works to support nonprofit organizations within Baldwin County, Alabama – and was active in Holy Spirit Episcopal Church of Gulf Shores.
The family is hosting a memorial on Oct. 29, 2 p.m., at Holy Spirit Episcopal Church of Gulf Shores. In lieu of flowers, the family suggests donations be made to Christian Service Center, Holy Spirit Episcopal Church, Warrior Bonfire Program or the JSU Foundation in Memory of Claudia McDade (Precision Learning Institute).