JSU Enrollment Climbs Despite Global Pandemic
09/24/2020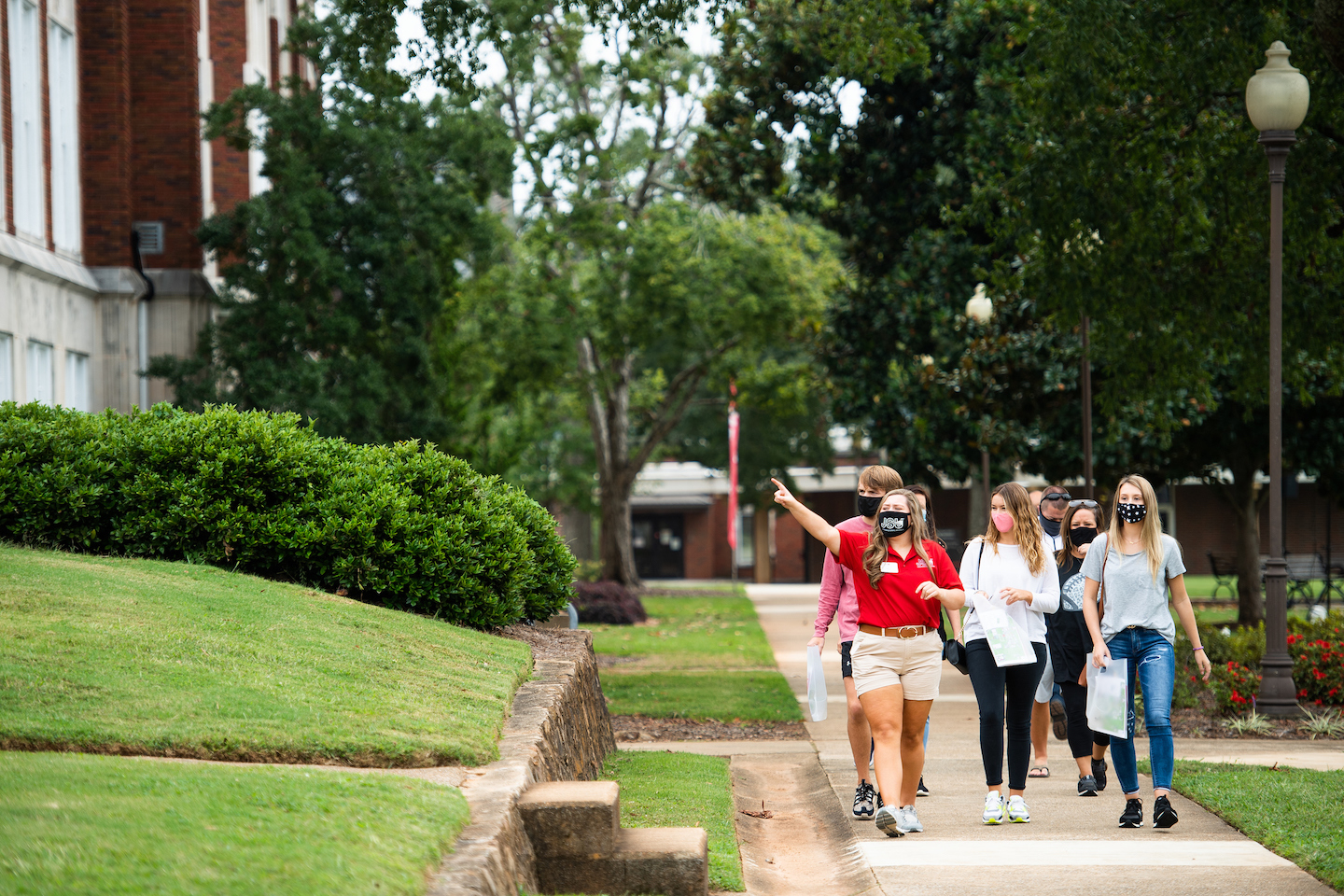 A JSU admissions ambassador shows prospective students around campus on Sept. 19. Photo by Matt Reynolds.
In the face of COVID-19, when colleges and universities across the US are experiencing a decline in student enrollment, Jacksonville State University has posted its highest numbers since 2011.
Total student enrollment climbed to 9,238 this fall, up 217 students compared to Fall 2019 – an overall 2.4 percent increase. Credit hour production, which measures the hours of course credit in which students are registered, was up 1.5 percent, rising above 104,000 for the first time since 2012. The university saw big gains in the number of returning students, which increased by 418 students, or 7.6 percent.
"I think one of the most important pieces supporting our enrollment this fall was a comprehensive effort across all divisions to connect with students throughout the spring and summer," said Dr. Tim King, Vice President of Student Success. "From academic advising to assisting with financial aid paperwork, faculty and staff came together campus-wide to ensure students had what they needed to enroll."
An aggressive communications campaign was implemented on campus over the summer, with academic departments connecting with current students and the Office of Admissions contacting all first-time freshmen and transfer students to answer questions and offer support. The Division of Student Success reached out to special student populations to make sure they were ready to re-enroll, while also implementing a chatbot system to answer student questions 24/7.
The Office of the President even stepped up its communication efforts, with President Don Killingsworth keeping campus updated on the university's plans for fall by hosting live town hall sessions on social media and quadrupling the quantity of announcements distributed to faculty, students and staff.
"I think that onslaught of care from our entire community was key to making sure our students returned," King said.
Dr. Emily Messer, Vice President of Enrollment Management, also credits the university's "all hands on deck" mentality to its enrollment gains this fall, with faculty and staff personally reaching out to students in true "Friendliest Campus" fashion.
"That was an expression of how much JSU cares about our students," Messer said. "We were willing to meet them where they were, even during a pandemic."
The Office of Admissions learned to adapt to the constraints of social distancing this recruitment year. Spring Preview Days, where new students typically get their first introduction to campus, were moved online. Instead of hosting an Accepted Students Day celebration or sending university representatives to attend high school awards days – tactics that help convert admitted students into enrolled students – JSU Admissions hosted drive-thru events statewide, where accepted students could pick up their scholarship award certificates and Future Gamecock lawn signs from the safety of their cars.
Attending Gamecock Orientation is always the final factor in determining whether first-time freshmen take the next step from admitted to enrolled student. The Dean of Students Office prepared both in-person and virtual options, adjusting the presentation style weekly based on guidance from the university's COVID-19 Task Force.
The university also boosted enrollment numbers by focusing greater attention on recruiting adult learners. Graduate student enrollment grew by 17.2 percent, representing 219 students – exceeding 1,400 students for the first time since Fall 2010. Credit hour production among graduate students was up 23.4 percent.
Special tuition rates were implemented, with discounts offered to military students and employees of the Southern Company. The university also continued to target returning students through its Finish What You Started campaign.
"I am proud of how faculty and staff pulled together, during these difficult times, to help grow the JSU family," said President Killingsworth. "I am also thankful to our students, who decided to begin or continue their studies on campus, despite the uncertain times we live in. As we saw in 2018, when enrollment remained steady in the face of a natural disaster, nothing can stop the Gamecock spirit." 
Looking ahead to 2021, the university will strive to break its all-time enrollment record of 9,504 students from 2010, while continuing to adapt to a post-pandemic world. "It's going to be a long year of very different recruitment," Messer said.
Preview Days have been transformed into Campus Tour Days, when prospective students and their families can tour campus in small, individualized groups, while maintaining safety protocols. JSU is one of Alabama's only college campuses currently offering in-person tours. Tours are available Monday-Friday, with special Saturday tour dates planned throughout the year. Since high schools are not allowing college recruiters to visit this year, the Admissions team will host virtual high school visits, participate in virtual college fairs and hold one-on-one virtual meetings with admissions counselors.
Applications are now open for Spring and Fall 2021. Test score requirements have been waived for both undergraduate and graduate admissions through Fall 2021. If you know someone who would make a great addition to the JSU family, please submit a Prospective Student Referral Form.