Head of Psychology Department Recognized for Autism Reform Work
12/02/2018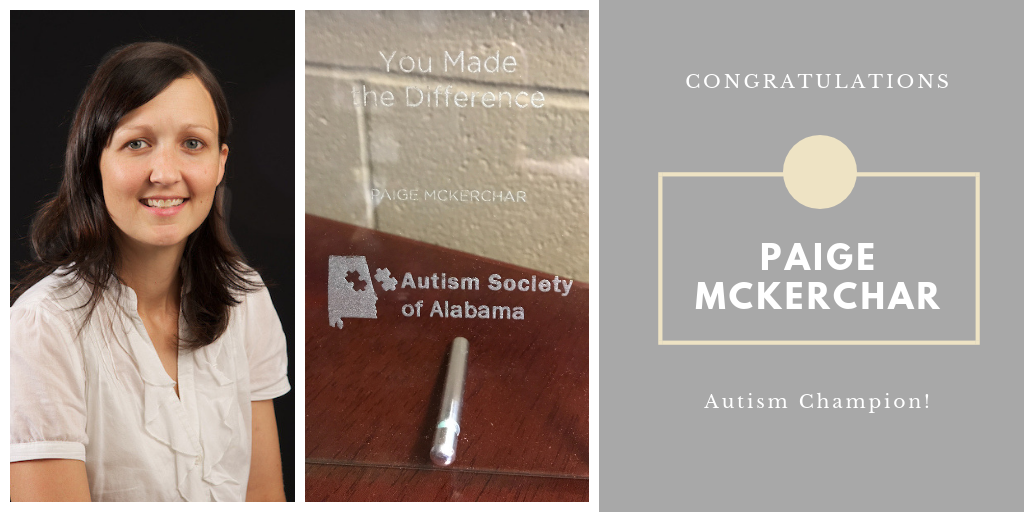 According to the Centers for Disease Control and Prevention, 1 in 59 children were diagnosed with autism in 2014. Because of the efforts of JSU's Dr. Paige McKerchar, treatment options for children with autism and their families are improving.
Dr. McKerchar, who's head of JSU's psychology department, has been recognized by the Autism Society of Alabama for her work with the passing of two legislative bills: Behavior Analyst Licensing Board and the Autism Insurance Reform.
The Alabama Behavior Analyst Licensing Board legislation allows behavior analysts in Alabama to be licensed as required by insurance companies to receive coverage and reimbursement. Without this law, insurance companies would have refused to reimburse behavior analysts for their services because they were not considered licensed professionals.
"The Alabama Behavior Analyst Licensing Board legislation also helped behavior analysts protect their right to practice, provided parity with other professionals, allowed for insurance reimbursement, and most importantly, protected consumers seeking behavioral analysis treatment," Dr. McKerchar explained.
The Autism Insurance Reform legislation requires that certain health insurance plans and contracts offer reimbursement for autism treatment, including applied behavior analysis (ABA) treatment.
"This means that parents with these insurance policies who couldn't afford to pay out of pocket for ABA treatment can now have these services covered by insurance," Dr. McKerchar said. "So, the number of children who now have access to effective, ABA treatment services has increased dramatically as a result of this new law."
Dr. McKerchar started her career in behavior analysis as an undergraduate student at the University of Florida in 1998 working with individuals with a variety of intellectual and developmental disabilities, including autism. She has witnessed parents of children with autism as they fought to get insurance funding for ABA treatment for their children because it's proven to be the most successful approach for improving skills in children with autism.
"I was willing to do whatever I could to help because I feel strongly that ABA treatment can improve the quality of life for individuals with autism and their families," she said. "There is so much potential to have a huge impact on families and communities in Alabama – there's nothing more rewarding than that."
According to the 2018 Behavior Analyst Certification Board (BACB) report, "US Employment Demand for Behavior Analysts: 2010-2017," the demand for Board Certified Behavior Analysts has increased approximately 800 percent from 2010-2017.
JSU is helping meet this demand. It has the only master's program in Alabama that's accredited by the Association for Behavior Analysis International (ABAI) Accreditation Board. Its Department of Psychology offers a Master of Science degree in psychology with an emphasis in ABA and has a Behavior Analyst Certification Board (BACB) verified course sequence.
According to Dr. MerKerchar, JSU's BCBA Exam pass rates have increased from 56 percent in 2015 to 80 percent in 2017, which is 15 percent above the 2017 international average of 65 percent.
"JSU's master's program is likely to see an increase in the number of applicants and graduates," Dr. McKerchar said. "Our faculty are committed to maintaining the quality of the program while we grow, but we are excited about getting more students into this rewarding career."