FAQs for Fall 2018
07/23/2018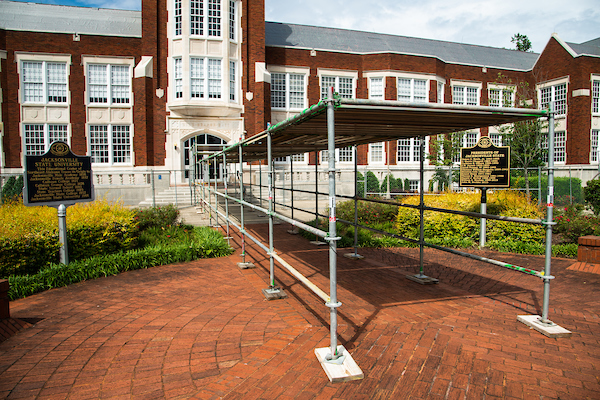 Updated 8/20/18
JSU's fall semester will begin on Aug. 21, just two days after the five-month anniversary of the historic spring break tornado that struck campus on March 19, 2018. The university will be fully operational, providing the same classes and activities students enjoy each fall. 
While crews have been working nonstop all summer to rebuild our campus, the university will still be in the reconstruction mode when students return in August. For safety, fencing and scaffolding will remain in place around some buildings as workers continue to make repairs. Any remaining debris will be cleared before the start of the semester.
JSU is committed to providing students a "normal" school year, despite the unique circumstances we find ourselves in. We ask students, faculty and staff to please remain patient and flexible. While it might still look like a work site on Aug. 21, most repairs will begin wrapping up a month later – making campus feel like Home again just in time for Homecoming on Sept. 29. 
Below are answers to some of the most Frequently Asked Questions about Fall 2018. If your question isn't on the list, email JSU Public Relations at jsunews@jsu.edu. 
Will any JSU buildings remain closed this fall?
All residence halls and dining locations will be open this fall. Some classes will meet in new locations. Wallace Hall, Mason Hall (music side), Pete Mathews Coliseum and the Honor's House will remain closed for repairs and renovations. The Pete Mathews Coliseum will reopen in time for basketball season. Wallace Hall, the music wing of Mason Hall and the Honor's House are being completely renovated and will reopen as soon as possible (hopefully sometime in the spring). Classes and activities normally held in Wallace Hall and the music wing of Mason Hall are being reassigned to other locations on campus. Please note that East Mason Hall (home to the Family and Consumer Sciences department) is fully functional and open for fall. The Honor's Program is continuing to operate in the conference room in Martin Hall, Room 107. The Alumni House was torn down over the summer and Merrill Hall is being torn down over late summer/early fall. Alumni Relations and the School of Business and Industry are now housed in the School of Business and Industry Complex (SBIC). The Rock House, home of the JSU Foundation, has reopened. 
What is the SBIC?
The School of Business and Industry Complex (SBIC) is located at 115 College Street SW, Jacksonville, AL 36265. It is situated in the neighborhood behind McDonald's and the First United Methodist Church of Jacksonville. Please note that it is NOT located near Walmart (that is the site of the new Kitty Stone Elementary School). A driving tutorial is available here and a SBIC property map here. Students are advised not to park on the streets surrounding the SBIC or at the church, as the university has no jurisdiction over these streets and city police may ticket and/or tow without warning. Parking is being expanded in this lot before fall semester and should accommodate roughly the same number of vehicles as the Merrill Hall lot. The back of the lot will be zoned for all student decals, while those in front of the building will be zoned for faculty, staff and commuter students. Lighting is being installed before the start of the semester for night classes. A direct Gamecock Express route from main campus to the SBIC has been organized. 
Will any of my classes move before the first day of the semester?
JSU classroom assignments are decentralized, meaning that each academic school has space allocated to them and assigns its own class meeting locations. Continue to check your schedule through the first days of class to confirm your meeting locations. Contact your school or department directly with any questions. 
Is housing available on campus?
All residence halls and on-campus apartments reopened this fall. University Housing has worked to find on-campus living space for all students who need it. We normally have enough space for students who want to live on campus, but the loss of several off-campus apartments has caused a temporary local housing shortage. Creative solutions have been developed. Please contact Housing at 256-782-5122 if you still need housing. 
Is Forney Hall being turned into a dorm?
No, historic Forney Hall (located next to the SBIC) is not opening as a residence hall this fall. Workers have given it a new roof and done some other repairs to stabilize deterioration so the university has the option of possibly restoring and reopening it in the distant future. There are no plans to use it this school year. 
Will I still have to purchase a meal plan? When do dining facilities open for fall? 
Resident students will still need to purchase a meal plan. All dining locations will reopen this fall, including a newly renovated and expanded TMB Food Court. Options are also more affordable than ever, with a new Block 80 dining plan providing 10 extra meals for the same price as the former Block 70 plan. 
Meal Plans are active on Saturday, Aug. 18, at 4 p.m. The Jack Hopper Dining Hall will be open on Saturday, Sunday and Monday (Aug. 18-20) for brunch, 10:30 a.m. to 2 p.m.; and dinner, 4:30-7:30 p.m. WOW Wingery will resume normal hours on Sunday. Jazzman's, Jack Hopper Dining Hall and the Gamecock Diner will resume normal hours on Tuesday. The renovated TMB Food Court will be open on Monday, Aug. 20, 8 a.m. to 2 p.m., before resuming normal hours on Tuesday. The new Mein Bowl at the Food Court will be delayed a few days, but Chick-fil-A and Freshen's will open as scheduled. 
Any parking tips for fall?
Over the next four weeks, parking and commuting around campus will be a challenge. Parking lots will be restricted and/or blocked,  pedestrian pathways and sidewalks will be obstructed, and traffic patterns will be compromised. To cut down on traffic, faculty, staff and students are encouraged to park and walk (if able) for the remainder of the day once they've secured a space. Get to campus at least 30 minutes early. You may be forced to park in remote locations as parking lots fill up. Pedestrians may have to walk around fencing and not be able to walk "straight" to where they need to go. It will be more important than ever to have a parking decal. Please be sure to provide the correct cellphone number when purchasing your decal so the University Police Department can contact you quickly if construction workers need you to move your vehicle during the day. Follow the UPD on Instagram at @JSUPD for daily parking updates and call 256-782-5050 for assistance. After the first month of the semester, construction activity in the core of campus will begin to slow down and campus will finally begin to return to normal.
Walking and Biking
Students are encouraged to walk or bike to class. Due to construction, however, please be careful when commuting around campus, especially when crossing roads and intersections. Be aware of your surroundings and make sure vehicles see you. 
Gamecock Express
New Gamecock Express bus routes have been released. Please download the free MyJSU mobile app for the most accurate stop times and to follow your bus in real time!
What If I'm Running Late to Class?
Be sure to leave 30 minutes early to ensure you have plenty of time to safely make it to class. Faculty have been encouraged to be flexible and understanding as students get used to their commutes. 
Is the JSU Bookstore Open? 
Yes! The campus bookstore, located on the ground floor of the Theron Montgomery Building, is open for business despite the scaffolding in the front entrance at the TMB. Come right in as normal to purchase textbooks, supplies and merch. The store is open extended hours through the first week of class as follows: Monday, 7:15 a.m. to 7 p.m.; Tuesday, 7:15 a.m. to 7 p.m.; Wednesday, 7:15 a.m. to 6 p.m.; Thursday, 7:15 a.m. to 6 p.m.; Friday, 7:15 a.m. to 5 p.m.; Saturday, 10 a.m. to 2 p.m.; Sunday, 1-5 p.m.; Monday, 7:15 a.m. to 6 p.m. Students may charge books and supplies to their leftover financial aid through Aug. 27. They may also order online using financial aid and select store pickup or shipping. 
Will we still have the same events and activities as normal? 
Students can look forward to the same exciting events and honored traditions JSU presents every fall. In fact, it's shaping up to be bigger and better than ever! Mark your calendar for the following: 
Freshman Convocation will be held on August 20
Student Affairs will host Welcome Week on Aug. 18-25, presenting a variety of exciting events including a free concert with Morgan Wallen on Aug. 23 at Spirit on Mountain Street
Fraternity and Sorority Life will host Panhellenic Sorority Recruitment on August 15-19, IFC Fraternity Recruitment on August 19-25, and the NPHC Expo on September 9. 
Gamecock Football will return to Montgomery for the FCS Football Kickoff vs North Carolina A&T on Aug. 25
Invite mom and dad to meet your JSU Family during Family Weekend on September 21-22. 
Some of your favorite bands will perform at the Alabama & Friends Concert on Sept. 26
JSU Athletics will dedicate the renovated Gamecock Baseball Stadium on Sept. 28
JSU Homecoming will take place on Sept. 29
JSU will faceoff against Kennesaw State in the first football matchup in the new home of the Atlanta Braves, SunTrust Park, in Atlanta on Nov. 17
Will fall graduation still go on as planned in December? 
We hope to have the Pete Mathews Coliseum ready to host fall commencement on Dec. 14. The last day to register for graduation is Aug. 27. 
Will you raise tuition and fees to pay for rebuilding campus? 
We do not plan to raise tuition and fees to cover the capital building costs we have incurred due to the tornado. We use tuition and fees to finance university operational costs – utilities, payroll, scholarships and supplies. We will finance building projects by a variety of means including insurance, FEMA assistance, cash reserves, debt, donations and outside investments. JSU is going to be greatly enhanced following the rebuild, and we hope these improvements will result in future enrollment growth that enables us to meet operating costs and keep JSU's cost of attendance among the lowest in the state.