Basic Training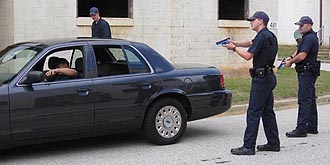 The Northeast Alabama Law Enforcement Academy (LEA) offers three (3) basic training courses per year. Each Basic Course covers 560 hours of training over fourteen(14) weeks. During this time, students are provided with the entry level knowledge and skill needed to begin their careers in law enforcement. This is a mandatory residency course and students are required to reside at the LEA housing facility during the training week.
In teaching the Basic Course, the LEA follows the 560 Hour Basic Training Curriculum prescribed by the Alabama Peace Officers' Standards and Training Commission.
Basic Course costs will be invoiced to the student's agency. These costs include lodging, meals, uniforms, all manuals and materials needed to complete the training (except ammunition). Ammunition can be purchased from the LEA at an additional cost or departments can provide their own ammo.
Recruit Information For Attending Basic Academy 

Statement of Intent - PDF Format (fillable form)
Entry Level Requirements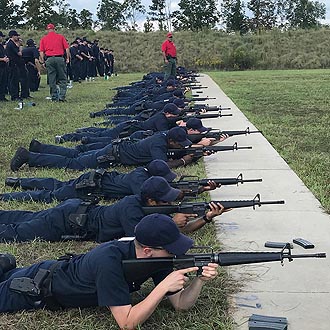 Students must be sworn and employed by a law enforcement agency to attend a basic course at any academy in the state. In Alabama, APOSTC Rules & Regulations do not allow a non-sworn individual to attend an academy. 

Agencies must complete all application paperwork with APOSTC. Applications should arrive at APOSTC three (3) weeks prior to session start date.
Physical Ability/Agility Exam. During the first week of attendance in the academy, you will be required to meet the following standards:
Complete the APOSTC specified physical agility course within 90 seconds.
Do 22 push-ups in one minute (to APOSTC specifications).
Do 25 sit-ups in one minute (to APOSTC specifications).
Run 1.5 miles within 15 minutes and 28 seconds.
Graduation Requirements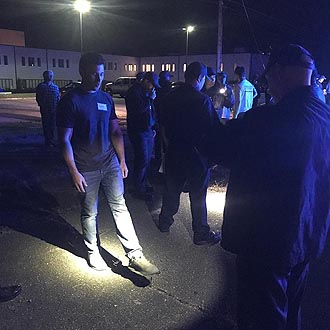 To graduate from the Basic Course, you must meet the APOSTC mandated basic course requirements as specified in APOSTC Rule 650-X-4-.01. These requirements include:
An overall score of not less than 70% on written exams.
Pass the first aid exam with a score of not less than 70%.
Pass the legal issues exam with a score of not less than 70%.
Pass the physical agility/ability test at the beginning of the course.
Pass SSGT Student Practical Test
Pass Safe Gun Handling Skills Test
Score 70% or better on at least two (2) of the three (3) designated firearm qualification courses.
Must pass at least one (1) of the three (3) driving attempts on driving qualification course.
Students shall not be absent more than 5% of the required training hours.
The trainee. . .shall comply with all rules and regulations promulgated by the approved academy.
Upcoming Schedule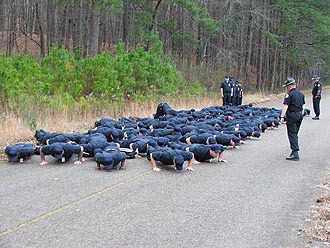 188th Basic Session
Starts January 02, 2023 and graduates April 06, 2023.
189th Basic Session
Starts May 8, 2023 and graduates Aug 10th, 2023.
190th Basic Session
Starts September 4, 20023 and graduates December 7, 2023.