Scholarship Recognition
Certificate/Yard-Sign Pickup Events
JSU staff will be at the following locations on the dates/times listed below to allow incoming freshman or transfer students, or a family member, to pickup their award certificates and yard signs. Incoming Freshman students must be registered for Gamecock Orientation by May 15th in order for us to ensure the certificates will be ready for pickup. Social distancing and proper safety measures will be in place to ensure safety for all who participate, including requiring those who pickup their certificate(s) and yard sign to remain in their vehicles.
To allow our staff to best plan for these events, please RSVP below.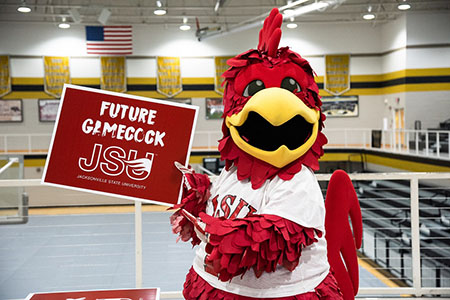 Pick Up Locations and Times
10am - 12pm CT
Pete Mathew Coliseum at JSU
735 Park Ave NW
Jacksonville, AL 36265
12pm - 2pm CT
AM Booth Lumberyard (Parking lot beside Gateway Greenway Park)
108 Cleveland Ave NW
Huntsville, AL 35801
4pm - 6pm CT
Lake Guntersville Chamber of Commerce
200 Gunter Ave
Guntersville, AL 35976
4pm - 6pm CT
Oxford High School - Sports Arena Parking Lot
1 Yellow Jacket Drive
Oxford, AL 36203
The Sports Areana Parking Lot is accessible from Stewart Street (the road that runs behind the visitors' side of the Oxford football stadium). Turn from that road into the parking lot and veer to the right. Our staff will be setup at a tent in front of the main doors to the Sports Arena.
12pm - 2pm ET
Truist Park/Atlanta Braves Stadium
Braves North 29 (N29) Parking Area
3050 Circle 75 PKWY Atlanta, GA 30339
Special thanks to the Atlanta Braves for allowing us to use their parking lot! Go Braves!
When driving down Circle 75 Pkwy, you will enter the parking lot from the stoplight intersecting with Herodian Way. Once you turn at the stoplight, there will be parking to both your right and left. You will turn right, followed by another quick right. Then you will turn left to enter the row of parking spaces closest to the main road. Our JSU tent will be set up there. Once you have received your materials you will exit the row by turning left, drive to the back of the lot, turn left, and loop back around to exit the parking lot at the same place you entered
4pm - 6pm ET
Ridge Ferry Park
363 Riverside Parkway NE
Rome, GA 30161
12pm - 2pm CT
Church of the Highlands Montgomery Campus
4255 Taylor Rd
Montgomery, AL 36116
Enter through the main entrance off Taylor Rd. There will be an awning to your left (on the right side of the building). Drive through the awning from the back of the building, and we will be under the awning to hand out materials! 
4pm - 6pm CT
Church of the Highlands Riverchase Campus
9013 Helena Rd
Pelham, AL 35124
If you are coming from highway 31, once you turn onto Helena Rd, turn right into the first entrance (before you actually pass the church building). You will see us set up in the back corner of the parking lot. Please drive past (behind) us, then turn left to drive up and get your items, then you may exit through the same road you entered.
4pm - 6pm CT
Church at Wills Creek
2730 Wills Creek Rd
Gadsden, AL 35904
Use 2nd the entrance and turn left into parking lot off Wills Creek Rd. Take first left where the tent will be set up in the first parking lot closest to the road. Pull forward to the tent and after receiving yard sign and award certificate exit parking lot and turn right out of parking lot back on to Wills Creek Rd.