Cocky is His Favorite Subject: Severe Threats
Program: Art/On to JSU
Hometown: Lineville, AL
Severe Threats loves Star Wars. But while his name might be fitting for a character from a galaxy far, far away (and he is a Darth Vader fan), Threats, by all accounts, is a great guy with a truly special gift.
Threats (pronounced threets) doesn't know the story behind his unique first name. What he does know a lot about is art. Since age 3, the Lineville native has been painting and drawing with the skill and vision of a lifetime artist.
"It's just something I like to do," said Threats, now 19. "I've been doing it for a long time."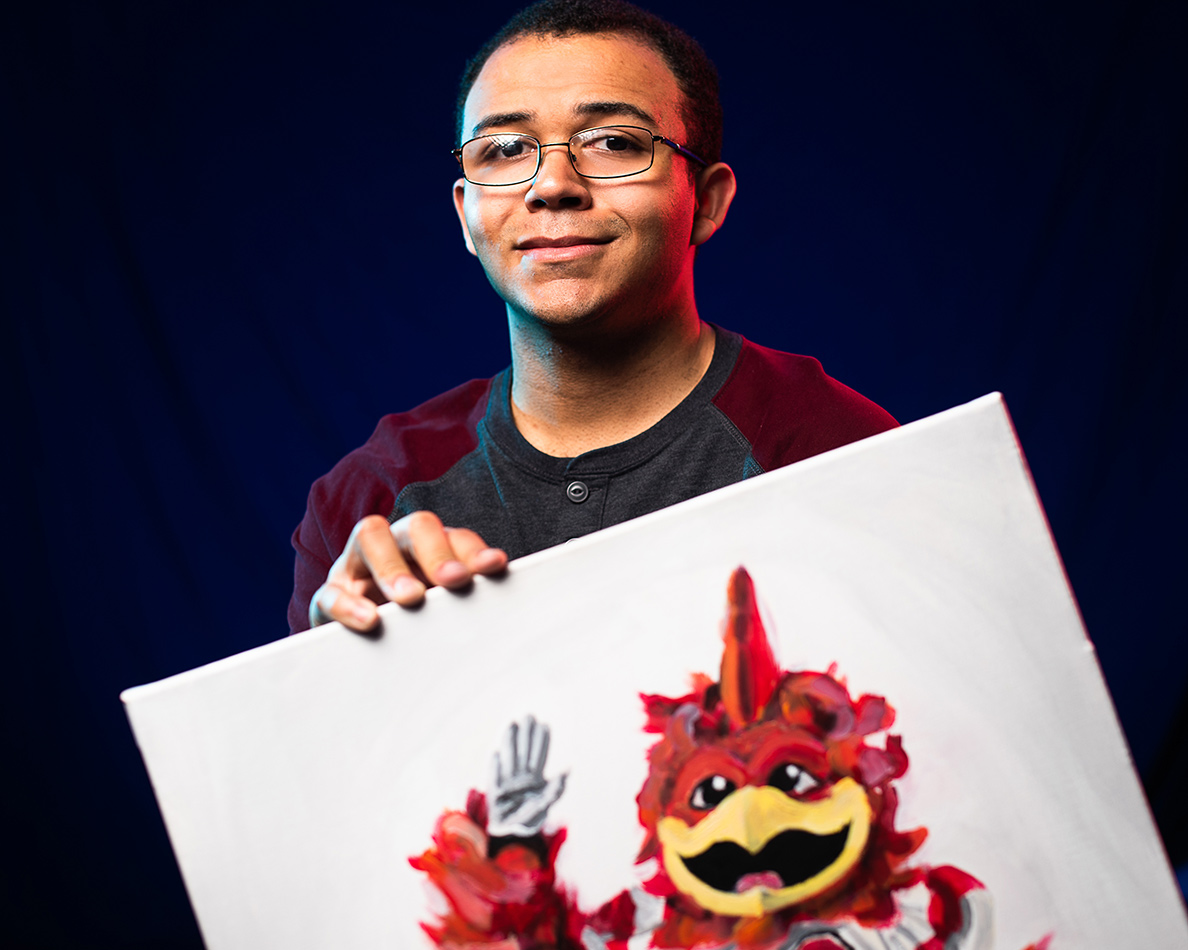 "Painting Cocky makes me happy. It's one of the things I do best."
Thanks to the On to JSU program, Threats is getting formal training in a variety of mediums including ceramics, drawing, stage make-up and oil painting. That last one, which Threats is taking this semester, hasn't been his favorite because he's not as practiced with oils as with water colors and charcoal.
"I was kind of afraid of the oil class," Threats said. "I tried to do a cat, but it didn't come out right."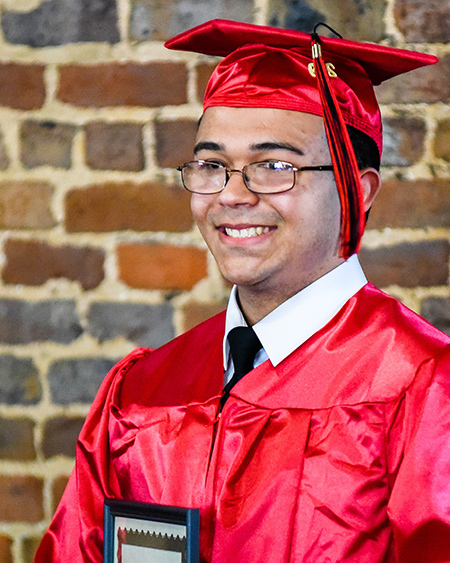 "Severe is a perfectionist," said Karen Carr, On to JSU program director. "Doing something he was immediately good at made him nervous. But he's learning so fast – it's really amazing."
Learning and adjusting to new situations and new environments is the overarching goal of the On to JSU program. Now in its fourth year, On to JSU is funded by a five-year federal grant that allows students with intellectual disabilities to have a college experience while earning a state-recognized certificate from auditing classes based on their specific interests. For Threats, who is on the Autism spectrum, that meant art classes.
"He really has been painting since he was 3 years old," Carr said. "I've seen some of it. You'd never think it came from someone so young. He's really got a natural talent, a gift."
That too is the purpose of the On to JSU program – proving, despite certain limitations, that everyone has a gift worth discovering and fostering.
"We want to show that everyone is important," Carr said. "Everybody has something to offer."
Threats is one of nine students enrolled in On to JSU. Each of the students live on campus, have mentors who shadow them in class and help with homework, attend social functions, and – in addition to their regular courses – take classes through the special education department that focus on social, budgeting and employment skills.
"It's all about teaching independence," Carr said. "We want them to be able to live and work on their own someday." In terms of a career path, Threats seems well on his way. Several of his pieces can be found hanging in offices around campus. His vivid attention to detail has led to several commissioned works for some of JSU's most treasured landmarks, including the Alumni House and the Merrill Building. But by far, Threats' favorite muse is Cocky, the JSU mascot.
"Painting Cocky makes me happy," Threats said. "It's one of the things I do best."
Learn More About Severe's JSU Story