Thanksgiving Break Hours and Information
11/12/2023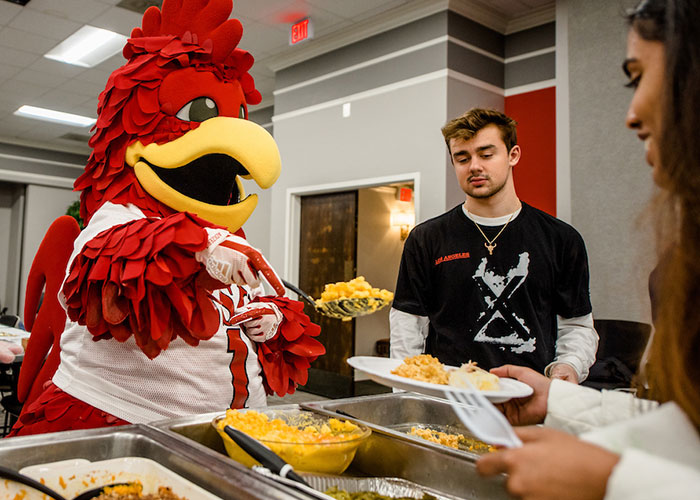 Cocky dishes up a Thanksgiving meal. (JSU Photo)
By Buffy Lockette
Jacksonville State will be closed the week of Nov. 20-24 so that students, faculty and staff may enjoy Thanksgiving break with their loved ones.
Before leaving campus, enjoy time with your JSU family at the following events:
Friendsgiving: Active Minds invites students to Thanksgiving dinner with friends and classmates on Tuesday, Nov. 14, 5-7 p.m., in the basement of the International House. Please register online 
and feel free to bring a dish to share. All students are welcome at this free event.
Thanksgiving at the Caf: On Thursday, Nov. 16, head to Jack Hopper Dining Hall for a traditional Thanksgiving meal at lunch (11 a.m. to 1:30 p.m.) and dinner (5-7 p.m.). The cost is $10.35 or a meal swipe. Everyone is welcome.
Native American Heritage Month Celebration: The Sylestine Legacy Dancers will present and perform traditional Native American dance on Thursday, Nov. 16, 1-2 p.m., in Merrill Hall Auditorium. Sylestine Legacy are descendants of the original Alabama-Coushatta tribes. This event is free and open to the public.
The following hours will be observed over Thanksgiving Break:
Mail Center: Closed Nov. 20-24, resuming regular hours on Nov. 27. Mail volume will be heavy when campus reopens, slowing down sorting and delivery through the first half of the week. Please be patient with our campus mail team as they work to get your mail to you as soon as possible.
Dining: All dining locations will be closed Nov. 19-26, resuming regular business hours on Nov. 27. During the home football game on Nov. 18, Chick-fil-a will be open 10:30 a.m. to 1 p.m.; concessions and food trucks will open at JSU Stadium beginning at 11 a.m. that day.
Health Center: The RMC/JSU Health Center 
will be open on Monday-Wednesday, Nov. 20-22, 8 a.m. to 4:30 p.m. It will be closed on Thursday, Nov. 23 and Friday, Nov. 24. 
Rec Center: Need to burn off all that turkey and pie? The Recreation and Fitness Center 
will be open much of Thanksgiving break, as follows:
Saturday, Nov. 18 – Closed
Sunday, Nov. 19 – 12-8 p.m.
Monday, Nov. 20 – 5 a.m. to 8 p.m.
Tuesday, Nov. 21 – 5 a.m. to 8 p.m.
Wednesday, Nov. 22 – 5 a.m. to 4 p.m.
Thursday, Nov. 23 – Closed
Friday, Nov. 24 – Closed
Saturday, Nov. 25 – 12-8 p.m.
Sunday, Nov. 26 – 12-8 p.m.
Library: Houston Cole Library will be closed Nov. 18-25, reopening on Sunday, Nov. 26, 3-11 p.m. The library's full calendar and hours are available online
.
Bookstore: The Campus Bookstore will close on Saturday, Nov. 18, following all football game day activities, and reopen on Monday, Nov. 27, at 8 a.m. Please visit the store online 
to take advantage of several scheduled promotions.
Counseling Center: While the Counseling Center follows the hours of the university and will be closed Nov. 20-24, students experiencing a mental health crisis when campus is closed should call the University Police Department at 256-782-5050 to be connected to an on-call counselor. For emergencies, call 911.
Campus Police: As always, the University Police Department will be open 24/7 during Thanksgiving Break to keep campus safe and secure. Call 256-782-5050 if you need assistance. We appreciate you, UPD!
Have a Happy Thanksgiving, JSU Family!