University Mourns the Loss of Retiree, Alumnus
10/27/2023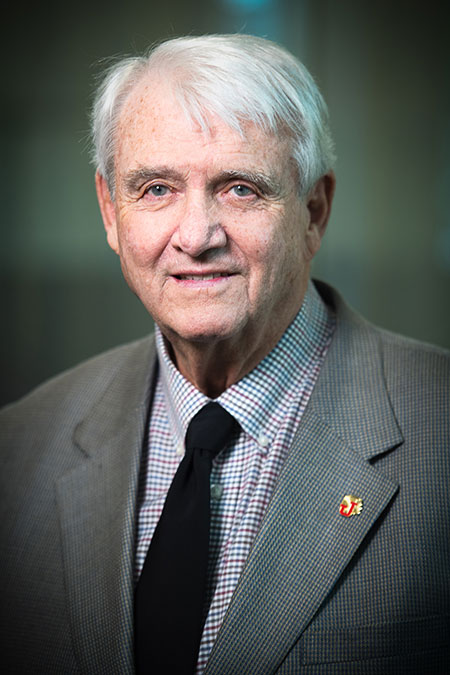 Bill Stone, in his Foundation Board photo in 2020.
On Wednesday, Oct. 25 - as Jacksonville State celebrated its inaugural Sandra Stone Day of Reading
in memory of the university retiree and alumna who died in July - her husband of 54 years passed away: William "Bill" Stone.
The son of former JSU President Ernest Stone
and First Lady Kitty Stone, Bill Stone enrolled at JSU after graduating from Jacksonville Public Schools. While on campus, he was a founding member of Delta Chi fraternity, played football under Coach Tim Blevins and was battalion commander of ROTC. Upon graduating in 1969 with a bachelor's in mathematics, he was commissioned as a second lieutenant into the US Army.
Lt. Col. Stone returned to campus in 1975 to pursue an MBA, graduating in 1977, and became a professor of military science. He enjoyed teaching mountain climbing, mentoring cadets and watching his beloved Gamecocks on the gridiron. Throughout his military career, he was stationed in North Carolina, Vietnam, Kansas, Germany and South Carolina. Stone retired in 1992, but stayed active on campus. He served on the J-Club Board of Directors, was past president of the Gamecock Club and was member emeritus of the JSU Foundation Board. In 1995, he was named JSU Alumni of the Year.
Stone is survived by his three children - JSU Associate Provost Staci Stone, Steven Stone and Jeff Stone - and their spouses, as well as four grandchildren.
"We are heartbroken for the Stone family, which has lost both parents/grandparents within months of each other," said JSU President Don C. Killingsworth, Jr. "The JSU family is also mourning, as Lt. Col. and Dr. Stone were an integral part of the university community for more than 50 years. They will be deeply missed, and I ask everyone to please remember their children and grandchildren during this difficult time."
A celebration of life service will be held in honor of Mr. Stone on Saturday, Oct. 28, at 11 a.m. in the Ken and Jenny Howell Auditorium in JSU's Merrill Hall. The family will receive friends from 9:30 a.m. until service time. In lieu of flowers, the family appreciates donations to the Bill Stone Memorial Fund at the JSU Foundation, 700 Pelham Road North, Jacksonville, AL 36265. To make donations online, visit
jsu.edu/givejsu
and select "Bill Stone Memorial Fund" in the drop-down menu.