University Working to Expand jsuRIDE
09/07/2023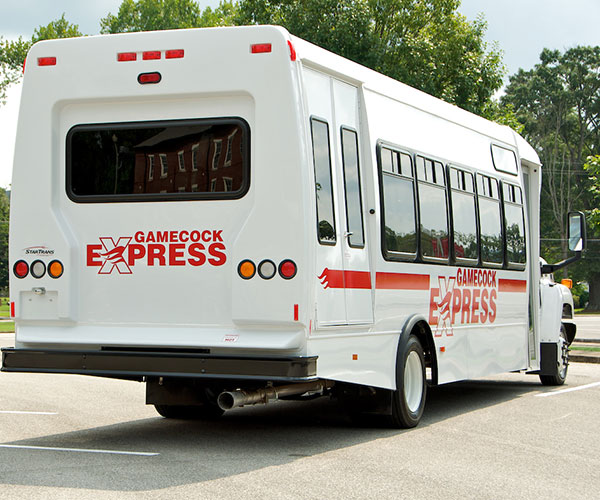 Need a ride to class? An influx of new jsuRIDE users has brought a former Gamecock Express shuttle back online. (JSU Photo)
Jacksonville State is working to expand its transportation system, jsuRIDE, to accommodate an influx of new users this fall.
Until now, a small fleet of vehicles has been shuttling students, by appointment, around campus and to local businesses. This fall, the system has seen its demand triple – with more than 1,200 students seeking regular transportation to their classes.
To address this surge in new users, a bus has been brought online this week to continuously circle campus and transport students to class. It will circulate between central campus – around Trustee Circle – to the outer perimeter of main campus. Pickup/dropoff locations include:
 Internal Bus Routes
Ayers Hall                        0 Min
Sparkman Hall                 1 Min
Mason/Pannell Hall         2 Min
Leone Cole                       3 Min
Fitzpatrick/Curtiss Hall   3 Min
TMB Mail Center              4 Min
Colonial Arms                  6 Min
Meehan Hall                     7 Min                                                     
Dixon/Self                       10 Min
Merrill/Brewer Hall        13 Min
Stone Center                   14 Min
Martin/McGee                16 Min
Library                      

     

 16 Min
Ayers Hall                        18 Min
Service will start at 8 a.m. and run according to the minutes listed for every 20 minutes. Example: Sparkman 8:01, Mason/ Pannell 8:02, then Ayers Hall 8:30, Sparkman 8:31.
The university is working to add an additional bus to the fleet within the next week. Workers will continue to monitor demand and add new transportation options as needed.
Students who need transportation to JSU South, the CEPS Complex and local businesses will continue to be shuttled by van, on request. Appointments should be scheduled in the MyJaxState Mobile app.  
The jsuRIDE system operates Monday-Thursday, 7 a.m. to 9 p.m., and Friday, 7 a.m. to 4:30 p.m. Rides are provided at no additional cost to students, faculty and staff.