Nancy Grace Awarded an Honorary Doctorate
04/29/2023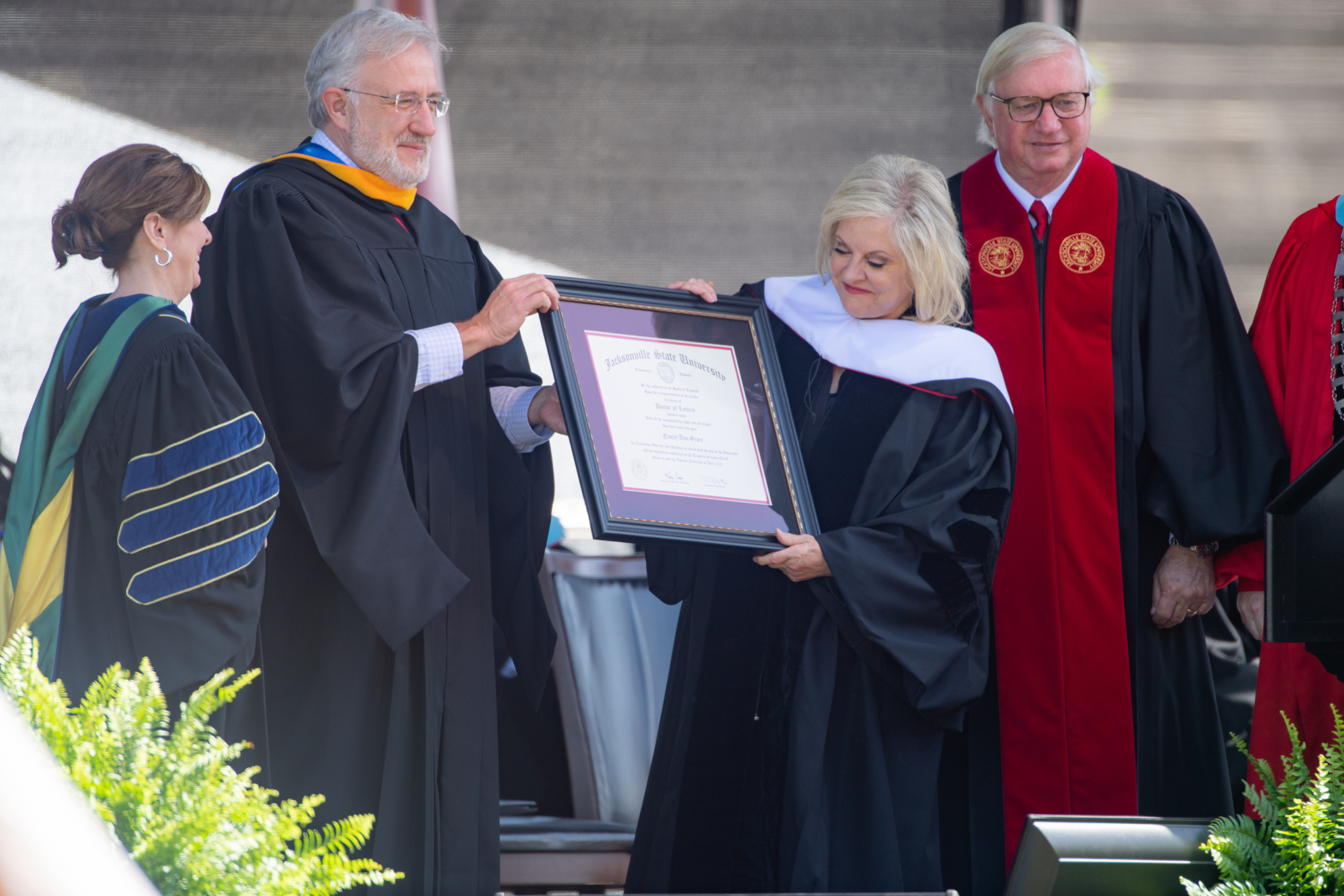 Nancy Grace was awarded an honorary doctorate during spring commencement on April 29. She is pictured with longtime friend and colleague Joseph Scott Morgan (left), a JSU distinguished scholar of applied forensics, and Randy Jones (right), chair of the JSU Board of Trustees. Photo by Brandon Phillips.
by Buffy Lockette
During its spring commencement ceremony on April 29, Jacksonville State University awarded an honorary doctorate to victims' rights advocate and television legal analyst Nancy Grace.
Approximately 850 students were awarded degrees during the ceremony on Burgess-Snow Field in JSU Stadium, where Grace served as keynote speaker. A recording of the full ceremony, including Grace's commencement address, is available on YouTube.
Grace has been named one of the most impactful and powerful women in entertainment by both "Variety" and "The Hollywood Reporter." She currently hosts "Crime Stories with Nancy Grace," which airs on Fox Nation and SIRIUS XM. Previously, she was the force behind CNN Headline News' top-rated "Nancy Grace," Oxygen's "Injustice with Nancy Grace" and A&E's limited series "Grace vs. Abrams."

Grace initially came to television from the Atlanta Fulton County District Attorney's Office, where she served more than a decade as a special prosecutor of felony cases involving murder, rape, child molestation and arson. Known for her authentic sensibility and for not holding back her opinion on high-profile cases, she was tapped to co-host Court TV's "Cochran and Grace" and, later, the live daily trial coverage program, "Closing Arguments."
It was during her time as a special prosecutor that Grace became acquainted with future JSU Distinguished Scholar of Applied Forensics, Joseph Scott Morgan. The two worked together early in their careers, when he was a forensics investigator in Atlanta. Now, they can often be found together on live television, discussing the latest crime stories gripping our nation.
"She truly cares about victims of crime," Morgan said. "I have seen her sit for hours at conventions listening to people's stories. She has tried to help thousands of people."
The university is establishing an endowed scholarship at JSU to support the education of the children of first responders who lost their lives or were disabled in the line of duty. It will be named in honor of Nancy Grace. To contribute to the scholarship fund, contact University Development at 256-782-5605.