Winter Break 2022 Hours and Information
12/09/2022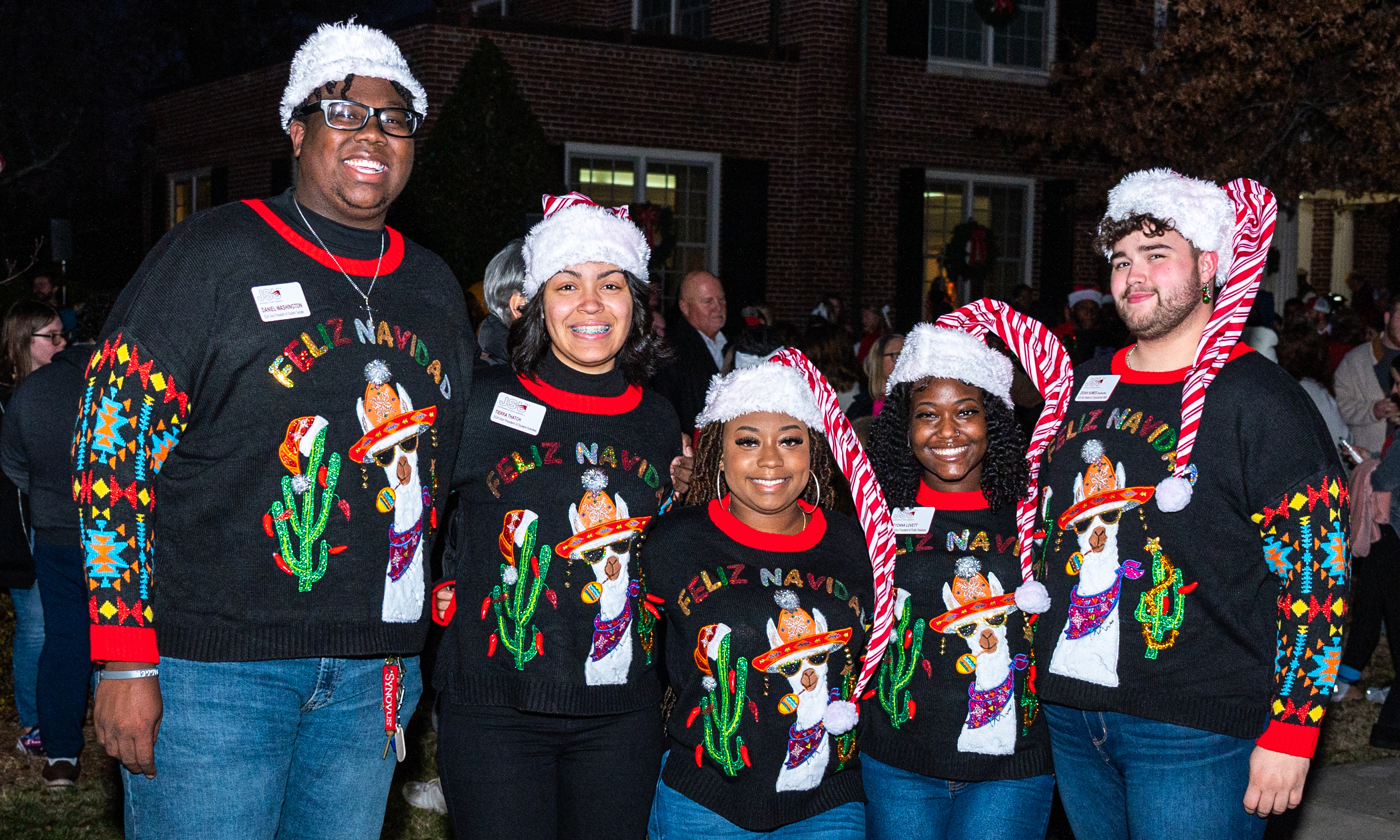 The 2022-2023 SGA officers celebrate the season at JSU in Lights on Dec. 1.
by Buffy Lockette
Jacksonville State University will be closed for winter break on Dec. 21-Jan. 2, with offices reopening on Jan. 3. The Spring 2023 semester will begin on Jan. 9. Please review the following hours and information for campus services.
DINING
Jack Hopper Dining Hall will be open normal hours on Dec. 12, for breakfast and lunch on Dec. 13, for lunch on Dec. 14-16, and then closed until Jan. 3. Z Beans already closed for the semester on Dec. 6. All other dining locations, including Kiwibot service, will close for the semester on Dec. 13 at 2 p.m.
The Gamecock Market is available to provide free food and toiletries to students and employees in need over winter break. Just complete the Curbside Pickup Form and you will be contacted by a volunteer who will help get what you need. You may also email gamecockmarket@jsu.edu for assistance.
HEALTH/SAFETY
The University Police Department will continue to serve campus throughout the break. Officers are available 24/7. Call 256-782-5050 for assistance.
The RMC/JSU Health Center will be open normal hours throughout the break to serve the health care needs of students and employees. It will be closed Dec. 26 and Jan. 2. Please remember that, due to construction, the center has been temporarily moved to 1465 1st. Ave. SW, Suite B, Jacksonville. Call 256-782-5310 for assistance.
Students experiencing a mental health emergency when the university is closed should contact campus police at 256-782-5050 to be connected with an on-call counselor from the JSU Counseling Center, 24/7.
TRANSPORTATION
The jsuRIDE system will provide transportation on Dec. 12-13, 7 a.m. to 4:30 p.m., then close for the semester.
Mail Center and Print Shop
The Mail Center and the Print Shop will close for the semester on Dec. 20 at 4:30 p.m., reopening on Jan. 3 at 8 a.m. The Mail Center will be receiving USPS and UPS mail and processing it on Dec. 23 and Dec. 30, but FedEx packages will likely not be delivered to campus again until Jan. 3. Students will receive an email if packages are delivered during break, with instructions on how to pick them up from the parcel lockers on the fourth floor of the TMB. 
BOOKSTORE AND LIBRARY
Houston Cole Library will be open Dec. 12, 7 a.m. to 1 a.m.; Dec. 13, 7:30 a.m. to 12 a.m., Dec. 14-16, 7:30 a.m. to 4:30 p.m.; and Dec. 19-20, 7:30 a.m. to 4:30 p.m. It will be closed for winter break Dec. 21 to Jan. 2, reopening Jan. 3. The library will be open Jan. 3-8, 7:30 a.m. to 4:30 p.m. Regular operating hours, including weekends, will resume when the semester begins on Jan. 9. The Library's full schedule is available online.
The Campus Bookstore will be closed to in-person shopping Dec. 22-Jan. 2, but online sales will remain available at http://jsu.bncollege.com and shopjsugamecocks.com. The Bookstore is hosting a holiday sale for JSU faculty and staff on Dec. 19-21, with special discounts on JSU merchandise and gifts.
REC CENTER
The Rec Center's winter break hours for Dec. 14-Jan. 8 are Monday-Friday, 5 a.m. to 8 p.m.; Saturdays, 9 a.m. to 8 p.m.; Sundays, 12-8 p.m. The center will be closed for Christmas beginning at 4 p.m. on Dec. 23 and remain closed until Dec. 26 at 12 p.m. It will also be closed for New Year's on Dec. 31 and Jan. 1, reopening at 5 a.m. on Jan. 2. Hours of operation for particular areas within the center are available online.