JSU Establishes First Responder Scholarship Program
12/15/2022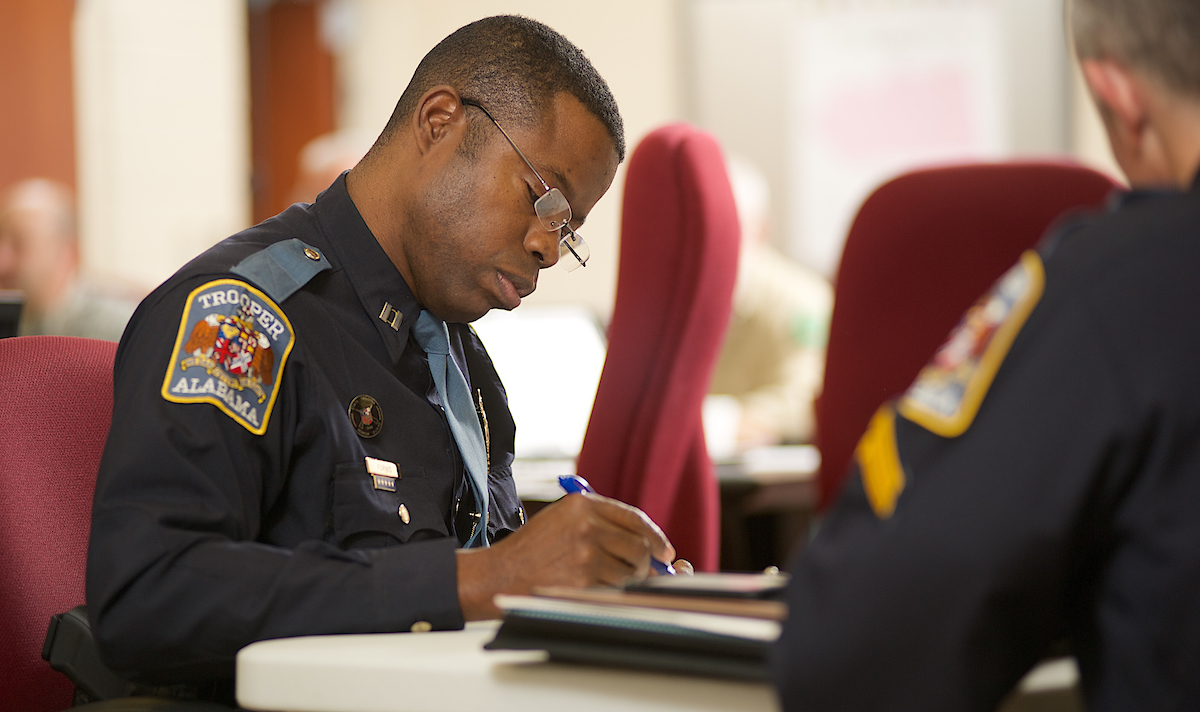 An Alabama state trooper participates in a regional emergency management exercise on campus in 2015.
by Brett Buckner and Buffy Lockette
"Jacksonville State University wants to be known as the training capitol of law enforcement for the State of Alabama," JSU President Don C. Killingsworth, Jr. said during a recent event celebrating the 50th anniversary of the Northeast Alabama Law Enforcement Academy housed on campus. 
In addition to its numerous outreach programs and training centers, the university is now offering a First Responder Scholarship to those who want to continue their education with an advanced degree.
Beginning in Spring 2023, the First Responder Scholarship will provide eligible full-time employees of law enforcement agencies, fire departments and other emergency services a 25 percent tuition scholarship to use toward degree-seeking undergraduate and graduate programs. Both new and current students are invited to apply.
"Being a first responder is a tough job, and generally you choose this line of work because you want to serve your community," said Kaleb Littlejohn, director of the JSU Center for Best Practices in Law Enforcement, who helped the Division of Enrollment Management develop the scholarship program. "I am proud to work for an institution that is providing a service for those who serve our community."
For 50 years, JSU has housed the Northeast Alabama Law Enforcement Academy, which has graduated 15,000 police officers to date. In 2017, the university established the Center for Best Practices in Law Enforcement to provide continuing education opportunities and supplement the education that officers receive at police academies.
The JSU Center for Applied Forensics provides education, technical expertise and investigative services to rural Northeast Alabama agencies. In 2021, the JSU Investigator Academy was created to provide specialized training in investigations. Soon, the university will open the Southeastern Leadership Command Center to train department and agency leaders.
Popular degree programs at JSU among first responders include criminal justice, forensic investigation and emergency management. The criminal justice and emergency management programs are offered online, at both the undergraduate and graduate level, making them a convenient option for working professionals.
For more information and eligibility requirements, visit the First Responder Scholarship website, email enroll@jsu.edu or call 256-782-5039.