JSU Police Academy Celebrates 50 Years
12/12/2022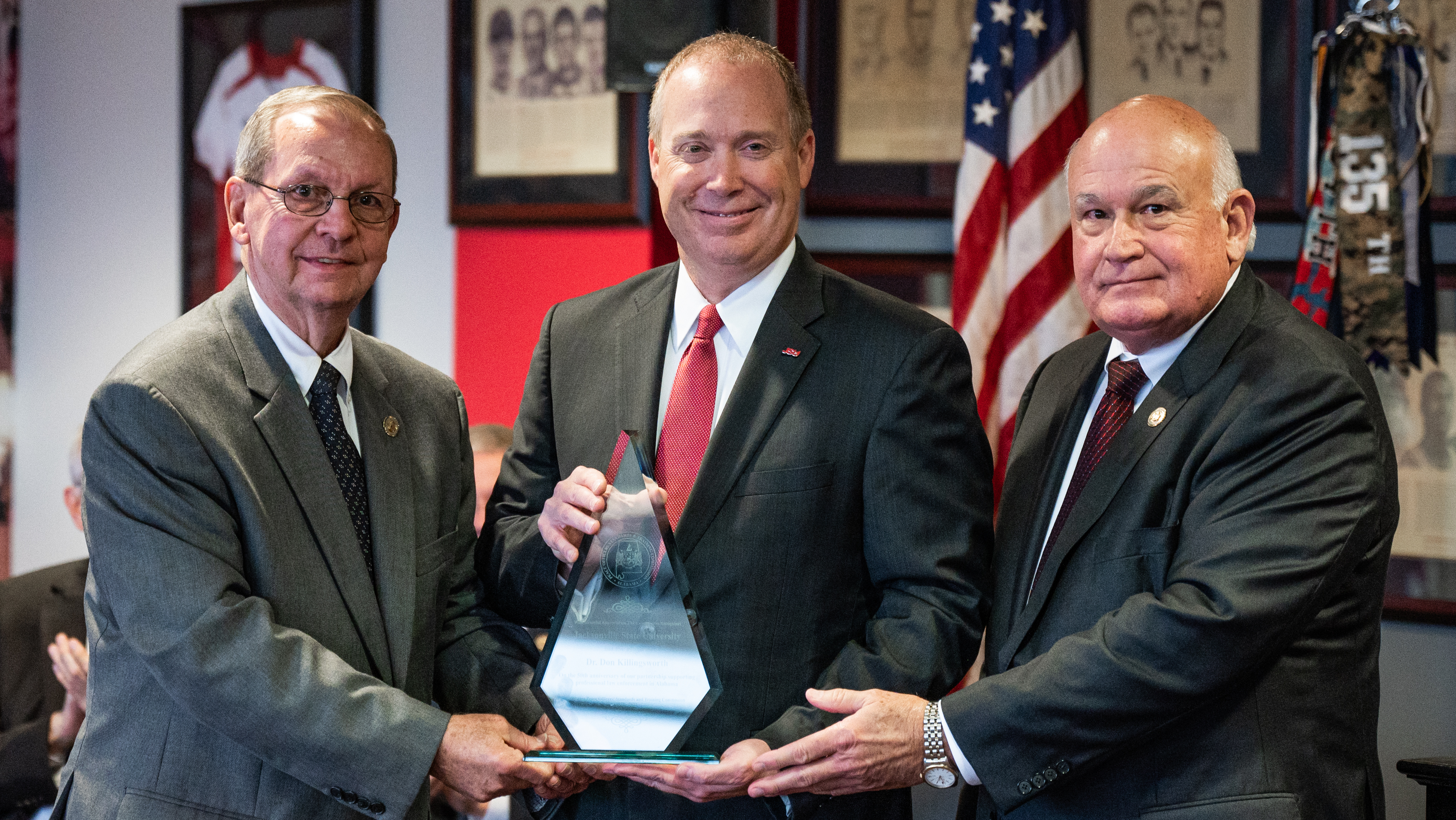 Sheriff Jimmy Abbett of Tallapoosa County (left) and Chief R. Alan Benefield (right), executive secretary of the Alabama Peace Officers Standards and Training Commission, present President Don Killingsworth a plaque honoring the police academy's 50th anniversary.
by Buffy Lockette
On Dec. 6, 1972, 24 new police officers became the first class to graduate from the Northeast Alabama Law Enforcement Academy at Jacksonville State University. Fifty years and one day later, on Dec. 7, 2022, the program's founders gathered on campus to celebrate a half century of pursuing excellence in law enforcement. 
In 1971, the Alabama Legislature established the Alabama Peace Officers Standards and Training (APOST) commission and mandated police officer training statewide. A year later, JSU and APOST partnered to create a police academy housed at JSU and operated by APOST. Since then, 15,000 basic law enforcement officers have been trained on JSU's campus. 
"The commission is committed to bringing the best of training and the best of regulation of law enforcement that can possibly be brought," said Chief R. Alan Benefield, executive secretary of APOST since 1996, said during the anniversary celebration. "Certainly, the venture made here at Jacksonville State University is a pinnacle of the delivery of that kind of training of law enforcement in the State of Alabama." 
For the first three decades of its existence, the academy was housed at Brewer Hall, alongside JSU's political science, criminal justice and sociology departments. In 2005, after the Army closed Fort McClellan, the university purchased and renovated Building 3181 on the former base, renamed it JSU McClellan and moved the academy there, where it remains today alongside the JSU Department of Emergency Management, Center for Applied Forensics, Continuing Education and the teachers' In-Service Center. 
In 2017, JSU established the Center for Best Practices in Law Enforcement to further support the education and training of Alabama police officers, followed by the Investigator Academy in 2021. Soon, it will open the Southeastern Leadership Command College to train law enforcement professionals to lead departments and agencies. 
"Jacksonville State University wants to be known as the training capitol of law enforcement for the State of Alabama," JSU President Don C. Killingsworth, Jr. said during the anniversary event. "We acknowledge the need for initial and continued training for law enforcement, which is why we are investing in law enforcement training opportunities here at our university. JSU is proud to have served with the academy for the past half century and we look forward to another half century."