Department of Theatre and Film Announces 2022-2023 Season
09/23/2022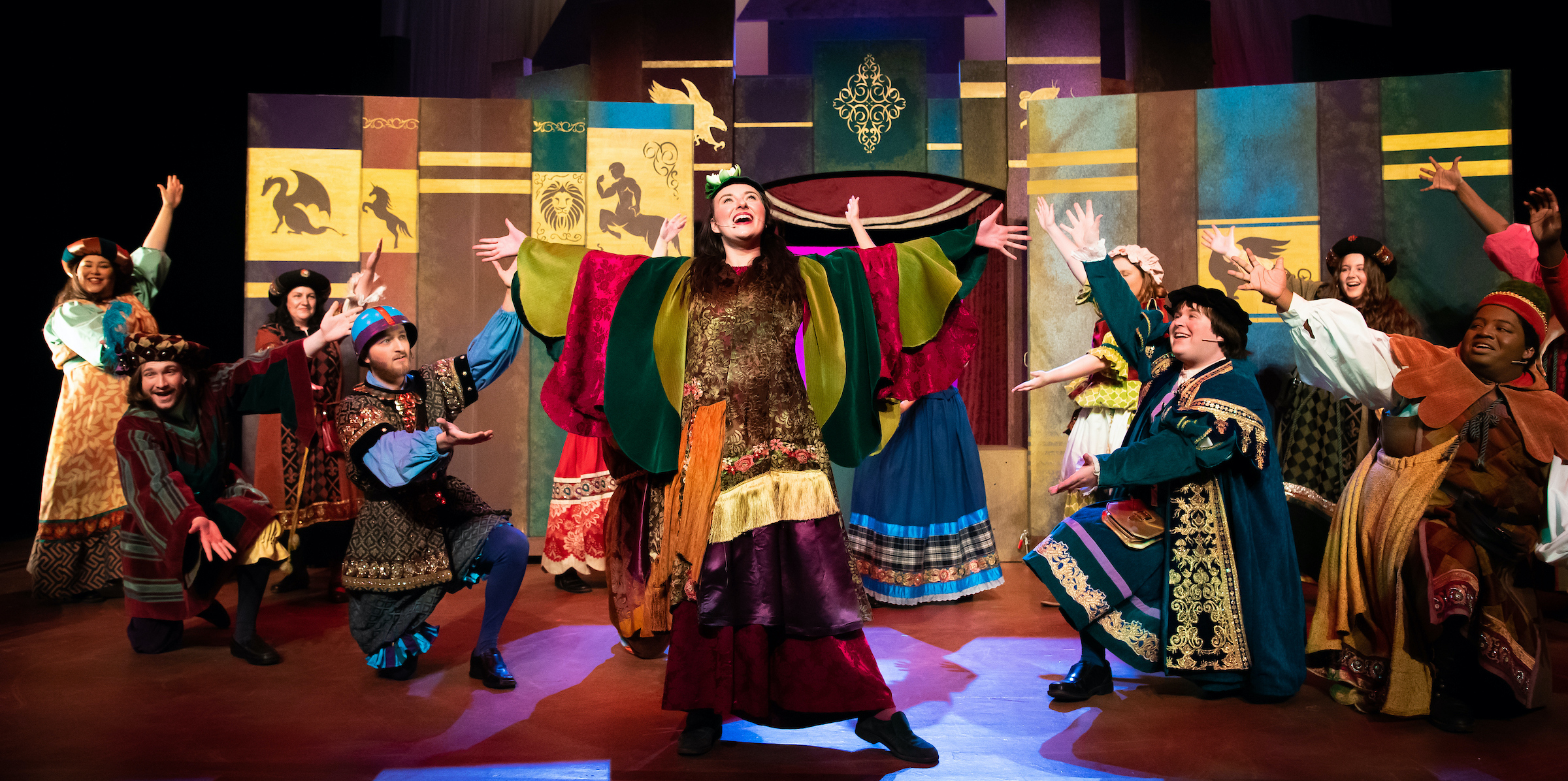 Students performing in JSU's final play before the pandemic changed the theatre world, "Once Upon a Mattress," in February 2020. Photo by Grace Cockrell.
by Brett Buckner
Let the show – or shows – begin! After a season plagued by mask-mandated actors and safely distanced audiences flinching every time a seatmate coughed, JSU's Department of Theatre and Film is putting a spotlight on normalcy with its upcoming season of live theatre. 
"We're very excited about this season," said Randy Blades, head of the department. "It's going to be great just getting back to the way things are meant to be after a couple of really messed up years." 
The 2022-2023 season promises a little bit of everything – music, mystery, mythology and more Pulitzer Prize winners than you can shake a quill at!
"We've got something for everyone, and that's our goal," Blades said. "We want to present a variety of themes for the audiences and a variety of experiences for the students."
The mainstage season opens Nov. 11 with the Pulitzer Prize winning "Alison's House," guest directed by Mike Long. 
"Mike is a great addition to our faculty," Blades said. "He just joined the JSU staff in August as an advisor, but he has a really strong background with a Master of Fine Arts in theatre as well."
Written by famed playwright Susan Glaspell in 1930, "Alison's House" was inspired by another famous writer – poet Emily Dickinson – but fictionalized, since her estate did not grant permission for her name to be used.
"It's one of those really good, old-fashioned family domestic dramas, 1930s style," Blades said, adding that the set design will be a bit more abstract. "We're not messing with the play much, but we're trying to help our audiences relate to it. What should be public and what should be kept private? What's your public persona versus your real persona? All those elements are there."
The fall semester will wrap with the annual One Act Festival and Student Showcase on Dec. 5-6 at 7:30 p.m. 
"It's always one of my favorites," Blades said. "We're going to have 10 one-acts by first-time directors who will bring a lot of energy and fresh ideas to the show."
The One Act Festival is like a microcosm of the entire season – offering something for every audience's taste.
"Because they're short and there's so many of them," Blades said of the one act plays, "you can have something super dramatic, followed by something funny and then something absurd. We also get to show off student work in the lobby with a display of their technical work." 
And the department is already buzzing with excitement over the musical planned this season – "Spring Awakening." The coming-of-age rock drama will open Feb. 24. During its Broadway run, the wildly popular show featured "Glee" stars Lea Michele and Jonathan Groff - singing music by 1990s pop star Duncan Sheik. 
Tackling mature themes including sexual exploration, child abuse, rape and abortion, the show is appropriate for audience members ages 16 and older. "It's a beautiful show, but it's not for everyone" Blades said. 
Director Carolyn Conover will employ what's known as "intimacy directing," an important movement in film and theatre that ensures actors feel safe when performing scenes that call for affection, intimacy or violence. Conover is trained in the practice and her skills were last put to use last season in "Emilie: La Marquise Du Chatelet Defends Her Life Tonight."
"We want the actors rehearsing it to always feel safe, feel seen and not exploited," Blades said. "That's one of the director's main goals – the mental health of artists. A play like this offers a great chance for students to learn about showing respect for their fellow actors and how to openly communicate with one another. It's a risky performance, but it's a good risk to take."
The season continues in April with a show for young audiences, "The Iliad, The Odyssey and All of Greek Mythology in 99 Minutes or Less," produced in partnership with JSU's honorary drama fraternity, Alpha Psi Omega. 
"It's exactly what it sounds like," Blades said, laughing. "We're planning to take a little tour of local high schools because it's kind of hiding history in a fun play – a way of teaching without students knowing they're being taught."
The season concludes on April 22 with the JSU Student Film Festival, featuring student films created in classes throughout the year. 
Tickets are expected to go on sale Oct. 15. When available, season tickets for all five shows will cost $45 for the general public and $42 for JSU faculty, staff, students, military personnel and seniors over age 60. Individual tickets will also be available. For more information, call the box office at 256-782-5648.