JSU to Expand Childcare, Add State Pre-K Program
07/11/2022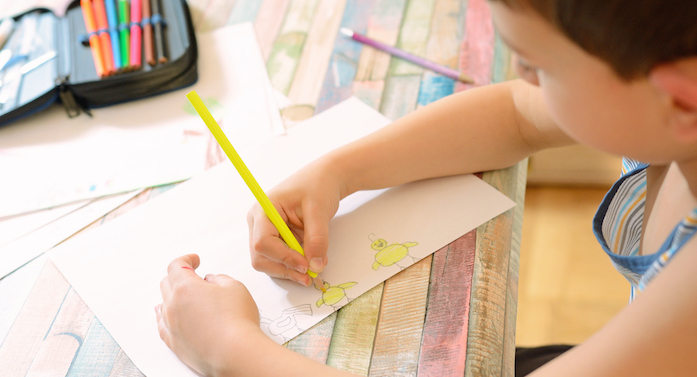 A preschool child sketches gamecocks and chicks. Photo courtesy Getty.
by Brett Buckner
Things are about to get loud at the original home of Kitty Stone Elementary School. But "loud" in the educational, rather than disorderly, sense of the word.
The JSU College of Education and Professional Studies has been awarded two grants from the Alabama Department of Early Childhood Education, allowing for the creation of two First Class Pre-K classrooms sponsored by the state.  
"This is a very big deal for JSU," said Dr. Christi Trucks, interim head of the JSU Department of Family and Consumer Sciences, which houses the university's Child Development Center. "This is something that will mean the world to this community." 
Opening in August 2022, the pre-K program will offer free instruction to 36 four-year-olds in the Jacksonville area. After school care is available from 2:30-6 p.m. for $50 a week. Admission begins with a state-sponsored registration form. Through this portal, parents select the center they're interested in – in this case, JSU – then await the results of random drawing on June 29.  
"You're not guaranteed a spot just by registering," Trucks explained. "It's not on a first come, first served basis. It's completely random. The purpose is to create a more diverse classroom environment and to be able to serve children regardless of background." 
The First Class Pre-K program is open to all children whose parents live or work in the Jacksonville community, regardless of language and special needs. Children do not have to be zoned for Jacksonville City Schools in order to apply. Since JSU is not part of a local school system children may live anywhere in the region and register. Applicants must be age 4 on or before Sept. 1. The deadline to apply is June 28.  
In addition to the creation of the pre-K classrooms, JSU is also expanding its child development classrooms to include younger ages and longer programming. The program is now enrolling infants and children ages six weeks to three years. Unlike the First Class Pre-K program, admission into the Child Development Center is first come, first served. 
The Child Development Center is open to the children of JSU students, faculty, staff, and the community. It now follows the JSU calendar for 12-month employees and is open weekdays, 7:30 a.m. to  6 p.m. Monthly tuition is $450 for JSU students, $525 for JSU faculty and staff, and $600 for the community. 
Both programs are moving to the former site of Kitty Stone Elementary School, taking up two pods within the building – one dedicated for the infant through 2-year-olds, while the second will house the 3- and 4-year-old students. A few renovations will take place before students arrive in August, including new bathrooms and large central areas where the younger kids can hone motor skills and the older kids can attend special events.
"It will be a calm, playful environment where children can explore and create on their own while learning foundational language and math skills," Trucks said. "Children will be safe and loved. There's going to be lots of conversation, read-alouds, singing, building, and imagining in the Child Development Center. These won't be quiet classrooms."
Having these classrooms affiliated with JSU offers additional benefits, namely the Child Development Center's lab students.
"We can provide experiences above and beyond what other programs can," Trucks said. "Not only will each class have two highly trained teachers in the classroom, they will also have JSU child development lab students and practicum students, potentially even interns, who will work with the children. This will allow the JSU students to implement teaching strategies they are learning in their courses. This is a fabulous reciprocal teaching opportunity. Our JSU students will be teaching our preschoolers and vice versa. It is definitely a unique relationship!"
The Child Development Center will also involve other departments in working with the children. 
"We want to build a learning community that encompasses all JSU has to offer," Trucks said. "We plan on inviting faculty from other colleges across campus to visit and share their expertise with the children. It's about making a connection within each of our education concentrations. We are growing Gamecocks at the center!"
For more information, contact Dr. Christi Trucks at ctrucks@jsu.edu.