Management and Marketing Becomes First Corporately Named JSU Department
05/05/2022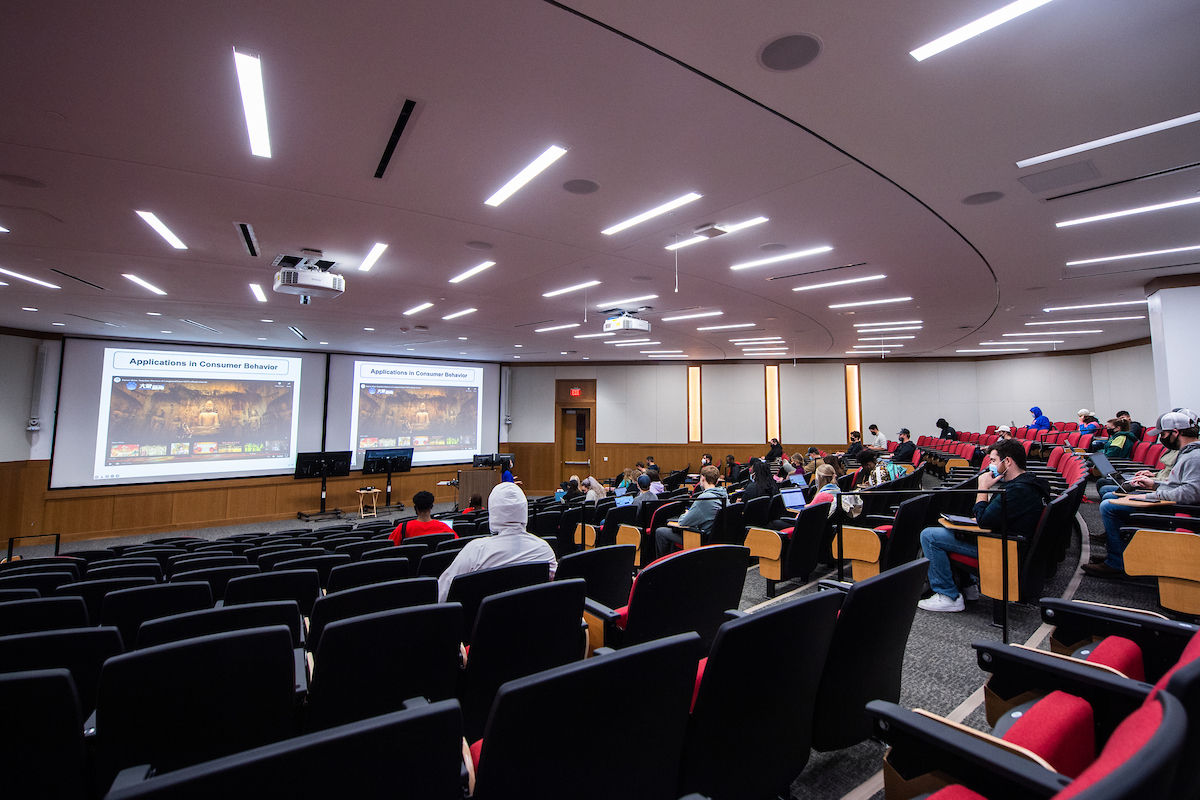 Marketing students listen to a lecture on consumer behavior in Merrill Hall in January 2022. Photo by Matt Reynolds.
by Buffy Lockette
The JSU Board of Trustees recently passed a resolution naming the university's Department of Management and Marketing in honor of Lyons & Company, Inc. The academic unit will now be known as "The Lyons & Company, Inc. Department of Management and Marketing."
A generous donation from Lyons & Company, Inc., secured the naming rights for the department – distinguishing the partnership as the university's first corporate gift for an academic department naming on campus. Until now, the only named academic department at JSU has been the David L. Walters Department of Music, named in honor of Dr. David L. Walters, who directed the Marching Southerners for 30 years.  
"We are honored to be associated with the outstanding professionals at Lyons & Company, Inc." said Dr. Mark Hearn, interim department chair. "Their generosity – along with their commitment to the highest professional standards – sets a great example for our students and will have an impact on our department for years to come."  
Lyons & Company, Inc. is the parent organization for firms providing services to mostly small and medium-sized businesses across the US. Originally established in Florence, Ala., in 1995 as a staffing firm known as Lyons HR, the company added a Professional Employer Organization (PEO) division in 2008, headquartered in Gadsden, Ala., that has grown into one of the largest privately-owned PEOs in the country. Insurance and technology services were added in 2020 and 2022, respectively. 
According to the Society for Human Resource Management, a PEO is an organization that enters into a co-employment relationship with an employer by outsourcing professionals who share human resource functions for multiple companies – including employee benefits, compensation and payroll administration, workers' compensation, and employment taxes. 
There are many JSU alumni serving as team members within Lyons & Company, Inc., including its President and CEO, Bruce Cornutt, who earned a Bachelor of Science in Sociology in 1995. The President of Aligned Insurance, David Glass – with whom Lyons merged its insurance operations to form Aligned Insurance, LLC to meet the insurance needs of its clients – received a Bachelor of Science in Business from the university in 1990. 
"We are thrilled by the opportunity to build even stronger ties with Jacksonville State University, and we're especially honored to be the first corporate academic department naming in the history of the university," Cornutt said. "For years, we've viewed JSU as a resource and partner in placement of graduates in key roles within our organization. This new relationship secures our commitment to JSU into the future."  
Housed within the College of Business and Industry and located within the new Merrill Building, the Lyons & Company, Inc. Department of Management and Marketing offers a Bachelor of Science in Management – with concentrations in human resources, e-commerce and entrepreneurship – and a Bachelor of Science in Marketing.  
For more information on securing naming rights for departments, buildings and other entities at JSU, please contact University Advancement at 256-782-5003.