Jacksonville Opera Theatre to Present "Little Women"
05/10/2022

by Emily Duncan and Buffy Lockette
It's a story that has been told countless times since its initial release as a coming-of-age novel in 1868 – spawning seven major motion pictures, numerous stage adaptations and several television series. Now, it's headed to Jacksonville State.  
The Jacksonville Opera Theatre will present the musical adaptation of Louisa May Alcott's "Little Women" on May 20-22 and 27-29, on campus in Mason Hall's Recital Hall, Room 351. 
This adaptation premiered in 2005 on Broadway  featuring music by Jason Howland and lyrics by Mindi Dickstein. For the uninitiated, "Little Women" is an American classic about four young sisters living in Concord, Mass., during the Civil War, and their passage from childhood to adulthood. This musical presents the familiar story of the March sisters at a crossroads in their journey.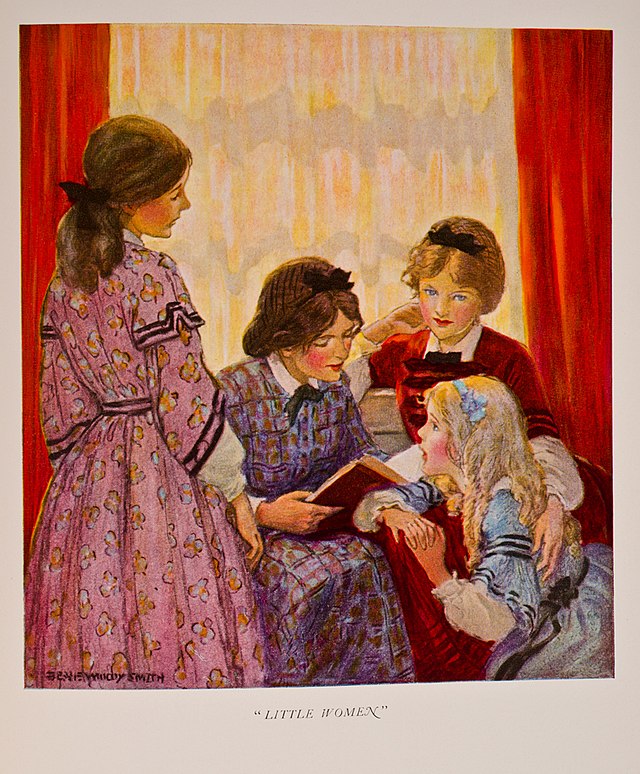 The musical captures the girls' tale, as young adults, with Meg wanting to settle down and start a family, Amy wanting to make her debut into society, Jo wishing to create adventures alongside her sisters and Beth supporting her sisters no matter which path they choose. 
"It's still the story many know and love, but audiences don't have to know Louisa May Alcott to see it," said Emily Duncan, show director and JSU career development coordinator. "Like so many of us, Jo realizes that no one can tell your story better than you. Her story is the story she is meant to share, the memories, the world she fought to fortify, the world of the four March sisters captured forever. It's the story of strong women blazing their own paths that has resonated for generations. While some paths are expected, others are unexpected, and it is all 'astonishing.'"
In addition to Duncan, the show is produced, designed and musically directed by Dr. Nathan Wight, director of operatic activities, and conducted by Dr. Jeremy Benson, associate professor of music. Chaney Billips serves as lead costume designer and Allison Woodward as choreographer. The cast includes: 
Esther Shull – Jo March
Josh Guzman – Professor Bhaer
Grace Anne Page – Young Amy March 
Mary Grace Hendley – Amy March 
Allison Carroll – Meg March 
Trinity Lane – Beth March 
Judy Shealy – Marmee March
Silas Tankersley – Mr. Laurence 
Jared Stephens – Laurie Laurence 
Megan Brightwell – Aunt March 
Dylan Keasler – Mr. John Brooke
Lauren Haygood – Mrs. Kirk and Hannah
David Ritschard – Rodrigo 
Jamey Smith – Knight
Erin Rose Pempel – Troll
Megan Day – Clarissa
Samantha Drake – Rodrigo 2
"Playing Jo has been exciting and terrifying at the same time," said Esther Shull, a JSU film major. "Having the opportunity to bring to life a character that I strongly relate to has taught me so much about myself. Jo's love for her family and determination to pursue her dreams without letting anyone deter her from getting there is beyond inspiring." 
JSU alumna Judy Shealy – who holds bachelor's degrees in voice and nursing from the university – stars as the March sisters' mother, Marmee. She said, "Little Women has been a favorite show of mine for a long time. I was very excited at the start of our rehearsals and during the process to see the story brought to life by such a talented group of students and community members. To me, 'Little Women' is a story about learning how to be happy and finding joy right where you are. Even in the quest to follow your dreams, it's important to notice and treasure the relationships with the family and community around you." 
Vocal music education major Silas Tankersley, who plays the March family's neighbor, Mr. Laurence, is in no way put off by performing in a women-center show. "I have always loved the show, especially its music," he said. "I think we have a great, hardworking cast, and I cannot wait to bring this production to life with them."
The show will take place the last two weekends in May, from Friday to Sunday, May 20-22 and 27-29, with show times at 7 p.m. on Friday and Saturday and 2:30 p.m. matinees on Sunday. Tickets are $20 for adults and $15 for JSU students and audiences younger than age 18. Faculty and staff can get $5 off on opening night, May 20, by using the promo code "FAC22." This offer expires at 12 a.m. on May 19. The run time is 2.5 hours, with a 15-minute intermission. While the show is appropriate for all ages, it is recommended for those ages 10 and older. 
For more information or to purchase tickets, please visit the Jacksonville Opera Theatre's ticket website.